By Ken Silva pastor-teacher on Aug 16, 2010 in Current Issues, Features, Rick Warren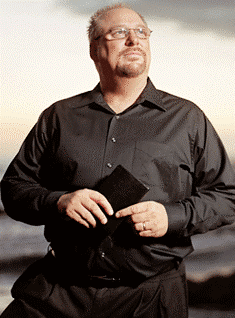 You are likely aware that this online apologetics and discernment work Apprising Ministries has been among those who've been reporting on an ill-advised decision by Dr. John Piper to bring Purpose Driven Pope Rick Warren into the Desiring God Conference 2010 as the keynote speaker.
As I've pointed out before, sadly, it got even worse when Dr. Piper offered the below defence of his decision; and so, Warrengate is still slowly simmering: 
At root I think [Rick Warren] is theological and doctrinal and sound. 
(as cited Online source) 
I wonder what Dr. Piper thought of the following August 11th tweet by Rick Warren; remember, this would even include Dr. Piper's own: 
As typical today in spineless evanjellyfish, at first there was a very minor tither over the tweet; quietly though, we wouldn't want to rock the boat now woud we. Warren would delete the non-offending tweet the same day, and then…um…well, he'd spend the majority of the very next morning defending, ah, this tweet even though he had already deleted it. And so, now all is forgotten.
*placing my tongue firmly in cheek* Now, since I've been quite critical of Rick Warren over little things like…oh let me see; well, like his reversing the Reformation and embracing the apostate Roman Catholic Church, this despite the fact that it still has its anathema upon the Gospel of Jesus Christ. But now all is forgotten. And I do think it's only fair to point out if Warren reverses his field and rebukes himself.
The email below, sent out as Daily Hope on August 15 via his Purpose Driven Connection, would surely seem to speak out against the usual M.O. of Rick Warren to trumpet his exploits before the world. So, apparently Warren has now had a change of heart and has offered the below as his self-correction: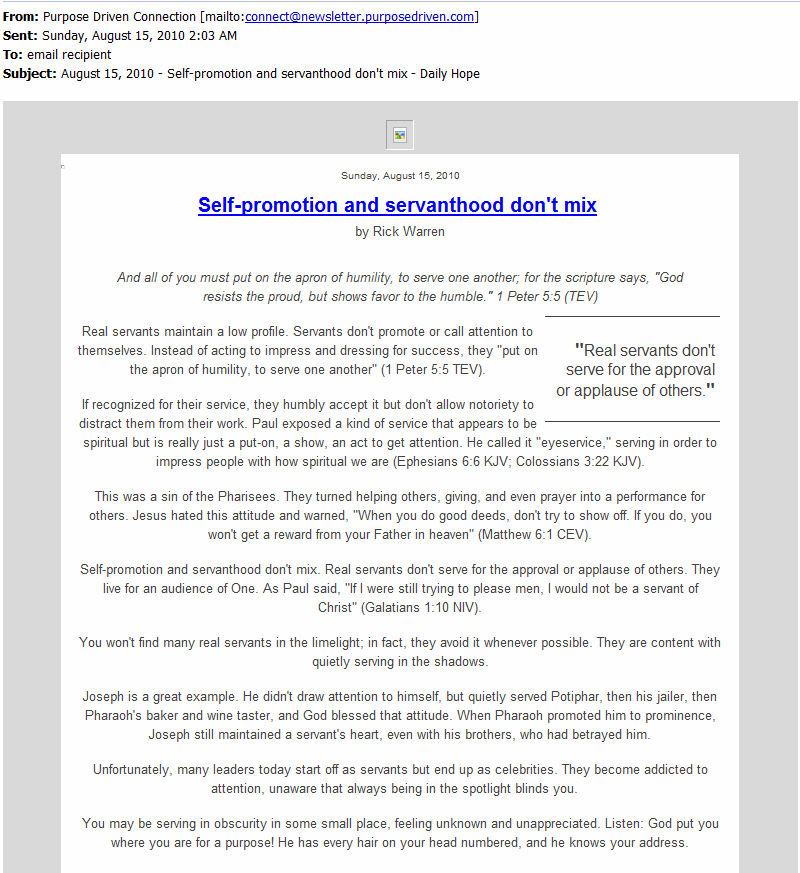 See also:
IS THIS DOCTRINAL AND SOUND DR. JOHN PIPER? 
RICK WARREN AND ROMAN CATHOLICS 
RICK WARREN DECEPTION ALREADY INVADING REFORMED CAMP  
SADDLEBACK CHURCH, RICK WARREN, AND SPIRITUAL DISCIPLINES 
DR. MICHAEL HORTON ON THE CHAMELEON-LIKE RICK WARREN 
THE INADEQUATE GOSPEL OF RICK WARREN