By Ken Silva pastor-teacher on Oct 12, 2012 in AM Missives, Current Issues, Features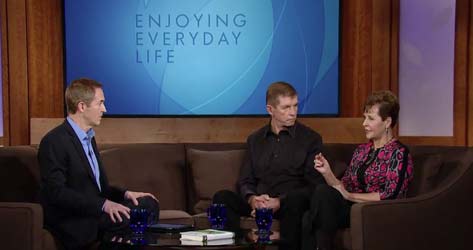 Apprising Ministries continues warning the Rip Van Winkle's in evangelical leadership that major figures of Word Faith mythology are rapidly gaining stature within the mainstream of professing Christendom.
I've talked a lot about how this is receiving a real assist from the emerging ecumenical magisterium springing up around the Elephant Room, e.g. Steven Furtick As Televangelist At Lakewood Church Of Joel Osteen.
Seeker Driven prophet-leader Steven Furtick is a two-time veteran of the ER and one of the real movers and shakers in that magisterium. Then there's Joel Osteen Moving One Step Closer To Mainstream Evangelicalism.
Within I showed you Seeker Driven generals Rick Warren and Craig Groeschel will be appearing at next year's Hillsong heresy-fest with Word Faith preacher Joel Osteen. Furtick was there last year with Joyce Meyer:
With this in mind, let me point out that Word Faith prosperity preacher Joyce Meyer is now also a Christian Post Guest Columnist as well.1 Such is the gelatinous generation in which we now live.
But a few years ago not many could have foreseen someone who preaches WF foolishness would be considered mainstream. Yet back in May I showed you Rick Warren's Saddleback Church Men's Group Studies Joyce Meyer.
Following is an audio clip of Joyce Meyer teaching the classic Word Faith mythology known as "positive confession," i.e. spoken words supposedly have creative power:
Below is an audio clip of Joyce Meyer teaching, a la reigning Word Faith king Kenneth Copeland, the WF fable that human beings, created in the image of God, are then "little gods" by nature:
In closing this, for now, let me show you that yesterday and today Andy Stanley, magisterium member and Seeker Driven Lieutenant general, appeared again on Joyce Meyer's Enjoying Everyday Life program.
 Finally, in this exclusive clip it's obvious Andy Stanley believes that God has blessed the works of Joyce Meyer and given her "a global reach," in part because she and her husband Dave decided to "stick out" their marriage:
Further reading
Endnotes
http://www.christianpost.com/author/joyce-meyer/, accessed 10/12/12. ↩