By Ken Silva pastor-teacher on Apr 10, 2012 in Current Issues, Features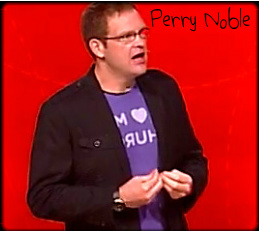 In pieces like Perry Noble Whines About Critics…Again here at Apprising Ministries I told you that Noble is one of the new breed prophet-pastors who're basically the Popes Of The Carolinas.
You may be aware that Noble is the mentor to his faithful Seeker Driven/attractional disciple Steven Furtick, though the truth is, Furtick has already far surpassed Perry Noble.
This isn't to say that Noble is a lightweight in the cult-like attractional church planting megachurch scene, it's to remind you just how fast-rising is the star of his protégé Steven Furtick.
Well, to use one of Noble's fav phrases, apparently he's pretty "pumped" about his upcoming series Adam & Eve:
As you can see Perry Noble was quite anxious to get this, in my opinion, rather cheesy video around. The first thing you'll notice is it's actually billed ADAM & Eve, A Series About Men. Why, who knew; turns out the historical account of the parents of the human race was really geared to be a self-help series for men?
The video sure seems to indicate to me that we're not going to hear sound Biblical exegesis. Rather, it would appear to be Dr. Phil-ish Oprahisms gleaned from the Seeker Driven/attractional camp's patented narcigesis. We're first told Noble will be opining about "The One Question Every Man Must Answer."
Somehow I find myself doubting it has anything to do with the question asked by the Philippian jailer in Acts 16:30 — "Sirs, what must I do to be saved?" That really doesn't seem likely as we continue on in the video and discover the other topics to be covered, such as "Four Things Every Man Should Know About A Woman."
Then there's "Three Things A Man Can't Have," "Three Things Every Man Needs," and finally, "What Every Woman Wants." Now I could be wrong, but based upon the usual attractional fare at these multi-site megachurches, this sounds more like a marriage counseling session than a sermon series.
If you feel you need such counseling, doesn't it make more sense to go to someone actually trained in that field?
[mejsvideo src="https://www.apprising.org/wp-content/uploads/2012/04/Perry-Noble-Adam-Eve.mp4″ width=640 height=360]
See also:
PERRY NOBLE SAYS YOU'RE A JACKASS
GOSPEL COALITION COUNCIL MEMBER JAMES MACDONALD LOVES PERRY NOBLE