By Ken Silva pastor-teacher on Jul 31, 2010 in AM Missives, Current Issues, Features, Word Faith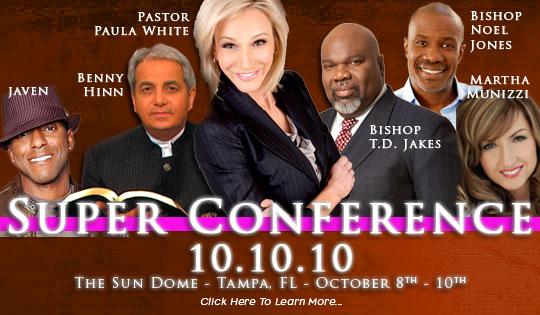 On the heels of rumors concerning Benny Hinn And Paula White Side By Side, as in a possible romantic affair, Apprising Ministries brings to your attention something Paula White—now billed as Senior Pastor—is calling Super Conference 10.10.10.
Coming up this October 8-10, perhaps just coincidentally of course, this gathering of Heretics-Я-Us features the mythical Word Faith musings of:
special guests Bishop T.D. Jakes…Pastor Benny Hinn… your Host, Pastor Paula White…special musical guests, Grammy and Dove nominated Martha Munizzi… anointed singer/songwriter Javen…Dr. Mark Payne and the acclaimed Without Walls International Church Choir… (Online source, bold theirs)
Heretics-Я-Us, harsh words; nah, such as these are—at the very best—people Charles Spurgeon would place among Those Who Bury The Gospel With Trash:
I  have not much patience with a certain class of Christians nowadays who will hear anybody preach so long as they can say, "He is very clever, a fine preacher, a man of genius, a born orator." Is cleverness to make false doctrine palatable? Why, sirs, to me the ability of a man who preaches error is my sorrow rather than my admiration. I cannot endure false doctrine, however neatly it may be put before me.

Would you have me eat poisoned meat because the dish is of the choicest ware? It makes me indignant when I hear another gospel put before the people with enticing words, by men who would fain make merchandise of souls; and I marvel at those who have soft words for such deceivers. He who does not hate the false does not love the true; and he to whom it is all the same whether it be God's word or man's, is himself unrenewed at heart.

Oh, if some of you were like your fathers you would not have tolerated in this age the wagon loads of trash under which the gospel has been of late buried by ministers of your own choosing. You would have hurled out of your pulpits the men who are enemies to the fundamental doctrines of your churches, and yet are crafty enough to become your pastors and undermine the faith of a fickle and superficial generation. (Online source)
Even though we seldom hear one today, this is what a real man sent by Jesus to preach His Gospel sounds like. As an example right now of what Spurgeon's talking about—having researched carefully the doctrine of so-called "Bishop" T.D. Jakes for years now—I can tell you that, not only does he adhere to classic Word Faith heresy, but as you can clearly see in Keeping You Apprised Of: T.D. Jakes On The Trinity Jakes is also a Oneness Pentecostal who denies God's very nature. Frankly, in my opinion, about the only people who don't know this are those who simply don't want to know; or worse yet, don't care.
In fact you'll see in Letter To Dr. T.D.Jakes Asking For His Definitive View On The Holy Trinity the email I sent to Jakes in January of 2007, for which I still await a reply. Now worries; I'm not holding my breath. I fully realize it's in Jakes be$t intere$t$ to continue to be nebulous as to what he actually believes about the nature of the God he purports to be a minister for. You see, in this New Downgrade No-Controversy—precisely because such as these haven't "hurled out" of its pulpits people "who are enemies" of "fundamental doctrines"—Jakes' star is definitely on the rise within man-loving squishy evanjellyfish.
And this is easy enough to prove; by the time centered on the self Super Conference 10.10.10 rolls around the Masterful Showman T.D. Jakes will have taken his show to the infamous Willow Creek Community Church, a major branch of the corrupt Church Growth Movement tree as you can see in T.D. Jakes To Speak At Willow Creek. In fact, therein I also told you that doctrinal differences continue to be erased between the Word Faith movement and the Purpose Driven/Seeker Driven sectors; in that post you'll see a promotional video of Jakes placed up on You Tube by Hillsong Church of Sydney, Australia.
Hillsong put it there to promote Jakes as a guest speaker; you see, this year T.D. Jakes will appear, for a second time, at their Hillsong Conference 2010 in July, this time along with well known PD/SD pastors Ed Young, Jr and Andy Stanley. There are those who wonder: How could the church visible possibly be in such a sorry state—seeking man's approval; you know, upon futher review, I'll think I'll say groveling for man's approval—it's unquestionably in? I'll show you the answer; you won't like it maybe, but it is the truth. Spurgeon was right:
There are some with whom we should have no fellowship, nay, not so much as to eat bread; for though this conduct looks stern and hard, it is after the mind of Christ, for the apostle spake by inspiration when he said, "If we or an angel from heaven preach to you any other gospel than that ye have received, let him be accursed."

According to modern efficiency he ought to have said, "Let him be kindly spoken with in private, but pray make no stir. No doubt the thought was original, and we must not question his liberty. Doubtless, he believes the same as we do, only there is some little difference as to terms." (Online source)
So, the answer is elemental really: God is simply giving the visible church what it so desperately wants…
See also:
DR. JOHN MACARTHUR ON SATANIC AL QAEDA IMBEDDED IN VISIBLE CHURCH
T.D. JAKES: JESUS IS THE PRODUCT
T.D. JAKES AND ONENESS PENTECOSTALISM (AKA MODALISM)
CAN YOU BE AN EVANGELICAL CHRISTIAN AND DENY GOD? 
RELATIONSHIP CLOSER TO PAULA WHITE THAN JESUS FOR BENNY HINN?
POINTS TO PONDER: TODD BENTLEY, BENNY HINN, RICK JOYNER, AND FALSE TEACHERS