By Ken Silva pastor-teacher on Jul 27, 2010 in Current Issues, Features, Word Faith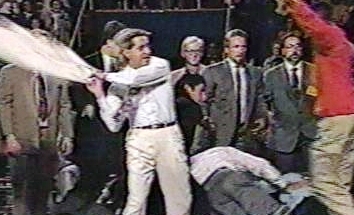 In the wake of the deepening relationship between Word Faith heretics Benny Hinn and pastrix Paula White Apprising Ministries brings you an interstesting article concerning Hinn's recent appearance in Sweden. My good friend from Michael Helders of Michaels Blogg, a fellow member of the Reformata blog network who is based in Sweden, pointed me to Ulf Ekman about Benny Hinn: Heretical view of Jesus presented at the Swedish blog Aletheia.
You may be aware Benny Hinn And Paual White Respond To "False And Misleading" News and that Statement By Benny Hinn Concerning Paula White Disappears. The aforementioned post at Aletheia, as you can see, deals with what Benny Hinn has just taught at the "Word of Lifes yearly conference, hosted by Pastor Ulf Ekman." The author of the post,  Daniel of the- Aletheia Christian blog and thinktank of Sweden, begins by informing us:
A big part of christianity here in Sweden raised their eyebrows when Word of Life church announced they would call the flamboyant millionaire and so called healing evangelist.  Pastor Ulf Ekman seemed to have missed years of strange doctrines and false prophecies flowing out of the mouth of Benny Hinn.  While the largest christian newspaper in Sweden (Dagen.se) questioned Benny Hinns visit before, during and after his coming to Sweden, their smaller competitor varldenidag.se tried their best to defend pastor Hinn.

As many of the employees at Världen idag are members of Word of Life Church, and Ulf Ekman himself chairman of the board, this was in many ways expected. Only after Ulf Ekman strongly came against Benny Hinns teaching, the Word of Life newspaper released some of the more critical voices against Hinn.  They have yet to mention the strange Paula White – Benny Hinn relationship that started to unfold around the world on the same day Hinn came to Word of Life. (Online source)
It would seem that, in spite of the defense of Hinn by members of Word of Life Church, pastor Ekman "promised in advance that he would correct any strange teachings by Benny Hinn." Daniel then explains:
To the surprise of many, Ulf Ekman came through with that promise in a blogpost (also quoted in the newspaper Dagen). Ulf Ekman did not spare his words when describing Benny Hinns sermon held on Saturday, 24th of July.

From Ulf Ekmans blog July 26th: 

it is my duty to comment Saturday evening's strange teaching. I must say I was shocked by the content of Benny Hinns teaching. We have known each other since 1986, although it's been a while since we met last. There is no doubt that the Lord has used him as an evangelist all over the world for many years. …I appreciate him a lot and really like him as a healing evangelist.   Having said this, and it is important that it must be said, I must say that I have never in all the meetings I have had with him, heard all this, what he said and taught us yesterday. His preaching… went far beyond what I mean is classic Christian faith and sound doctrine. It was not just some Gnostic elements, it unfortunately had far too much of pure gnosticism.
You can read the rest of this article right here.
See also:
POINTS TO PONDER: TODD BENTLEY, BENNY HINN, RICK JOYNER, AND FALSE TEACHERS
RISING WORD FAITH STAR MANASSEH JORDAN IMITATING BENNY HINN
E. BERNARD JORDAN: MASTER FALSE PROPHET
JOSH MCDOWELL AND PAULA WHITE: "WON'T YOU LET ME TAKE YOU ON A SEA CRUISE!"
CAN YOU BE AN EVANGELICAL CHRISTIAN AND DENY GOD?
CHRISTIAN RESEARCH SERVICE ON THE PROPHETIC MOVEMENT
WOMAN "PASTOR" AND HER PRAYER SHTICK DRAWING MEDIA ATTENTION