By Ken Silva pastor-teacher on Jul 15, 2010 in AM Missives, Brian McLaren, Current Issues, Emergence Christianity, Emergent Church, Features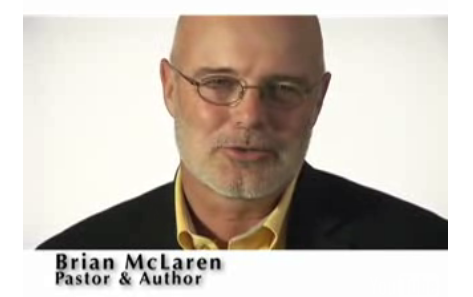 Do not be unequally yoked with unbelievers. For what partnership has righteousness with lawlessness? Or what fellowship has light with darkness? What accord has Christ with Belial? Or what portion does a believer share with an unbeliever? What agreement has the temple of God with idols?
For we are the temple of the living God; as God said, "I will make my dwelling among them and walk among them, and I will be their God, and they shall be my people." Therefore go out from their midst, and be separate from them, says the Lord, and touch no unclean thing; then I will welcome you, and I will be a father to you, and you shall be sons and daughters to me, says the Lord Almighty." (2 Corinthians 6:14-18)
Irrational Philosophy And A-Logical Postmodern Word Games
Well, in the real world anyway, Christian doctrine couldn't matter or McLaren wouldn't say the stupid thing he says below. Apprising Ministries now points you to the following from Living Spiritual Teacher and  Emerging Church guru Brian McLaren:
I grow more and more convinced that the way forward is a grass-roots alliance among emerging Pentecostals, progressive and post-Evangelicals, Missional Mainline Protestants, Progressive Catholics and Orthodox, and indigenous Christians … (Online source)
Forward to where? And how are regenerated Christians supposed to make religious alliances with progressive/liberals who deny Who Jesus and are still dead in their sins; or with apostates whose church has placed its—never changed—anathema upon the very Gospel of Jesus Christ itself.
The above is a reference to the foolish "big tent" Christianity, which is the new hybrid form of postmodern Progressive Christianity and de-formation of the Christian faith they're now refering to as Emergence Christianity. This is what Emergent Church guru McLaren begins laying out in A New Kind of Christianity. 
However, the only place that can work is the synthetic reality of Humpty Dumpty language where in their irrational phlosophy words mean whatever one wants them to mean. Again I serve notice: These posers will never have their big tent universalism as long as genuine Christian men like me are still breathing. 
Don't be fooled by such as these; see them for who they are — and from among your own selves will arise men speaking twisted things, to draw away the disciples after them (Acts 20:30).
See also:
MYSTICISM AND POSTMODERNISM, THE EMERGING CHURCH, AND EVANGELICALISM
BIG TENT PROGRESSIVE CHRISTIANITY AS LIBERALISM 2.0
PHILIP CLAYTON AND THE EMERGING CHURCH 2.0
THE NON-GOSPEL OF THE EMERGING CHURCH 2.0 
LIBERALISM 2.0 THE NEW PROGRESSIVE CHRISTIAN THEOLOGY  
THE EMERGING CHURCH AND THE NEW PROGRESSIVE THEOLOGY ON CHRIST 
THE EMERGING CHURCH AND THE NEW PROGRESSIVE THEOLOGY ON OTHER RELIGIONS