By Ken Silva pastor-teacher on May 16, 2010 in Contemplative Spirituality/Mysticism, Current Issues, Features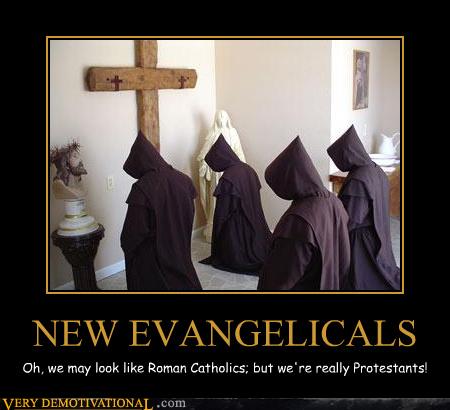 If you think the video below here at Apprising Ministries is a service at a church that's with the sinfully ecumenical neo-liberal cult of the Emerging Church; you'd be wrong. This video is from the Vimeo page of  New Life Fellowship Roman Catholic Church where Peter Scazzero is pastor/spiritual director/priest.
You may recall from Contemplative Spirituality Catalyst Peter Scazzero I told you that Purpose Driven Pope Rick Warren has actually been pushing the door open for corrupt Contemplative Spirituality/Mysticism (CSM) ala Living Spiritual Teacher and Quaker mystic Richard Foster—and his spiritual twin Dallas Willard—within the mainstream of evangelicalism for quite some time now.
One of the ways Warren has done so recently is bringing Scazzero in to his conference Radicalis this past February at Saddleback Church; in the promotional email Chat Live with Radicalis Speaker, Pete Scazzero, Wednesday, December 9 at 11 am pst Warren told us:
Pete, along with his wife, Geri, are co-founders of Emotionally Healthy Spirituality, a groundbreaking ministry that integrates emotional health and contemplative spirituality to pastors, leaders and local churches. (emphasis mine)
I also pointed out in Peter Scazzero Promoted By Rick Warren that Scazerro heads up a group called Emotionally Healthy Spirituality (EHS), who told us: 
We are excited to announce our partnership with the Willow Creek Association! Starting Sept. 15 [2009], WCA will begin to distribute the Emotionally Healthy Spirituality Church-wide study, which includes the kit, the EHS book, the EHS Group workbook, the teaching DVD, and The Daily Office. (Online source)
So as you can see, Scazzero and his Foster-like CSM shtick is already seeping into the bloodline of mainstream of evangelicalism through Bill Hybel's church group, which is a major flagship of the semi-pelagian (at best) Church Growth Movement. We've now left the proper Christian spirituality of the all-sufficiency of God's Word i.e. Sola Scripura, which such as these do not have faith in.
And instead, we're returning in pretending to be Protestant mainstream evangelicalism to the highly subjective, not to mention spurious, spirituality that flowered in the antibiblical monastic traditions; and which has contributed heavily to apostate Roman Catholicism. You see, in his post Four Days with the Trappists: Part 1 Scazzero informed us:
Last Monday I arrived at the  St. Joseph's Abbey in Spencer Massachusetts for my annual weekly retreat with the 70+ monks living there. It was probably my most significant retreat of the last seven years. (Online source)
You may know that the contemplative Cistercian Order of the Strict Observance (Trappists) of the Roman Catholic Church, so named for their strict adherence to the Rule of St. Benedict, produced the Golden Buddha of CSM Thomas Merton. Merton's practice of meditation in an altered state of consciousness aka Contemplative/Centering Prayer—the main vehicle of CSM—had him so wacked spiritually that, by the time he was tragically electrocuted, Merton was far more like the Buddha than the Christ.
If you want to make the time you can see his nauseating idolatry for yourself from his own diary in Thomas Merton And The Buddhas.
Good Friday Contemplative Service 2010 from New Life Fellowship on Vimeo.
See also:
CALVINIST CONTEMPLATIVE/CENTERING PRAYER?
DONALD WHITNEY AND EVANGELICAL CONTEMPLATIVE SPIRITUALITY/MYSTICISM
RICHARD FOSTER'S LEGACY ENDURES: CHRISTIAN LEADERS HELP TO MAKE IT SO
THE TERMINOLOGY TRAP OF "SPIRITUAL FORMATION"
CONTEMPLATIVE SPIRITUALITY OF RICHARD FOSTER ROOTED IN THE EASTERN DESERT AND THOMAS MERTON