By Ken Silva pastor-teacher on Jan 4, 2010 in AM Missives, Contemplative Spirituality/Mysticism, Current Issues, Features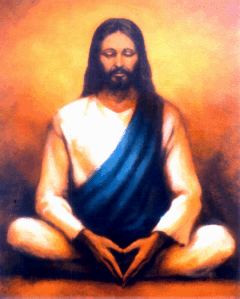 But now that you have come to know God, or rather to be known by God, how is it that you turn back again to the weak and worthless elemental things, to which you desire to be enslaved all over again? (Galatians 4:9, NASB)
Reformed Theology With Counter Reformation Spirituality?
In the December 30, 2009 article Mysticism: A Counterfeit Holy Spirit at Sola Sisters we read:
An excellent article at More Books and Things (Calvinists Promoting Contemplative Books and Things) discusses the startling trend of Calvinists beginning to embrace mystical practices such as contemplative prayer, taize, lectio divina, centering prayer, etc. Mystical Calvinists? An oxymoron, if ever there was one. Calvinists are supposed to be the solid ones, the ones holding the line on attacks against the Sola's…..right? Hello? Hello? Is this thing on? Okay, for anyone unclear on this:

Mysticism = the Opposite of Sola Scripture

But in today's crazy, mixed-up world of postmodernism, syncretism and ecumenism, the Calvinists are letting down their guard. They're letting themselves be convinced that there is a type of mysticism that is not pagan, but is Christian, biblical and necessary for being close to God… (Online source, bold theirs)
Apprising Ministries began looking into this very question in Confusion Concerning Calvinist Spirituality? and then later in Calvinist Contemplative Spirituality/Mysticism? I also told you in Contemplative Spirituality/Mysticism Creeps Closer…To Your Church about a key component which was hidden within the Trojan Horse of the egregiously ecumenical Emerging Church aka Emergent Church with its Emergence Christianity (EC) de-formation of the Christian faith—a cult of Liberalism 2.0 now firmly within the walls of mainstream evangelicalism.
What the EC has been doing all along is blurring doctrinal lines through their core doctrine of Contemplative Spirituality/Mysticism (CSM) taught by Living Spiritual Teacher and Quaker mystic Richard Foster along with his spiritual twin and Southern Baptist minister Dallas Willard. I've pointed out before that as far back as 2004 EC guru Brian McLaren told you that that Foster and Willard were "key mentors" of the EC, and their whole shtick is spreading spurious CSM under the guise of so-called Spiritual Formation, which has been used in evangelical seminaries for years now.
I've also reminded you that next month at his Radicalis conference to be held at Saddleback Church Purpose Driven Pope Rick Warren is set to shove forward into the mainstream of evangelicalism a CSM guru by the name of Peter Scazzero, who has direct ties to the Church Growth Movement flagship Willow Creek Association. And as I said before, this is where the cloudy waters within Calvinist circles are now becoming muddied even further with this highly subjective CSM, which truly is absolutely antithetical to the proper Christian spirituality of Sola Scriptura.
The point is not that we experience God, instead what we're discussing revolves around concerns about how the Lord told us in the Bible that we should experience Him; and make no mistake, this is going to be a defining doctrine of our generation. For example, one of the speakers for Radicalis will be Reformed pastor Mark Driscoll of Acts 29 Network. From the Lighthouse blog of Lighthouse Trails Research (LTR) recently ran a post called Mark Driscoll IS a Contemplative Proponent. In it LTR points out:
Although Driscoll, pastor of Mars Hill Fellowship in Seattle Washington, is said to have denounced certain aspects of the emergent church, Driscoll is a proponent of the main element behind the emerging church – contemplative prayer. (Online source)
And you should know that Contemplative/Centering Prayer (CCP) is indeed the crowning jewel of CSM; it's actually a form meditation in an altered state of consciousness, in other words CCP is transcendental meditation lightly sprayed with Christian terms. LTR then goes on:
In an article written by Driscoll himself, ironically titled Obedience, Driscoll tells readers to turn to Richard Foster and contemplative Gary Thomas. Driscoll states: 
If you would like to study the spiritual disciplines in greater detail … helpful are Celebration of Discipline, by Richard Foster, and Sacred Pathways, by Gary Thomas…

As for Gary Thomas, in his book Sacred Pathways (the one Driscoll recommends), Thomas tells readers to repeat a word for 20 minutes in order to still the mind. This is the basic principle in all Eastern and occultic methods. (Online source)
We'll get to Gary Thomas and his mantra meditation next time; however in closing this for now I will bring out again that, here we see Celebration of Discipline by Quaker mystic Richard Foster recommended favorably by a Calvinist pastor. So, if you've not seen it, I pray you'll make the time to read this dead-on-target assessment of Foster's warped work taken from the excellent Mysticism series by Dr. Gary Gilley:
Celebration of Discipline alone, not even referencing Foster's other writings and teachings and ministries, is a virtual encyclopedia of theological error.  We would be hard pressed to find in one so-called evangelical volume such a composite of false teaching. 

These include faulty views on the subjective leading of God (pp. 10, 16-17, 18, 50, 95, 98, 108-109, 128, 139-140, 149-150, 162, 167, 182); approval of New Age teachers (see Thomas Merton…); occultic use of imagination (pp. 25-26, 40-43, 163, 198); open theism (p. 35); misunderstanding of the will of God in prayer (p. 37); promotion of visions, revelations and charismatic gifts (pp. 108, 165, 168-169, 171, 193); endorsement of rosary and prayer wheel use (p. 64); misunderstanding of the Old Testament Law for today (pp. 82, 87); mystical journaling (p. 108); embracing pop-psychology (pp. 113-120); promoting Roman Catholic practices such as use of "spiritual directors," confession and penance (pp. 146-150, 156, 185); and affirming of aberrant charismatic practices (pp. 158-174, 198). (Online source)
I have to wonder what exactly is "helpful" to the Body of Christ about the above? And yet more and more we're seeing many younger otherwise orthodox Calvinist ministers, such as another Acts 29er Matt Chandler, embracing the heterodox (at best) CSM of Foster/Willard, which is unquestionably rooted in the corrupt contemplative Counter Reformation theology of apostate Roman Catholicism. In other words, these kinds of very wrong approaches to proper Christian spirituality would lead people so far away from Jesus that God would eventually raise up His Reformers in the first place. 
But are we really to believe that somehow, now that so-called Protestants are practicing CSM, the results are going to be different? 
See also:
DONALD WHITNEY AND EVANGELICAL CONTEMPLATIVE SPIRITUALITY/MYSTICISM
RICHARD FOSTER'S LEGACY ENDURES: CHRISTIAN LEADERS HELP TO MAKE IT SO
THE TERMINOLOGY TRAP OF "SPIRITUAL FORMATION"
CONTEMPLATIVE SPIRITUALITY OF RICHARD FOSTER ROOTED IN THE EASTERN DESERT AND THOMAS MERTON
DISCIPLINES TO DECEPTION IN SOUTHERN BAPTIST CONVENTION