By Ken Silva pastor-teacher on Jan 4, 2010 in AM Missives, Current Issues, Emergence Christianity, Emergent Church, Features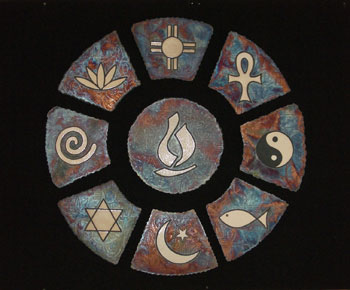 …the sacrifices of pagans are offered to demons, not to God, and I do not want you to be participants with demons. (1 Corinthians 10:20)
Worshipping Demons Together
Apprising Ministries has previously brought to your attention that  Samir Selmanovic was integral to the birth of  the egregiously ecumenical Emerging Church aka Emergent Church that morphed into Emergence Christianity (EC)—which is now a cult of a postliberalism firmly within mainstream evangelicalism. And you may also recall the Project Of Apostasy By Samir Selmanovic Called Faith House Manhattan. Selmanovic's spiritual shtick is advancing "finding God in the Other" religions, a main emphasis of the EC.
This foolishness is what's at the evil heart of so-called "interfaith/interspiritual" witness such as that tweeted below by Adam Walker Cleaveland, who in addition to being Minister for Youth & Young Adults at Asbury United Methodist Church was a fellow contributor along with Selmanovic to An Emergent Manifesto of Hope (EMH), a book co-edited by the dubious duo of the EC—heretical quasi-universalist pastor Doug Pagitt and his equally heretical "theologian in residence" Tony Jones:
Being an Interfaith Leader inspires me. For a practicing example of this, check out @SamirSelmanovic's Faith House Manhattan. #ccm10 (Online source)

For a great example of an interfaith worshipping community, check out Faith House Manhattan. http://www.faithhousemanhattan.org/ #ccm10 (Online source)
You need to know that it's absolutely no coincidence that these same names keep popping up as we investigate those adamant that they'll hijack the visible church. And Cleaveland wasn't done promoting Selmanovic's spiritual silliness:
.@SamirSelmanovic has a great book out about interfaith issues as well: "It's Really All About God" – http://bit.ly/8O4pSw #ccm10 (Online source)
That link takes us to an ad for Selmanovic's book It's Really All About God: Reflections of a Muslim Atheist Jewish Christian, which is endorsed by such Emerging/ent/ence de-formation royalty as EC guru Brian McLaren and quasi-universalist Roman Catholic mystic Richard Rohr. Another time we'll come back to this book, where Rohr recommends that, "After you read this wise book, you will say, 'Of course!' and 'Thank God!'", but for now though I'll just point you the below tweets today from Samir Selmanovic:
I AM THAT I AM! (@BibleAlsoSays) and Ken Silva (http://short.to/12epy) I've just realized you are the same person in a parallel universe! (Online source)

Avatar as a metaphor for ending Christian spiritual conquest/imperialism. http://short.to/12e0c (Online source)
The link in the first tweet takes you here to Apprising Ministries; and that's a real EC no-no, so apparently Samir missed the post from Tony Jones Where Are My Critics Now? where he dispenses the following kool-aid instructions:
I am asking all of you to never click on a link posted by Ken Silva, or Christian Research Net, or Lighthouse Trails Research, or Apprising Ministries. Never use their names in a post or on a website (as I just did). And if you've got any old posts that link to their site, delete the links.

I'm not asking you to do this because I'm afraid of criticism.  If you've followed me at all in the past few years, you know that I'm not. I'm asking you to do these things because these critics are dishonest. (Online source, bold his)
Late Sixties Political Rhetoric Is the Spiritual Foundation Of The Emerging Church
Now the link in Samir Selmanovic's second tweet above brings us to AVATAR: a metaphor for emergent evangelism, where we even find another couple of comments by Selmanovic who says:
Hi Florin, thanks for tackling this topic of Christian spiritual colonialism/imperialism. I saw Avatar but have not made that connection until reading your post. Samir (Online source)
Hi again,

Word evangelism does not show up in our sacred texts. It is a product of Christians who were quick to think nothing of objectifying the other. But to take it out of Christian vocabulary, today would amount to a treason. Better, I think would be to keep on pressing on the redefinition of it as exchange of good news (treasures) of our faiths. Peter Rollins has good things to say about that too. Moreover, let's make "hearing other people's good news" a Christian virtue, just doing the Golden Rule.

Samir (Online source)
Actually Selmanovic is correct; it doesn't, but the concept of evangelism most certainly is at the heart of the mission of the Body of Christ. In closing this for now, I'll point you to Emergent Avatar Evangelism: Finding God in the Other by my friend John Chisham, who's pastor of River of Life Alliance Church in MN. Pastor Chisham is also an Apprising Ministries and Christian Research Network correspondent and he gets to the heart of the matter concerning this "We all live in a Yellow Submarine" approach to Christianity when he says:
You cannot make disciples out of dead people, they must be quickened spiritually, and this is an act of God. The proclamation of the Gospel is a needed part of this.

Mark 16:15 15 And he said to them, "Go into all the world and proclaim the gospel to the whole creation.
Luke 24:47And that repentance and remission of sins should be preached in his name among all nations, beginning at Jerusalem…

The rest of mankind, kronos, the world, is dead in trespasses and sins, and are, by nature, children of wrath. We are certainly not superior to them, for we once were that. But we have been saved, we have been quickened, brought from death to life, and our responsibility is to be heralds of that good news. It is only the Christian, the one who has been born again, who can proclaim this good news to those who are as we once were. It is not incumbent on us to discover god in the other, because the god that they follow (no matter the name they give it) is the prince of the power of the air, that is, Satan. (Online source)
You can read pastor Chisham's article in its entirety right here. And to give you a peek at how this Emerging/ent/ence de-formation of the Christian faith is meditating its way into one big Global Family of the Father/Motherhood of God/Goddess and Brotherhood of Man consider the following tweets. Tim Brauhn says to Samir Selmanovic and Adam Walker Cleaveland:
@SamirSelmanovic @adamwc Someday, we won't need people exhorting the importance of interfaith work. It will simply be the status quo. (Online source) 
To which Selmanovic responds excitedly:
@timbrauhn @adamwc Tim, I hope you are a prophet! (Online source)
Sadly Samir, he is; a false one whose "status quo" of a Global Family and its "interfaith" religion will be ruled by the Antichrist.
See also:
*UPDATE* EMERGING CHURCH PASTOR SAMIR SELMANOVIC DOESN'T NEED TO BE RIGHT
CHRISTIAN AGNOSTIC ADELE SAKLER AND SAMIR SELMANOVIC DISCUSS CHRISTIAN ATHEISM
SAMIR SELMANOVIC: GOD IS FATHER OF All RELIGION
FAITH HOUSE MANHATTAN: PROJECT OF APOSTASY BY SAMIR SELMANOVIC
SAMIR SELMANOVIC: IT'S REALLY ALL ABOUT SELF
SAMIR SELMANOVIC RECOMMENDS A "GREAT VIDEO"