By Ken Silva pastor-teacher on Dec 11, 2009 in AM Missives, Contemplative Spirituality/Mysticism, Current Issues, Features, Rick Warren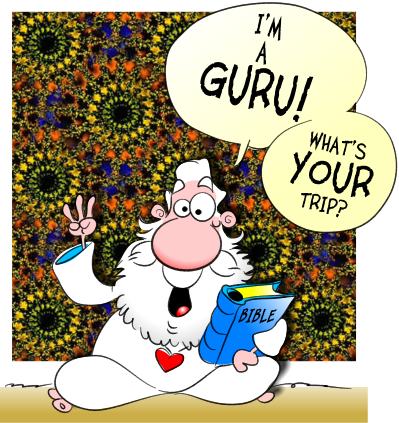 You must not do as they do in Egypt, where you used to live, and you must not do as they do in the land of Canaan, where I am bringing you. Do not follow their practices. (Leviticus 18:3)
Too Far Out For Us To Even Get A Radar Fix
The other day in Rick Warren Now Openly Promoting Contemplative Spirituality/Mysticism here at Apprising Ministries I reminded you that Purpose Driven Pope Rick Warren has actually been doing so for quite some time now. And in the latest email promoting the upcoming conference Radicalis, this February at Saddleback Church, Chat Live with Radicalis Speaker, Pete Scazzero, Wednesday, December 9 at 11 am pst Warren told us:
Pete, along with his wife, Geri, are co-founders of Emotionally Healthy Spirituality, a groundbreaking ministry that integrates emotional health and contemplative spirituality to pastors, leaders and local churches. (On file at AM, emphasis mine)
Here I'll give you some more information concerning Scazerro's pushing corrupt Contemplative Spirituality/Mysticism (CSM) ala Living Spiritual Teacher and Quaker mystic Richard Foster—and his spiritual twin Dallas Willard—within the mainstream of evangelicalism. This spurious CSM under the quise of Spiritual Formation, with it's main vehicle of Contemplative/Centering Prayer (CCP)—meditation in an altered state of consciousness—was a core doctrine of the egregiously ecumenical Emerging Church aka Emergent Church, which is a cult of postliberalism—now morphing into Emergence Christianity (EC).
Scazerro heads up a group called Emotionally Healthy Spirituality (EHS), who tell us: 
We are excited to announce our partnership with the Willow Creek Association! Starting Sept. 15, WCA will begin to distribute the Emotionally Healthy Spirituality Church-wide study, which includes the kit, the EHS book, the EHS Group workbook, the teaching DVD, and The Daily Office. (Online source)
The above alone puts EHS, and its teaching "The Daily Office" of Ignatius of Loyola, a champion of apostate Roman Catholicism and the founder of the militantly pro-Roman Catholic Church spiritual Gestapo Unit known as the Jesuits, squarely in the mainstream of the visible professing Protestant church. Then in the About section EHS shares its "Mission"; and among their objectives is indeed, the advance of unbiblical CSM:
Our mission is to apply emotional health to biblical spirituality in order to transform leaders, relationships, churches and organizations.

Our objectives are to:

Pioneer and research the integration of emotional health and contemplative spirituality to discipleship and spiritual formation… (Online source)
Pete Scazerro is "the founder and senior pastor of New Life Fellowship Church in Queens, New York City" and the Bio page at EHS also informs us that Scazerro:
is author of Emotionally Healthy Spirituality (Nelson, 2006), a groundbreaking work on the integration of emotional health and contemplative spirituality. He has also authored The Emotionally Healthy Church (Zondervan, 2003), winner of the Gold Medallion Award for 2003, Begin the Journey with the Daily Office (2008) (Online source)
He also has the emotionallyhealthyblog: a conversation with pastor pete where Scazerro's currently doing a series called Four Days with the Trappists lavishing praise upon this order of monks in the apostate Roman Catholic Church:
Last Monday I arrived at the  St. Joseph's Abbey in Spencer Massachusetts for my annual weekly retreat with the 70+ monks living there… The Prior, Father Dominic, suggested that I look at Antony's rhythm's of moving deeper into the desert during his life to be in solitude with God as His public ministry expanded.  He suggested I might find in this a model or some insights around God direction for me… (Online source)
Perhaps someone should refresh pastor Pete's memory about a little thing called the Reformation. And if you didn't know, the Trappists produced Thomas Merton—a veritable Golden Buddha in the wacked world of CSM—but as you can see in Thomas Merton And The Buddhas, the truth is that his devotion to the practice of CSM made Merton more like the Buddha than the Christ. In closing this for now, and after prayerful meditation upon the rhythm of Jesus and upon God's Word, I now tell you in the Lord that Scazerro's spiritual skubalon does not belong anywhere in Christ's church.
See also:
CONTEMPLATIVE SPIRITUALITY/MYSTICISM CREEPS CLOSER…TO YOUR CHURCH
MOVE OVER PASTORS FOR SPIRITUAL DIRECTORS/GURUS
BETHEL UNIVERSITY INTERRELIGIOUS SYMPOSIUM 2009 
CORRUPT CONTEMPLATIVE SPIRITUALITY/MYSTICISM GAINING GROUND IN EVANGELICALISM 
KEN SILVA ON IRON SHARPENS IRON: EMERGING CHURCH GURUS AND ROMAN CATHOLIC MYSTICISM IN PROTESTANT EVANGELICALISM
DONALD WHITNEY AND EVANGELICAL CONTEMPLATIVE SPIRITUALITY/MYSTICISM