By Ken Silva pastor-teacher on Dec 11, 2009 in Current Issues, Roman Catholicism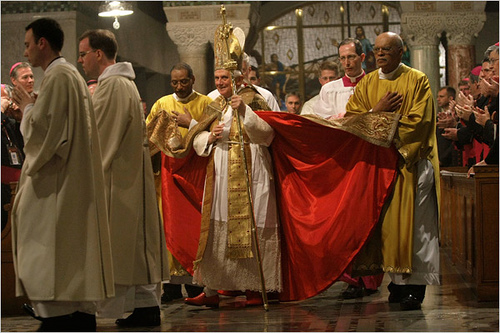 I've mentioned a few times now at Apprising Ministries that I am a former Roman Catholic that, through absolutely no effort of my own, God mercifully delivered from the religious bondage of the Church of Rome into the glorious liberty of the sons of God, by His grace alone, through faith alone, in the finished work on the Cross of Christ alone. 
This is why the other day in Roman Catholic Church Infiltrating Evangelicalism I again discussed a nauseating slide away from the proper biblical doctrine of the Reformation by more and more within now largely pretending to be Protestant evangelicalism. For example, previously in the AM article SBC Protestant Pastor Rick Warren Double-Minded On The Reformation And Roman Catholicism I documented for you the personal position of Purpose Driven Pope Rick Warren, concerning the Roman Catholic Church, "I really do feel that these people are brothers and sisters in God's family." 
This is quite obviously in direct opposition to the position concerning Roman Catholicism taken by the Church Reformers whom Jesus raised up during what has come to be called the Protestant Reformation, which revolved around the very Gospel of Jesus Christ itself; i.e. it involves non-negotiable doctrine. In that former piece I also brought to your attention something called the Cathlimergent Network (CN) of John Sobert Sylvest, who tells us its "Catholics in the Emerging Church Conversation." 
You may recall I first mentioned CN in Emerging Church Group TransFORM, where again I pointed out TransFORM is a social network created by "Kingdom Journalist" Steve Knight of Emergent Village (EV). EV itself is also a very key group within the egregiously ecumenical Emerging Church aka Emergent Church—morphing into Emergence Christianity (EC)—which is a cult of postliberalism now within mainstream evangelicalism. 
Knight recently Retweeted the link to a piece by Andrew Jones aka Tall Skinny Kiwi, who's been connected to leadership within the EC from the very beginning:
RT @tallskinnykiwi: What do Catholics have to do with the emerging church? A lot, actually. http://bit.ly/5QyCZT (Online source)
Then the other day TransFORM also Retweeted the below:
RT @Cathlimergent Cathlimergent Network http://cathlimergent.ning.com/ welcomes ALL denominations & noninstitutionals (it's a conversation) (Online source)
I've told you before that above link takes you to the website of something called Cathlimergent Conversations: Catholics in the Emerging Church Conversation:
Radically "rooting" orthodoxy in Jesus, orthopathy in contemplation, orthopraxy in social justice & orthocommunio in authentic community (Online source)
Well what do you know, there we already find as members such Emerging/ent/ence Church royalty as leading EC guru Brian McLaren, his friend Tony Jones, "theologian in residence" at the EC church of his equally heretical quasi-universalist pastor Doug Pagitt, and Phyllis Tickle, the Empress of Emergence. Then just the other day at his personal blog McLaren writes:
Thanks to John Sobert Sylvest for his great work in getting this new website started. (Online source)
And yesterday Sylvest tweeted:
@RickWarren feel free to join us at Cathlimergent since Ken Silva's already blown your cover ;) http://bit.ly/780d3M (Online source)

Ken Silva's NOT very happy: In fact, just today, McLaren writes:Thanks to John Sylvest for his great work http://bit.ly/780d3M (Online source)
The above link will take you to the article Roman Catholic Church Infiltrating Evangelicalism, which I mentioned at the top of this post. But how is Sylvest so sure that I am personally unhappy; perhaps as a pastor-teacher sent by Jesus, what if it's actually His Spirit within me expressing His anger at compromisers like Rick Warren? I show you as he tweets such nonsense as:
In inter-religious dialogue, we can seize opportunities to lead with the existential, ecumenical and pneumatocentric & avoid dogmatism. (Online source)
Of course he'd like to "avoid dogmatism"; you see, if one is to be "ecumenical" he has to be "existential" i.e. following highly subjective personal experience. But "pneumatocentric" (Spirit-centered), hardly; because if Sylvest et al were truly led by the Holy Spirit, they would recognize the Truth from Scripture and the proper doctrine of the historic orthodox Christian Church when they are shown it e.g. in the article he mocks above. And does Sylvest really expect those us whose minds are not dulled from Contemplative Spirituality/Mysticism to believe the Roman Catholic Church whom he serves is not dogmatic?
In closing this for now, I'd be really interested to hear from Rick Warren, and/or his new friend John Sobert Sylvest, just how it is that the Roman Catholic Church should no longer be considered apostate by the Body of Christ; especially when she continues to teach precisely the same things regarding soteriology—i.e. salvation—as she did when her own Council of Trent labored very carefully over a period of 18 years, then after arriving at her infallible dogma, still went ahead and anathematized the very Gospel of Jesus Christ itself. No doubt that ought to really make fascinating reading.
See also:
HAS THE ROMAN CATHOLIC CHURCH REALLY CHANGED?
WHAT DOES THE ROMAN CATHOLIC CHURCH TEACH ABOUT THE DOCTRINE OF JUSTIFICATION?
THE HOLY AND CATHOLIC CHURCH IS NOT THE ROMAN CATHOLIC CHURCH
ROMAN CATHOLICISM: ANOTHER GOSPEL OF BAPTISM AND SACRAMENTS 
THE ROMAN CATHOLIC CHURCH CONDEMNS PROTESTANT EVANGELICALS—EVEN RICK WARREN
THINK YOU'RE A ROMAN CATHOLIC IF YOU DISAGREE WITH THE POPE; BETTER THINK AGAIN