By Ken Silva pastor-teacher on May 16, 2010 in Current Issues, Features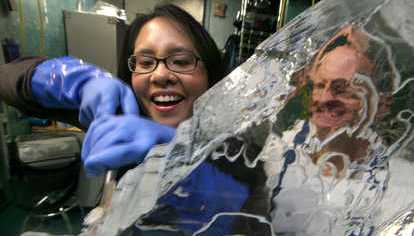 Dynamic innovative market strategizer and church-planter Chris M.A. Deal (foreground) and information analyzer and master missiologist Alhir "Stet" Edzer (background) are seen here carving out the very last alteratio0ns on the new mighty Missional Bible translation Anything Goes Evangelicalism: How To Make The World Love You.
Apprising Ministries was able to acquire this super-exclusive sneak peek of how these church geniuses have found a way to round off those nasty edges in God's Word, which once led to conflict with the world they so love to find favor with.
Here's what they've been able to go with Acts 15:1-2 in their magum opus of missional/emerging (same thing) church growth marketing techniques, which is dedicated to their beloved Leadership Network who spawned them:
Some inovative church planters came down from Judea and started teaching the Lord's followers that they could not be saved, unless they were circumcised as Moses had taught. This caused lead apostle Paul and his missiologist bro Barnabas to include them in the next Explosive Growth conference so they share how they had contextualized the gospel.

So it was decided to send Paul and Barnabas and a few others to Jerusalem to have a missions conference with the apostles and the church leaders there to teach them how the missional church planters were engaging the Jewish culture and bringing the church back to her Jewishness.