By Ken Silva pastor-teacher on Apr 5, 2010 in Current Issues, Emergence Christianity, Emergent Church, Features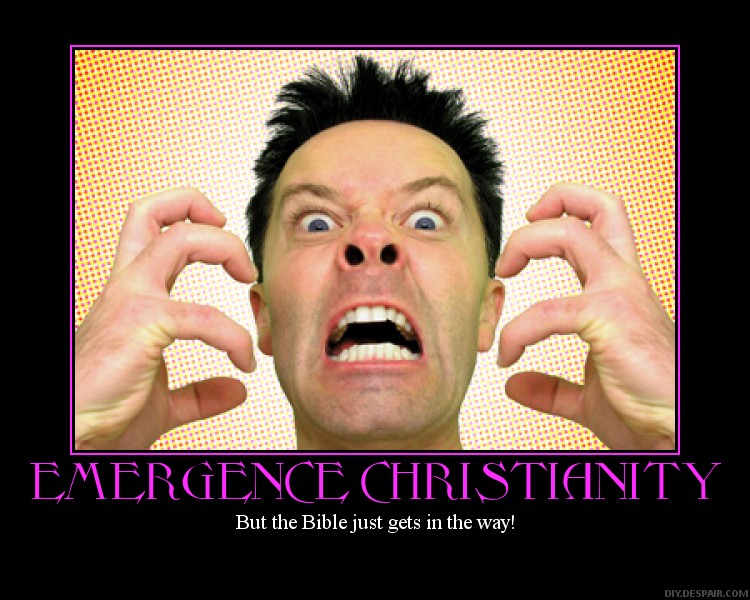 Apprising Ministries introduced you to BrianMerritt, "Senior Minister"of Palisades Community Church in Why Evangelicalism Is Failing A New Generation, As Is The Emerging Church and Fruit Of The New Progressive Theology Advanced By The Emerging Church. The latter post contains his reaction to my deconstructing a HuffPost written by his PCUSA pastrix wife Carol Howard Merritt in the former.
The Merritts apparently missed the memo by Tony Jones, the heretical progressive theologian in residence at the church of universalist Emerging Church pastor Doug Pagitt. In Tony Jones Scolds His Critics I showed you where Jones says to Emergent Church troops:
never click on a link posted by Ken Silva, or Christian Research Net, or Lighthouse Trails Research, or Apprising Ministries. Never use their names in a post or on a website (as I just did). And if you've got any old posts that link to their site, delete the links.

I'm not asking you to do this because I'm afraid of criticism.  If you've followed me at all in the past few years, you know that I'm not.  I'm asking you to do these things because these critics are dishonest. (Online source, bold his)
Yeah, as I dishonestly quote their own materials back to them it tends to get in the way of their de-formation of the Christian faith because others are becoming aware of what it is such as these actually are teaching in their new version of Progressive Christianity. And I've said many times these people are not nearly as loving and tolerant as they like to put on.
So someone like me who dares to disagree with, and confront, their raping of biblical Christian doctrine simply must be "angry" and just filled with "hate." And one of the favorite ways they like to brush off any critic, in the Humpty Dumpty world of this Emerging Church Wonderland, is to ignore what was said and then create a rabbit trail. And so Carol Howard Merrit would tweet:
Definition of "pastrix" 1) confluence of pastor/dominatrix (2) confusion of a man who cannot think of a woman as anything but a sex object. (Online source)
Next Brian Merrit would add:
Am I wrong for being disturbed by creepy, white fundevelicals using angry sexually charged comments against @carolhoward (Online source)
To show you how connected these in the EC Network TransFORM, who hold to this Liberalism 2.0 of a new form of big tent progressive Christianity are, the above slur drew the following from progressive Christian historian Diana Butler Bass; a friend and fellow Red Letter Christian with such EC nobility as Brian McLaren, Tony Campolo and Richard Rohr:
@BrianMerritt Par for the course. For what it is worth, they use "sexually charged" comments against many men, too ("theological wuss" etc). (Online source) 
But their big problem is, I'm not at all making any such sexual references such as I'm accused of below by PCUSA pastrix Deborah Matthews:
@BrianMerritt Those comments belong on the continuum of sexual assault. #someonehadtosayit #jokeskindahelptakestingout #butstillNOTokay (Online source)
As a former Roman Catholic, I'm simply using that term as reference to a female pastor in the very same sense that in apostate Roman Catholicism the Virgin Mary is referred to as Mediatrix of All Graces, and as Christian apologist Chris Rosebrough uses pastrix here in 2007 post Paula White Schills for 'Atonement Offerings'?!
But such is the hypocrisy of these supposedly loving progressive/liberals in their haste to vilify a critic. Well, like Timothy, I'm a pastor with a job to do; the principle behind the following:
As I urged you when I was going to Macedonia, remain at Ephesus so that you may charge certain persons not to teach any different doctrine, nor to devote themselves to myths and endless genealogies, which promote speculations rather than the stewardship from God that is by faith.

The aim of our charge is love that issues from a pure heart and a good conscience and a sincere faith. Certain persons, by swerving from these, have wandered away into vain discussion, desiring to be teachers of the law, without understanding either what they are saying or the things about which they make confident assertions. (1 Timothy 1:3-7, ESBV)
O, we can only imagine just how much "grace and peace" such as these new progressive/liberals would have extended to Timothy as he carried out his mission, eh.
See also:
REPORTS ABOUT THE "ATTACK" ON BRIAN MCLAREN
JESUS, RECONSIDERED: BRIAN MCLAREN AND AL MOHLER ON NPR
BRIAN MCLAREN AND HIS NEW EMERGING PROGRESSIVE THEOLOGY
THE EMERGING CHURCH, PHILIP CLAYTON, AND NEW PROGRESSIVE THEOLOGY
CALLID KEEFE-PERRY, KEN SILVA, AND THEOLOGY AFTER GOOGLE
LIBERALISM 2.0 THE NEW PROGRESSIVE CHRISTIAN