By Ken Silva pastor-teacher on Apr 5, 2010 in AM Missives, Current Issues, Emergence Christianity, Emergent Church, Features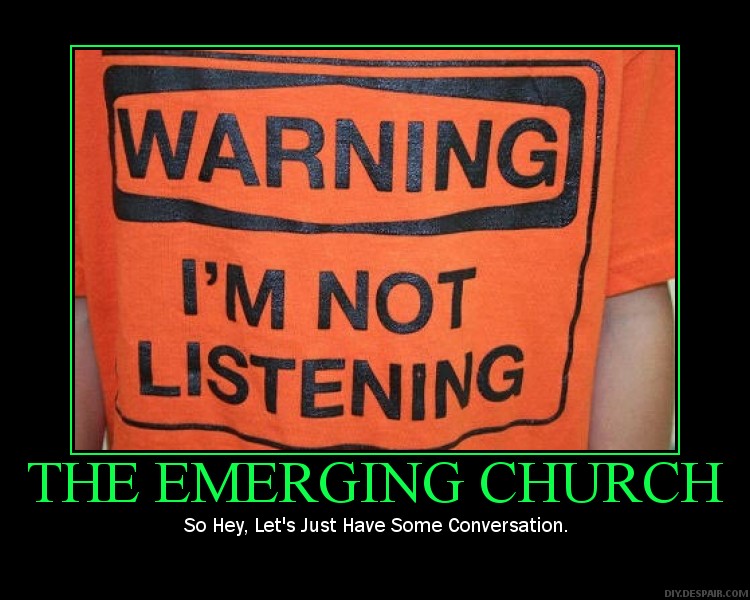 "You will know them by their fruits." (Matthew 7:16, NASB) 
Rotten Progressive Christianity
As a pastor-teacher, I offer this here at Apprising Ministries as a real good look at the fruit being produced by the updated Progressive Christianity being spread by the neo-liberal cult of the Emerging Church with its de-formation of the Christian faith called Emergence Christianity. This is the new version of "big tent" progressive Christian theology—Liberalism 2.0—which heretical Emergent Church guru Brian McLaren has begun laying out in his book A New Kind of Christianity. 
The link leads to the video of Don Knotts at the bottom of the page. But unfortunately for him a PCUSA pastor by the name of
Scott Cervas
 made the bad choice to become involved in all of this as well. He tweets the below to Carol Howard Merritt, her pastor husband Brian, another female "pastor"
Deborah Matthews
, and 
Drew Tatusko
—who at last check was a Christian agnostic elder in a PCUSA church: 
But, rather than dealing with anything I said in my artricle, instead pastor Merritt responds to Cervas with the foolish comment below:  
Despite my disagreement with his
Rick Warren
invite to DG 2010, I wouldn't even begin to claim to be a scholar on the level of a Dr. John Piper. But next notice the typical ploy of these new loving and tolerant ones, just the same as their liberal forebears, to immediately marginalize any opposition by attempting to paint us as "haters":  
Oh well. I guess the only way to deal with hate is prayer. Better add him to the prayer list. (Online source)
The only thing I hate is false doctrine; and I'm supposed to — hold firm to the trustworthy word as taught, so that he may be able to give instruction in sound doctrine and also to rebuke those who contradict it (Titus 1:9, ESV). And if the Emerging Church can use the new forms of social media to advance false doctrine then I have just as much right to rebuke those who do so. But here you need to consider that I'm not dealing with laymen as these are all actually pastors within the liberal/progressive PCUSA.
And finally, so often those who are caught in false doctrine piously pose before the world; and so accordingly, pastor Merritt tweets: 
Lord, give Ken Silva the peace that I desire. May he intensely know your love and peace. Help him to grow deeper in a knowledge of you. (Online source)
Well in return, I also sincerely pray to the Lord for Brian and Carol Howard Merrit: Jesus, please give them the peace that I have with You. May they intensely know Your love and peace. Help them to grow deeper in a knowledge of You.  However, the very vital issue that's being missed in all of this new progressive Christianity is: Which Jesus are we praying to? Is it the Jesus of the historic, orthodox, Christian faith; or is it instead, another Jesus as preached by so-called liberal/progressive Christianity?
See also:
REPORTS ABOUT THE "ATTACK" ON BRIAN MCLAREN
JESUS, RECONSIDERED: BRIAN MCLAREN AND AL MOHLER ON NPR
BRIAN MCLAREN AND HIS NEW EMERGING PROGRESSIVE THEOLOGY
THE EMERGING CHURCH, PHILIP CLAYTON, AND NEW PROGRESSIVE THEOLOGY
CALLID KEEFE-PERRY, KEN SILVA, AND THEOLOGY AFTER GOOGLE
LIBERALISM 2.0 THE NEW PROGRESSIVE CHRISTIAN