By Ken Silva pastor-teacher on Feb 17, 2010 in AM Missives, Brian McLaren, Current Issues, Emergence Christianity, Emergent Church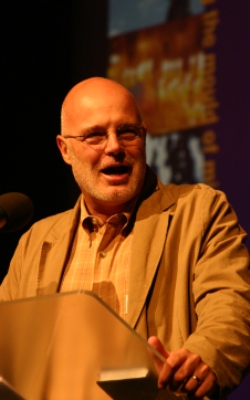 Apprising Ministries has taken a lot of flak for being an alleged ODM, which is a shorthand usually used in a derogatory sense for online discernment ministry. For five years now I've been saying that with Brian McLaren, a leading guru in the sinfully ecumenical Emerging Church aka Emergent Church—that morphed into Emergence Christianity (EC), you've been dealing with someone whose neo-liberal theology was simply not at all in accord with what the late cult expert, and noted Christian apologist, Dr. Walter Martin so often would call "the historic, orthodox, Christian faith."
In recent pieces like Did Brian McLaren Overplay His Hand? and Brian McLaren Invites You On His Quest To Destroy Christianity I've shown you that with his new book A New Kind of Christianity (ANKoC) McLaren, now a Living Spiritual Teacher alongside such as Deepak Chopra, the Dalai Lama, Thich Nhat Hanh, Eckhart Tolle, and Marianne Williamson, has now come out of the closet, as it were, and has all but laid out his reimagined i.e. new form of Progessive Christianity aka liberal theology that so many in the EC actually adhere to as well.
Some are now asking: How did you know that this is what McLaren has believed all along, when so many others didn't see it? This is simply the short answer; I happen to be a former Roman Catholic whom God mercifully delivered from the religious bondage of the Church of Rome, through absolutely no effort of my own, into the glorious liberty of the sons of God, by His grace alone, through faith alone, in the finished work on the Cross of Christ alone. As one who holds to Reformation theology, I therefore adhere to Sola Scriptura.
When it comes to Brian McLaren, I first used to keep an eye out for what he said about the Bible, which is God's Word (see—2 Timothy 3:16). Having been trained in counter-cult evangelism, this is the first area we look at: Does a given teacher believe in the final authority of Holy Scripture? It's always been quite obvious that Brian McLaren does not. So based upon Scripture e.g. Proverbs 29:18 — Where there is no prophetic vision the people cast off restraint (ESV); the prophetic vision spoken of here is the revealed Word of God, in the Bible, I knew his theology was already defective.
You see, once people like McLaren cut loose the anchor of the Bible, written as it was by God the Holy Spirit through His human vessels of His choosing, (at the very least) He then begins to let them drift much as a ship would on the ocean without any type of mooring. We need to understand that Christian spirituality is not some sort of merely mental exercise as so many seem to think. We're not afraid of experience with God; no, we're concerned with how it is the Lord has said that we should experience Him; and it's in the proper Christian spirituality of Sola Scriptura.
And then finally, as it concerns Brian McLaren and the curious folk he'd quote and/or associate himself with, I found myself meditating upon Amos 3:3 — Do two walk together unless they have agreed to do so? God here is asking us a rhetorical question with an implied answer of…yes; of course they do. In closing, I'll give you one example; consider what Brian McLaren said below about Reimagining Christianity, a book by a very liberal unbeliever (see—John 8:24) by the name of Alan Jones in 2004, who called the penal substitutionary atonement a "vile doctrine" (168).
Denying the work of the One you claim to be in ministry for is a serious problem; and it's also important to remember here that at the time of this book Alan Jones, another Living Spiritual Teacher, was known as The Very Rev. Dr. Alan Jones, dean of Grace Cathedral Episcopal Church in San Francisco. And I knew that this was the very same establishment where heretical Bishop James A. Pike once held court; you know, Do two walk together unless they have agreed, and yet Brian McLaren still said of Jones' reimagined progressive Christian theology:
"It used to be that Christian institutions and systems of dogma sustained the spiritual life of Christians. Increasingly spirituality itself is what sustains everything else Alan Jones is a pioneer in reimagining a Christian faith that emerges from authentic spirituality. His work stimulates and encourages me deeply." (back flap, emphasis added)
It's always just been a matter of time…
See also:
BRIAN MCLAREN CONTINUES TO BLUNDER
PUTTING BRIAN MCLAREN IN HIS PLACE
BRIAN MCLAREN COMMENDS FRIEND TONY JONES
TONY JONES, THE EMERGING CHURCH AND PROGRESSIVE CHRISTIANITY
DISSENTION GROWING AROUND THE EMERGING CHURCH
EMERGENT PAIN AND DISCORD IN THE EMERGING CHURCH
APPRISING MINISTRIES WITH A PEEK AT THE COMING SOTERIOLOGY OF EMERGENCE CHRISTIANITY