By Ken Silva pastor-teacher on Feb 10, 2010 in AM Missives, Brian McLaren, Current Issues, Emergence Christianity, Emergent Church, Features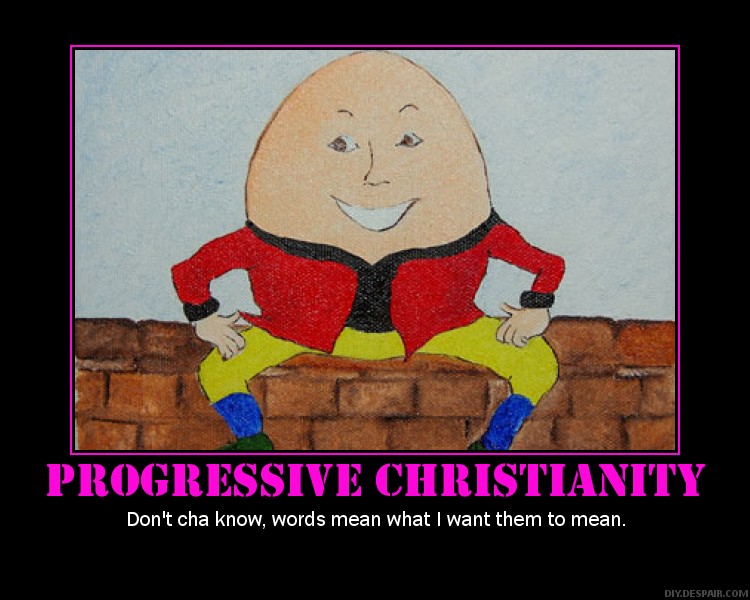 …they speak as from the world, and the world listens to them. (1 John 4:5)
Giving Them What They Want
It's becoming more and more obvious that Brian McLaren, a leading guru in the sinfully ecumenical Emerging Church aka Emergent Church—that morphed into Emergence Christianity—(EC), has made a tactical blunder with his latest book A New Kind Of Christianity (ANKoC). Recent Apprising Ministries articles like Goodbye Emergent: Why I'm Taking The Theology of the Emerging Church To Task and Dissention Growing Around The Emerging Church show there are people beginning to see through the Liberalism 2.0 of the EC.
With ANKoC McLaren has come out of the closet, so to speak, all but laying out the reimagined ( i.e. post) form of Progessive Christianity aka liberal theology that so many in the EC actually adhere to. And now McLaren makes another mistake so I once again find myself in the position of Putting Brian McLaren In His Place. Over at his personal blog today McLaren posted A sermon for "discernment website" folks … and for me too. McLaren muses:
This intelligent and helpful sermon from Joel Hunter provides some great communication ground rules for the folks who think I'm lost in the weeds when they read my new book … and for me when I try to respond. Maybe it will make the rounds in "discernment website" circles? (Online source)
My such a clever "counter-culture" way to find yet another excuse to place a link to his book, no? Like I said, even people who've been close to the EC are noticing this for what it is. In my opinion such as McLaren, and his friends like heretical EC pastor Doug Pagitt along with his equally heretical "theologian in residence" Tony Jones, have always had an agenda to promote what Dr. Walter Martin labeled the Cult of Liberal Theology, albeit in a newer hybrid postmodern form emphasizing Contemplative Spirituality/Mysticism.
And posts like the one Brian McLaren did today re. "discernment ministries," which he always refers to in quotations, reveal that those of us who do the often unpleasant task of online apologetics and discernment ministry are having an effect upon the EC. Don't kid yourself, men like McLaren and Doug Pagitt and Tony Jones know full well that the Internet is having an impact in Christian ministry. One need only look at the website for the upcoming Theology After Google conference.
I'll have more on this heresy-fest later; but for now, there we're told:
Progressive Christian theologians have some vitally important things to say, things that both the church and society desperately need to hear… Hence the urgent need for a conference to empower pastors, laypeople, and the up-and-coming theologians of the next generation to do "theology after Google," theology for a Google-shaped world…

Thanks to the Ford funding, we've been able to assemble a stellar team of cultural creatives and experts in the new modes of communication. We are also inviting a selection of senior theologians, and well as some of the younger theologians (call them "theobloggers") whose use of the new media (blogging, podcasts, YouTube posts) is already earning them large followings and high levels of influence. (Online source, emphasis mine)
Progressive "Christians" had best note: As long as I, for one, am still here I'll continue to point out e.g. that Dr. John MacArthur said it well when he reminded us false doctrine always cries the loudest for unity because it can't stand to be scrutinized. And just so you know, if evangelical leaders blessed with forums much larger than ours had the intestinal spiritual fortitude to confront this neo-liberal doctrine as it continues invading the mainstream of the visible church, you would never have heard of a Ken Silva.
See also:
BRIAN MCLAREN ON RELIGIOUS INSANITY AND EVANGELICAL COWARDICE
BRIAN MCLAREN COMMENDS FRIEND TONY JONES
EMERGING WITH A CHRISTIANITY DOUG PAGITT LIKES
THE EMERGING CHURCH AGENDA AND DOUG PAGITT
THE NEW CHRISTIANS WITH CHRISTIANITY WORTH BELIEVING—NO SOLA SCRIPTURA: YES, WOMEN PASTORS AND QUEER CHRISTIANS
THROWN UNDER THE EMERGING CHURCH BUS