By Ken Silva pastor-teacher on Oct 14, 2009 in Brian McLaren, Current Issues, Emergence Christianity, Emergent Church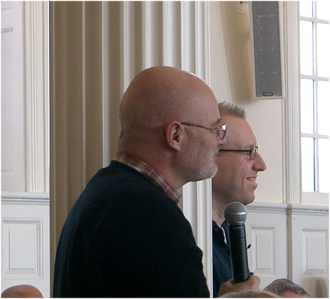 Brian McLaren, a head guru of the egregiously ecumenical Emerging Church aka Emergent Church de-formation of the Christian faith—now morphing into Emergence Christianity (EC), says, "Well done" to Christianity 21 (C 21). The regular reader of Apprising Ministries know that C 21 was put on by JoPa Productions, which is the company formed by McLaren's friend Tony Jones—heretical "theologian in residence" at the EC church of his equally heretical, and JoPa partner, quasi-universalist pastor Doug Pagitt.
In his short post today McLaren mentions:
I really enjoyed seeing some photos from C21 at Tony Jones' blog. Although we had to miss C21,…

It's more clear than ever that good things are popping up (a euphemism for emerging) all over the planet. Thanks to JoPa and everyone who made C21 such an important and beautiful event, from which benefits will flow even for those of us who couldn't be there. (Online source)
As you'll see McLaren made sure that both of the above links would take us to posts at the blog of Tony Jones at the interspiritual website Beliefnet.
See also:
THE NEW CHRISTIANS WITH CHRISTIANITY WORTH BELIEVING—NO SOLA SCRIPTURA: YES, WOMEN PASTORS AND QUEER CHRISTIANS
TONY JONES SHARES LOVE FOR "CRAZIES" LIKE KEN SILVA
TONY JONES ON CHRISTIANITY 21 APOSTASIA-PALOOSA
CHRISTIANITY 21 AND ALLEGED INNOVATIVE VOICES IN THE FAITH: PHYLLIS TICKLE
CHRISTIANITY 21 AND ALLEGED INNOVATIVE VOICES IN THE FAITH: NADIA BOLZ-WEBER
THE EMERGING CHURCH HIGHJACKING EVANGELICALISM