By Ken Silva pastor-teacher on Oct 14, 2009 in Emergence Christianity, Emergent Church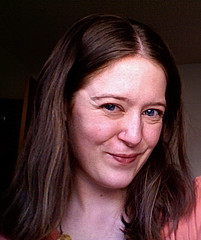 Don't let anyone look down on you because you are young, but set an example for the believers in speech, in life, in love, in faith and in purity. (1 Timothy 4:12)
Epic Fail As Anything Close To A Pastoral Example
CRN, sister outreach to Apprising Ministries, first introduced you to Emerging Church pastrix Fisher in Makeesha Fisher: Sometimes You Gotta Be Crass where it was noted that she was a featured speaker at the recently concluded Emergent Church conference called Christianity 21 (C 21).
AM has already informed you that C 21 itself was put on by the dubious duo of the egregiously ecumenical Emerging Church aka Emergent Church de-formation of the Christian faith—now morphing into Emergence Christianity (EC)—heretical quasi-universalist pastor Doug Pagitt and his equally heretical "theologian in residence" Tony Jones.
Pagitt and Jones told us that this C 21 would feature 21 women who'd be revealing "the way the Christianity will be changing in coming days." Fisher will sure do that for you now. And, as we must do on a regular basis with voices of this new Emergence Christianity, we include the usual "foul language alert" as yesterday EC spokesperson Fisher Tweets the link to a teaching she's done called anger:
anger – Several things have happened this past year that are just shitty. No way around it. In some cases I… http://tumblr.com/xfn3i9gfn (Online source)
And that's just for openers; if you choose to partake of Fisher's musing wisdom, and or that of e.g. fellow foul-mouthed C 21 voice ELCA "pastor" Nadia Bolz-Weber—who announced to the world she's a former professional f**k-up—you'll see that this emerging pseudo-Christianity is really big on women "pastors" who also swear like secular longshoremen:
*sigh. Welcome to my f**ked up world boys and girls – 'aint it grand? (Online source)
Very nice example for the believers in speech and in purity. Jesus did tell us — "out of the overflow of the heart the mouth speaks" (Matthew 12:24). As one who's been tracking the quasi-Christianity of this EC for years now, it doesn't surprise me when a reader made me aware that Rob Bell, the Elvis of this EC, used "wtf" (stands for what the f**k)  within his "sermon" at Catalyst 09 to the laughter of the crowd. Afterall, these who love the world (see—James 4:4 for Jesus' thoughts on that) are quite the hipsters.
Then later when her friend Drew Tatusko, who's somehow now an elder in the Presbyterian Church (USA), would tell her:
that's why i am glad @btatusko is far less prone to depression than me. (Online source) 
EC voice Makeesha Fisher would share with the world:
@dtatusko I'm less prone than David too – sadly, when I am melancholy or depressed it's usually at the same time as David. F**k'n empathy (Online source)
Well, yesterday in Bob DeWaay And Chris Rosebrough On The Emerging Church containing a must-hear lecture I echoed the quesition posed by my friends DeWaay and Rosebrough within: Why are respected evangelical theologians remaining silent? Because it's well past time evangelical leaders—and maybe even your own pastor—wake up to the fact that such as these vacuous "voices" in the postliberal cult of the EC have been adversely influencing your youth for years now within mainstream evangelicalism.
As I said before: The Nightmare Is Just Beginning For Mainstream Evangelicalism.
See also:
THE NEW CHRISTIANS WITH CHRISTIANITY WORTH BELIEVING—NO SOLA SCRIPTURA: YES, WOMEN PASTORS AND QUEER CHRISTIANS
CHRISTIANITY 21 AND ALLEGED INNOVATIVE VOICES IN THE FAITH: PHYLLIS TICKLE
NO-CONTROVERSY FOR THE NEW DOWNGRADE
THE EMERGING CHURCH HIGHJACKING EVANGELICALISM
EMERGENCE CHRISTIANITY—A POSTLIBERAL CULT SLITHERS INTO EVANGELICALISM
THE EMERGING CHURCH HATES THE LIGHT