By Ken Silva pastor-teacher on Feb 8, 2010 in AM Missives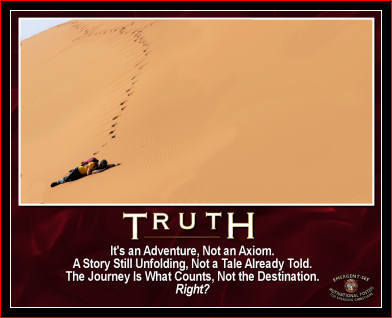 As I told you e.g. in Emerging Church And TransFORM's Steve Knight "Communication + Mission" specialist Knight founded this latest network of the sinfully ecumenical Emerging Church aka Emergent Church—that morphed into Emergence Christianity—(EC). Today Knight wants us to know that:
just posted a comment for Jeremy @Bouma on his post "Goodbye Emergent": http://bit.ly/b1rziT (Online source)
You may recall Jeremy Bouma from the Apprising Ministries piece Did Rob Bell Forget The Cross? There Bouma, who used to refer to himself as an "emerging- missional follower of Jesus," shared his experience at the Poets, Prophets, Peachers (PPP) conference put on last year by Emerging Church icon Rob Bell, which also featured his equally heretical friends Peter Rollins and his now co-teaching pastor Shane Hipps.
Bouma was live blogging from PPP where, concerning Bell's mystical musings, he pondered:
I also am curious why The Story that Rob was encouraging us pastors to tell was missing the Event of the Cross, the point at which God objectively dealt with the three objective realities of evil, sin, and death… While he also emphasized the resurrection as key to the New Creation, I am confused HOW even the resurrection is made possible or actually does something for US without the Event of the Cross. (Online source)
Well, possibly that event may have had something to do with Bouma looking at the sinfully ecumenical Emerging Church aka Emergent Church—that morphed into Emergence Christianity—(EC) in a new way. The above link from Steve Knight takes us to Bouma's post today Goodbye Emergent: Why I'm Taking The Theology of the Emerging Church To Task where he informs us:
Once upon a time I was enamored by the "I-am-not-a-movement-but-a-conversation" known as the emerging church (In fact, at my seminary I've been known as Emergent Jeremy!) Five years ago, I stumbled upon an "emerging" author known as Brian McLaren (even attending his church for a stint). I gobbled-up his "A New Kind of Christian" trilogy because it's question-asking permissive narrative gave flesh to the phantom that was haunting me at the time… (Online source)
Bouma goes on to tell us that as his "relationship with Emergent progressed" he began "wonder" about a few things concerning the EC; for example, "why it was cool and trendy to disregard Paul, pity the fool who believed in real judgment, ignore the cross, and downplay individual participation in rebellion/sin." He writes that he "became uncomfortable" with, and has apparently, "grown downright tired of the theology that has bubbled-up out of the emerging church."
As Bouma then goes on he gives us some serious reason to be quite alarmed that this type of EC theology, not only is being openly embraced within the mainstream of evangelicalism, but has been fed to your youth for years now. It also becomes all the more important to remember here that Bouma's writing from an insider's viewpoint when he candidly shares:
I'm not exactly sure when my saucy love affair with emergent and liberal Christianity ended. My "I don't" isn't as crystalized as my "I do." Maybe it was when I read Pelagius' writings and realized much of Emergent theology really does mirror his 5th century theology.

Maybe it was after the former head of Emergent Village, Tony Jones, rejected original sin, a historic part of the Rule of Faith, claiming that it is "neither biblically, philosophically, nor scientifically tenable. ".

Maybe it was when I read Fredrick Schleiermacher and realized his and modern liberalism's vapid, gospel-less faith are being repackaged and popularized to an unsuspecting, ignorant Christian community as a wholesome alternative to what has been.

Maybe it was after I read Karl Barth and realized the natural theology pushed by popular emergent theologians is not revitalizing Christian faith, but killing it; it is the same kind of faith Barth so vociferously fought against in order to preserve the historic Rule of Faith.

Maybe it was after reading a leading emerging church voice suggest that God and grace and the Kingdom of God are not tied directly and exclusively to Jesus Christ; ultimately its not really about Jesus, but about a vanilla, generalized World-Spirit god (lower-case "g")… (Online source)
In fairness to Jeremy, let me also draw your attention to where Bouma quite specifically informs his readers that he's not on a "heresy hunt"; nor has he suddenly become one of "the hyper-fundamentalists who exalt themselves as Truth Defenders." And I agree with Bouma concerning the importance of what he says in his post today because he is saying "au revoir" having "been on the inside of and involved with this conversation for half a decade."
He then reiterates and points out that he:
I attended Brian McLaren's church; I helped host the Church Basement Roadshow at my church for Tony Jones, Doug Pagitt, and Mark Scandrette; I've had several interactions with Doug Pagitt, someone I like as a person and who even introduced me to my wife and attended our wedding; and I am personal friends with the coordinator of the Emergent West Michigan cohort who is also a member of the new Coordinating Council for Emergent Village. (Online source)
Bouma's correct in that he's writing here as "an insider who is simply leaving the inside." It also looks to me that Steve Knight realized the EC now needs to swing into damage control mode as the new book by EC guru Brian McLaren, which is as close to a systematic theology of EC beliefs as we've seen, is about to drop. You see, it will essentially confirm what Bouma's just told us above concerning the EC as a Liberalism 2.0 i.e. a reimagined form of quasi-univeralist Progressive Christianity.
See also:
THE EMERGING CHURCH SOWING ITS NEO-ORTHODOX CONFUSION ON SCRIPTURE
PHIL JOHNSON ON THEOLOGICAL LIBERALISM
TONY JONES, THE EMERGING CHURCH AND PROGRESSIVE CHRISTIANITY
SOUTHERN BAPTIST CONVENTION AND "INSIGHTFUL" EMERGING CHURCH HERETIC TONY JONES
IN THE EMERGING CHURCH OOZE CONVERSION IS OUT 
APPRISING MINISTRIES WITH A PEEK AT THE COMING SOTERIOLOGY OF EMERGENCE CHRISTIANITY