By Ken Silva pastor-teacher on Dec 31, 2009 in AM Missives, Current Issues, Emergence Christianity, Emergent Church, Features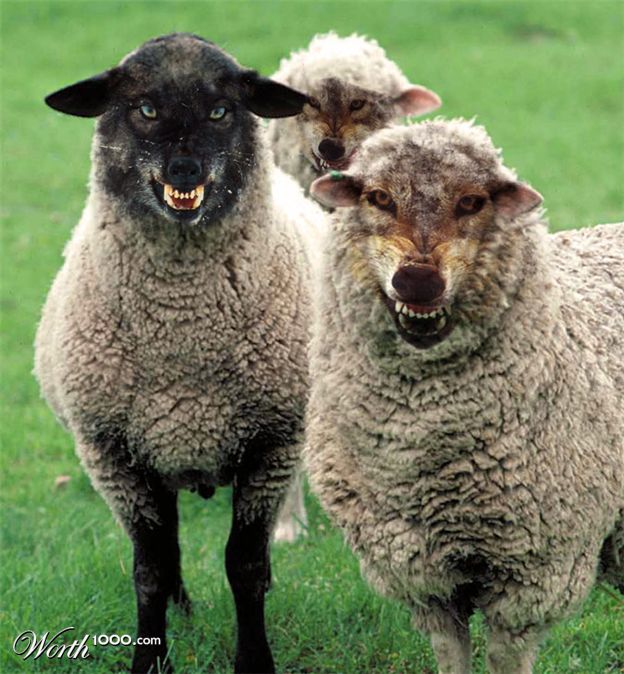 This online apologetics and discernment work Apprising Ministries has been covering the egregiously ecumenical Emerging Church aka Emergent Church that morphed into Emergence Christianity (EC)—and which is now a cult of a postliberalism firmly within mainstream evangelicalism—for some five years now. As you may know the EC is sometimes also called "the conversation"; however, any of us who've attempted real dialogue with leaders within this cult can tell you, it's a one-way track reserved for those who agree with their de-formation of the Christian faith.
Now, that's fine by me; what I object to is the EC public posturing that somehow they are the tolerant ones. But the truth is if you disagree with them, then you'll quite quickly have the derogatory label "fundamentalist" [in EC-speak means: legalist] slapped upon you. And therefore, since you're now somehow a "hater," you are no longer worthy to be listened to. A case in point is a post from heretical quasi-universalist EC Doug Pagitt, which I mentioned in Doug Pagitt And Friends Attacked? And incidentally, I know who Pagitt was referring to; it wasn't me, as one will see when those involved tell their own story.
However, as a pastor-teacher sent by Jesus, I used Pagitt's post as a teaching object lesson illustrating precisely what I just said above. One need only read (unless he deletes more of them) Pagitt's non-responsive self-righteous comments in the combox of his post Strangely Familiar. You see, for all the EC blather that we must be humble, etc. because we can't know for sure what the text of the Bible says, when their EC agenda to high-jack the rest of the church visible is confronted, suddenly they become quite sure of one thing a priori: Anyone who dares disagree with their neo-Gnostic view of Christianity is absolutely wrong.
For example, consider below that the postmodern Pagitt certainly appears to think he knows for certain what Jesus meant when Christ was dealing with the Pharisees and Sadducees:
dougpagitt Says:

December 30th, 2009 at 10:52 pm

… Let me just say quickly that what Jesus was doing was flipping the accusation from the Pharisees and Sadducees back on them. They were accusing the sinner of being the problem and Jesus was defending the weak from the self-proclaimed righteous. Jesus was not a heresy hunter he was protecting from the self-righteous.

here are blog posts showing what I have been referring to.

http://www.reformata.org/2009/12/doug-pagitt-and-friends-attacked/

https://www.apprising.org/?s=doug+pagitt&submit=go (Online source)
Well, as I said at the conclusion of the AM article he references, if Doug Pagitt doesn't like criticism, then he should repent of his sin of involvement with seducing spirits spreading doctrine of demons through the EC. I've got some news for Pagitt et al; should the Lord choose to sustain me along the Internet front of this spiritual Vietnam of a Truth War, I will continue to faithfully discharge my duty as a minister of the Gospel:
preach the word; be ready in season and out of season; reprove, rebuke, and exhort, with complete patience and teaching. For the time is coming when people will not endure sound teaching, but having itching ears they will accumulate for themselves teachers to suit their own passions, and will turn away from listening to the truth and wander off into myths. (2 Timothy 4:2-4, ESV)
To quote the late great defender of the historic, orthodox Christian faith Dr. Walter Martin circa 1985, "Congratulations, we're here; right now." You see, this isn't a game for me; and I for one, couldn't care less that bigger "name" ministries aren't telling it like it is: The EC has always had an agenda to capture the visible church with its reimagined version of liberalism, an upgraded Liberalism 2.0 that comes complete with a deadly virus which attacks the proper Christian spirituality of Sola Scriptura.
And that would be the Contemplative Spirituality/Mysticism (CSM) as taught by Living Spiritual Teacher and Quaker mystic Richard Foster along with his spiritual twin and Southern Baptist minister Dallas Willard, which has been rapidly spreading throughout mainstream evangelicalism under the guise of spurious Spiritual Formation. Take a look a Disciplines To Deception In Southern Baptist Convention and Lutheran Church Missouri Synod: Commission On Ministerial Growth Endorses Contemplative/Centering Prayer and you'll see just how wide-spread the virus of CSM has become.
I'm serving notice that I have no intention of letting the EC high-jacking continue without a fight. As long as men like me are breathing, they'll never achieve their goal of unity in the church visible and peace with the world. And, the Lord be praised, the very fact that Doug Pagitt, Tony Jones,  Samir Selmanovic, and Jay Bakker now have to react publicly to what I write is proof that AM is having the effect that Jesus told me He wants it to have. After-all, now that we're having dueling revelations with God, how do you know He didn't tell me that? Answer: You don't.
Sola Scriptura:
holding fast the faithful word which is in accordance with the teaching, so that he will be able both to exhort in sound doctrine and to refute those who contradict. For there are many rebellious men, empty talkers and deceivers,.. (Titus 1:9-10, NASB)

Now I urge you, brethren, keep your eye on those who cause dissensions and hindrances contrary to the teaching which you learned, and turn away from them. For such men are slaves, not of our Lord Christ but of their own appetites; and by their smooth and flattering speech they deceive the hearts of the unsuspecting. (Romans 16:17-18, NASB)
See also:
THE EMERGING CHURCH SHARES IT'S LOVE FOR…
DOUG PAGITT AND A "CHRISTIANITY" HE LIKES
KEN SILVA AND DOUG PAGITT AGREE
EMERGING CHURCH PASTOR DOUG PAGITT
DOUG PAGITT AND CHRISTIAN UNIVERSALISM
*UPDATE* EMERGING CHURCH PASTOR SAMIR SELMANOVIC DOESN'T NEED TO BE RIGHT
THE NEW CHRISTIANS WITH CHRISTIANITY WORTH BELIEVING—NO SOLA SCRIPTURA: YES, WOMEN PASTORS AND QUEER CHRISTIANS