By Ken Silva pastor-teacher on Dec 30, 2009 in Contemplative Spirituality/Mysticism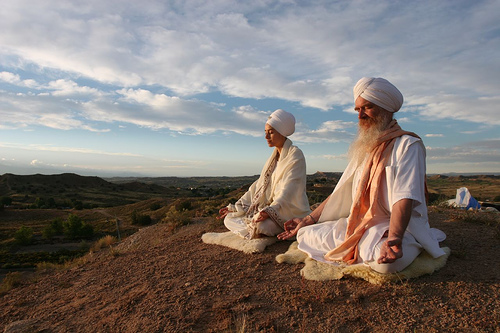 This so-called "spiritual discipline" is the chief vehicle of Contemplative Spirituality/Mysticism and is without question a "Christian" form of transcendental meditation. Consider the following from Contemplative (Centering) Prayer:
In 1974, Father William Meninger, a Trappist monk and retreat master at St. Josephs Abbey in Spencer, Mass. found a dusty little book in the abbey library, The Cloud of Unknowing. As he read it he was delighted to discover that this anonymous 14th century book presented contemplative meditation as a teachable, spiritual process enabling the ordinary person to enter and receive a direct experience of union with God.

This form of meditation, recently known as 'Centering Prayer' (from a text of Thomas Merton) can be traced from and through the earliest centuries of Christianity… (Online source)
The last statement is true to a point; as you'll see in Keeping You Apprised Of: Contemplative/Centering Prayer it did not originate with Jesus or His Apostles, but circa third century from hermits in the desert of Egypt who're romanticized today as "the desert fathers." And as you can see the terms Contemplative/Centering Prayer (CCP) are synonymous for this practice of "wordless prayer."
You'll also see that practioners of CCP, such as Living Spiritual Teacher and Quaker mystic Richard Foster, will often refer to CCP as "the silence." Foster tells us:
Contemplative Prayer immerses us into the silence of God. How desperately we in the modern world need this wordless baptism… Contemplative Prayer is the one discipline that can free us from our addiction to words. Progress in intimacy with God means progress toward silence… It is recreating silence to which we are called in Contemplative Prayer…
A Warning And A Precaution
At the outset I need to give a word of warning,… Contemplative Prayer is not for the novice. I do not say this about any other form of prayer… Contemplative prayer is for those who have exercised their spiritual muscles a bit and know something about the landscape of the spirit. In fact, those who work in the area of spiritual direction always look for signs of a maturing faith before encouraging individuals into Contemplative Prayer…
I also want to give a word of precaution. In the silent contemplation of God we are entering deeply into the spiritual realm, and there is such a thing as a supernatural guidance. While the Bible does not give us a lot of information on that, there are various orders of spiritual beings, and some of them are definitely not in cooperation with God and his way! … But for now I want to encourage you to learn and practice prayers of protection. (Prayer: Finding The Heart's True Home, 155, 156, 157)
CCP has no place in the Body of Christ; because if it did, when Jesus was asked by His disciples how to pray, He would surely have mentioned this alleged "wordless baptism" supposedly so necessary for, "Progress in intimacy with God [i.e. Law]." But the Master did not. How do we know; well, I'm glad you asked.
We know because God the Holy Spirit tells us in His inspired, inerrant, and infallible, text of Holy Scripture through His chosen vessel Luke:
Now Jesus was praying in a certain place, and when He finished, one of His disciples said to Him, "Lord, teach us to pray, as John taught his disciples." And He said to them, "When you pray, say: Father, hallowed be Your name. Your kingdom come. Give us each day our daily bread, and forgive us our sins, for we ourselves forgive everyone who is indebted to us. And lead us not into temptation." (Luke 11:1-4, ESV)
See also:
LUTHERAN CHURCH MISSOURI SYNOD: COMMISSION ON MINISTERIAL GROWTH ENDORSES CONTEMPLATIVE/CENTERING PRAYER
CONTEMPLATIVE SPIRITUALITY OF RICHARD FOSTER ROOTED IN THE EASTERN DESERT AND THOMAS MERTON
MEDITATING ON CONTEMPLATIVE/CENTERING PRAYER
DISCIPLINES TO DECEPTION IN SOUTHERN BAPTIST CONVENTION
CALVINIST CONTEMPLATIVE SPIRITUALITY/MYSTICISM?
DANGERS OF CONTEMPLATIVE SPIRITUALITY/MYSTICISM: LECTIO DIVINA
DONALD WHITNEY AND EVANGELICAL CONTEMPLATIVE SPIRITUALITY/MYSTICISM