By Ken Silva pastor-teacher on Dec 30, 2009 in Emergence Christianity, Emergent Church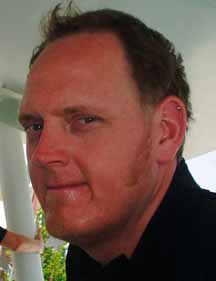 Heretical quasi-universalist Doug Pagitt is beyond question a key voice in the egregiously ecumenical Emerging Church aka Emergent Church that morphed into Emergence Christianity (EC)—and which is now a cult of a postliberalism firmly within mainstream evangelicalism. 
Well, it seems that Pagitt and others around him have recently been under some kind of attack. Last night Pagitt tweeted:
Strangely Familiar – new post on dougpagitt.com – http://bit.ly/6EhrXy (Online source)
That link leads us to the post Strangely Familiar where, ever the promoter, Pagitt shares the short video below and informs us that it "shows an interaction" which:
is strangely familiar to how I, and a number of friends of mine, are treated by some Christian fundamentalists.

In this video Irshad Manji is called names (devil in disguise, lunatic deceiver) by a more fundamentalist muslim and Irshad tries to argue that calling her such names is hateful speech. Her detractor argues that it is not, basically, because it is "true".

Oh, how familiar…  I hope to have her on the radio show soon. (Online source)
Huh, after looking at the video, it sounds like Pagitt et al must have been dealing with "Christian fundamentalists" like Fred Phelps and Westboro Baptist Church. Not to worry Doug, no one credible actually pays any attention to people like that; nor does the Body of Christ condone such behavior.
As far as so-called "hateful speech" though, perhaps we remember this from Christ Jesus, Himself love in human flesh — "Why is My language not clear to you? Because you are unable to hear what I say. You belong to your father, the devil, and you want to carry out your father's desire" (John 8:43-44).
O, that's right; Jesus was only talking there to false religious leaders, so I guess that would really have nothing to do with someone like Doug Pagitt. After-all, it's not like he's a published evangelical author and a well known leader or anything within the religious movement of the Emerging/ent/ence de-formation of the Christian faith.
My suggestion is, if Doug Pagitt doesn't like criticism, then he should repent of his sin of involvement with seducing spirits spreading doctrine of demons through the EC. I'm just sayin'…
See also:
THE EMERGING CHURCH SHARES IT'S LOVE FOR…
DOUG PAGITT AND A "CHRISTIANITY" HE LIKES
KEN SILVA AND DOUG PAGITT AGREE
EMERGING CHURCH PASTOR DOUG PAGITT
DOUG PAGITT AND CHRISTIAN UNIVERSALISM
BOB DEWAAY AND CHRIS ROSEBROUGH ON THE EMERGING CHURCH
THE NEW CHRISTIANS WITH CHRISTIANITY WORTH BELIEVING—NO SOLA SCRIPTURA: YES, WOMEN PASTORS AND QUEER CHRISTIANS