By Ken Silva pastor-teacher on Dec 15, 2009 in Current Issues, Features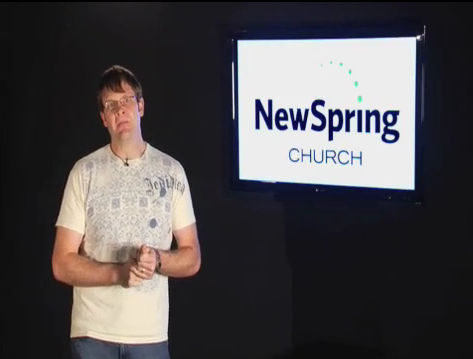 This Apprising Ministries post is a short follow-up to Perry Noble Repent and an update concerning the sad issue detailed by Dr. James Duncan in Holy rage at the 'Spring over at his Pajama Pages blog.
And as I pointed out previously you can learn all the pertinent details in Dr. James Duncan On Pirate Christian Radio To Discuss Issue With Perry Noble's NewSpring Church. 
That Pirate Christian Radio program has now been archived in two parts at the Fighting for the Faith website of Christian apologist Chris Rosebrough as Perry Noble's Employees Assassinate the Character of a Critic.
Here I point you to the latest from Dr. Duncan who tells us in his post Shut up, they explained he's still experiencing the bitter fruit of Noble's NewSpring church:
I don't know what kinds of questions Perry Noble is having to answer in his world, but if you survey the comments on this blog you'll find a number of challenges to my position. While we await Noble's explanation, I'll offer this personal defense… (Online source)
The truth is Dr. Duncan is still paying a price in his comments section from people who've become exactly what Noble's preaching would lead them to be. And it's spreading through the allegedly infallible Purpose Driven/Seeker Driven Popes Of The Carolinas and an ex cathedra bull such as the following:
A leader should never allow doubters to dictate the direction of their ministry…when God speaks our obsession MUST be complete obedience! (Online source, caps his)
We told you in Rick Warren Now Openly Promoting Contemplative Spirituality/Mysticism that Purpose Driven Pope Rick Warren has lined up Perry Noble as a featured speaker for his upcoming Radicalis conference at Saddleback Church along with Andy Stanley, Mark Driscoll, and Pete Scazzero—a growing guru of corrupt Contemplative Spirituality/Mysticism.
In closing this for now, it is interesting to note that in the March 3, 2009 post Thr3e at his blog Noble tells us:
Pastor Steven Furtick is one of my best friends on the planet…and so when I heard that he and the crew at Elevation Church were putting together an event I called him and told him I was going to blog about it…he didn't ask!!!  I wanted to because I believe in him and the ministry God has blessed him with. (Online source)
Judging by Perry Noble Says You're A Jackass, and the video below, it appears Steven Furtick has learned well from his mentor Perry Noble how to beat the sheep.
See also:
*UPDATE* PERRY NOBLE: APPEAL TO REASON USELESS
PERRY NOBLE SOUNDING NOT SO NOBLE
PERRY NOBLE PAYS HOMAGE TO RICK WARREN AND TELLS HIS CRITICS "THEY CAN KISS MY…"
BRAD COOPER OF PERRY NOBLE'S NEW SPRING CHURCH WITH A VERY FOUL-MOUTHED REFERENCE TO "WORSHIP"
KEN SILVA ON PERRY NOBLE FOR IRON SHARPENS IRON
STEVEN FURTICK CALLS JOEL OSTEEN GREAT MAN OF GOD