By Ken Silva pastor-teacher on Dec 7, 2009 in AM Missives, Current Issues, Features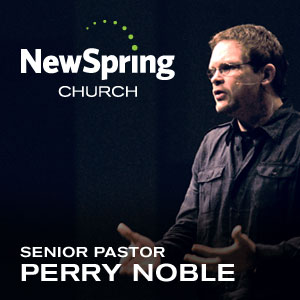 You may recall Apprising Ministries carried a post by my good friend and CRN correspondent Stephen Macasil called Perry Noble And NewSpring Church Attempt To Silence Their Critic: Dr. James Duncan. Therein Macasil informs us:
Dr. James Duncan, Associate Professor of Communication at Anderson University, has written "Holy Rage at the 'Spring," a detailed account of his recent experience with NewSpring Church (Perry Noble's church). Some of Dr. Duncan's content is not suitable for all ages as he retells the story of what happened and what was said – reader discretion is advised (language, sexual references – as he quotes NewSpring's people).

Apparently, this all started once Dr. Duncan began to criticize Noble/NewSpring on his blog!
In his post 'Holy Rage' At Perry Noble's NewSpring Church another friend of mine, Joel Taylor of 5 pt. Salt, is also quite right when he says that this story involving Perry Noble (in video below) is "a complicated one." Taylor also tells us that, "Recently, NewSpring made an announcement to the 'church family', which involved an unnamed critic of Noble." He then quotes part of its text:
Recently, certain events occurred that Pastor Perry and the Church's leadership feel the NewSpring Church family needs to know about.

Earlier this year, a critic of the church from the Anderson community created a critical blog site and posted numerous blogs disagreeing with the methods of NewSpring Church and the messages that Pastor Perry has preached, including basic theological doctrine.

In February an employee of the church met with this individual in an attempt to resolve any misunderstandings and listen to his concerns. Since that meeting, the frequency and intensity of the critical blogs have increased. (Online Source)
The "critic" turns out to be Dr. James Duncan, and the blog is Pajama Pages. In his latest post Dr. Duncan presents A message to my students where he shares a bit of the toll thus far:
I apologize to you that this has happened during finals week. None of us needed the additional stress right now.

To those of you who attend NewSpring, my complaint is not with you or the many other people who also attend. It is strictly with a set of staffers and insiders who seem to have lost their senses in dealing with me and my family. We have friends and neighbors who attend NewSpring that we continue to love and support.

If you're worried that I might think less of you because you go the NewSpring, I don't and I won't… (Online source)
And later today Dr. James Duncan will be a guest on the Fighting for the Faith (FftF) radio program of Christian apologist Chris Rosebrough. FftF can be heard on the Pirate Christian Radio network at 6PM Eastern Standard Time.
See also:
PERRY NOBLE REBUKES ROB BELL!?
BRAD COOPER OF PERRY NOBLE'S NEW SPRING CHURCH WITH A VERY FOUL-MOUTHED REFERENCE TO "WORSHIP"
PURPOSE-DRIVEN POPES OF THE CAROLINAS HAVE SPOKEN
PERRY NOBLE SOUNDING NOT SO NOBLE