By Ken Silva pastor-teacher on May 12, 2014 in AM Missives, Current Issues, Features, T.D. Jakes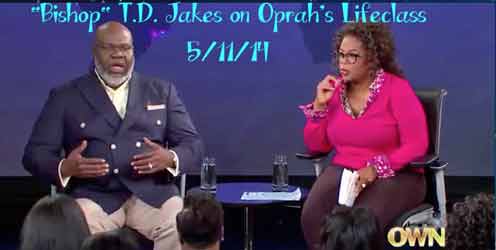 Here at Apprising Ministries I've been covering the inroads into evangelicalism being made by "trinitarian-modalist" and Word Faith prosperity preacher T.D. Jakes, even though James MacDonald Was A Bit Late In Mainstreaming T.D. Jakes.
Last time out in T.D. Jakes Hawks New Self-Help Book I told you about a recent book signing for his latest man-centered manifesto, Instinct: The Power to Unleash Your Inner Drive, at Books & Greetings in rather out of the way Northvale, NJ .
Yesterday the venue seemed more like it for the mega-millionaire "Bishop" as he appeared once again for Oprah's Lifeclass. He was there not long ago as well as I showed you in Oprah Winfrey's Lifeclass and Elephant Room 2's T.D. Jakes.
Following are a couple of clips from the program yesterday where professing Christian Oprah Winfrey ((In Oprah Winfrey is not a Christian couple of years ago I showed you in great detail using her own words that Winfrey is not a Christian. Rather, she's into what's become known as the New Spirituality aka the New Age.)) featured the high-profile WF minister T.D. Jakes. We begin with Pt1: Oprah's Lifeclass—First Look: Never Settle for the Status Quo.
Of this clip we're told:
If you're struggling to reach your own potential, it might not be your own limitations you're running up against. Watch as Bishop T.D. Jakes explains how other people's expectations can chain us to lesser lives than we want or deserve. Plus, hear his advice for how to break free. (source)
Oprah starts off by quoting how Jakes has said we should never settle for the status quo, thus opening the floor for him to elaborates to what he means. All we get, however, is the usual self-help hooey we'd expect from every other guest on Oprah's programs.
As Jakes talks about getting out of "the cage," which he could've used to illustrate sin, he fumbles a great opportunity to bring up the Gospel that he's supposed to preach. After-all, with Winfrey, Jakes is with someone who likes to talk about God.
Now, she doesn't know Him, but she does like the subject of spirituality; as does her audience:
[mejsvideo src="https://www.apprising.org/wp-content/uploads/2014/05/JakesOpraha.mp4″ width=640 height=360]
Then there's pt 2: Oprah's Lifeclass—First Look: How to Tap into Your Instinct, where we're told:
Our instincts are always there, waiting to be accessed when we need to make a decision. But sometimes, it can be hard to understand what they're telling us. Watch as Bishop T.D. Jakes illustrates how successfully finding and heeding that inner voice can guide you through life's tough choices. (source)
Now you'll see Oprah asking Jakes what his "process for tapping into" his "instinct" is like. This would have been a great place for T.D. Jakes, whom the audience perceives as a Christian pastor, to talk about the importance of seeking the will of God first.
Instead, Jakes places the emphasis upon himself and his own supposed wisdom telling her that every major move he's ever made has been done instinctively:
[mejsvideo src="https://www.apprising.org/wp-content/uploads/2014/05/JakesOprahb.mp4″ width=640 height=360]
Being that WF prosperity preacher "Bishop" T.D. Jakes is reputed to be a minister of the Gospel many praise the Lord that he's gotten to be so popular. However, I offer a different reason why this has become so; God says:
For the time is coming when people will not endure sound teaching, but having itching ears they will accumulate for themselves teachers to suit their own passions, and will turn away from listening to the truth and wander off into myths. (2 Timothy 4:3-4)
Indeed, such as man-pleasing myths of mere trivial tripe a la the saccharine self-esteem messages that T.D. Jakes has since adapted from Robert Schuller, his dutiful disciple Rick Warren, and even that of Jakes' good friend—and fellow WF mogul—ol' smilin' Joel Osteen.
And with T.D Jakes being so popular among the Evangelical Ecumenical Magisterium ((I've talked about this self-appointed group before e.g. in Evangelical Ecumenical magisterium Member Steven Furtick with an Ode to Self and SBC Pastors Conference 2014 with Rick Warren, Francis Chan. and James MacDonald.)) comprised of multi-site vision-casting propeht-pastors like Steven Furtick and Ed Young, Jr., it gives us real reason to wonder about their discernment and that of those aligned with them.
Further reading