By Ken Silva pastor-teacher on Jan 11, 2013 in Current Issues, Features, Word Faith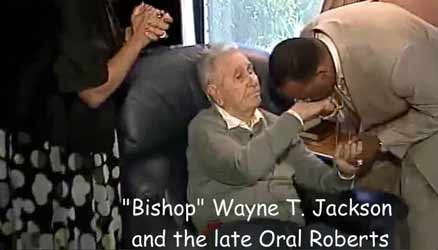 The other day Apprising Ministries was sent the video at the bottom of this post which, with no further information available at the time, I originally ran as Christian Ordination Or Really Bad Off-Broadway Musical?
When the Louie Giglio mess happened I was so jammed up with that situation I hadn't had time to get back to this ordination ceremony. My friend Jake Elliott of C3 Church Watch filled me in as to the man who's presiding.
Turns out it's a Word Faith wingnut by the name of "Bishop" Wayne T. Jackson. Above you can see Jackson paying homage to the late Oral Roberts during Jackson's 2009 "impartation" ceremony at the faith healer's home.
Actually, the first half of the video below captures the event, with the second half a peek at Jackson in action. From the looks of it, I'd say he's a C-list prophet-healer; kind of a combination of T.D. Jakes and Benny Hinn.
Unfortunately, Jackson doesn't have near the flair of those WF superstars. This despite at 4:26 of the clip Oral Roberts telling "Bishop" Jackson:
Well, brother; you got the full load. You, you've got all I could give you… You came with a humble, seeking spirit, and you received. O, the Lord's presence is here today. I love you so dearly.
Jackson is moved to tears and at that point you'll see that Jackson and Roberts begin "praying in tongues" until Roberts even "blesses" the Lord:
[mejsvideo src="https://www.apprising.org/wp-content/uploads/2013/01/JackRob.mov" width=640 height=360]
Now, Jackson's bio informs us he's an enterprising fellow being:
the Founder and President of The Impact Network, the only all African American Founded and Operated National Christian Television Network. He is also the senior pastor of Impact Ministries International located in Detroit, Michigan…

Bishop Jackson is also the founder of the "Greater Works of Christ" Organization which is a fellowship of churches that expands from coast to coast and internationally. Through Greater Works of Christ, Bishop Jackson serves as Chief Apostle and overseer… (source)
So, we have "Chief Apostle" Bishop Jackson; but wait, there's more:
Prophetically, Bishop Jackson has accurately spoken the prophetic Word of God directly into the lives of thousands of people; including celebrities, key political figures, titans of business and industry, and the overall Body of Christ. God has also smiled on Bishop Jackson and has blessed him with entrepreneurial savvy.

Among many businesses he opened a shoe and clothing store "Wayne T.'s, Dominique's Hair & Beauty Salon, a We Care Outlet and other businesses including many real estate endeavors. (source)
A busy fella for sure. As far as the controversial ordination ceremony goes, my friend D.L. Foster of Gay Christian Movement Watch tells us in Bishop Wayne T. Jackson's consecration includes controversial "covering" act:
Perversion has hit the black church with a vengeance and it doesn't seem to be coming from the pews. In Detroit, Bishop Wayne T. Jackson of Great Faith Ministries conducted a bishop's "consecration" event for two men.

The video of the event and what the bishop did to the two men has sent waves of disgust through the church community. (source)
Foster informs us that the "first man is Junaldo O. Lee" who apparently is "pastor of Jackson's satellite church in Atlanta." He continues:
In an astonishing act of raw perversion, Jackson first tells the two men to get on their knees. After they submissively do so, he waves his hand indicating they are to lay face down on the floor of the church in front of a crowd of people (and presumably their wives and children).

After the men have laid face down, Jackson calls for his assistants to cover them with large white cloths which he explains that "You gotta be buried. You gotta die. So that Christ can live in you. Be prepared for burial". The men are completely covered and Jackson grabs the ankles of the first man and acts as if he is praying.

Almost as an afterthought he beckons for the assistant to give him a red cape which he throws on top of the first man. (source)
As you'll see in the video below Jackson actually lays on top of each man in a most bizarre ordination ceremony. Sadly, now consider that his is the kind of spiritually whacked ministry you'll see more of as Word Faith Heretics Like Creflo Dollar Draw Nearer To Evangelical Acceptance.
You think I'm over-stating, then consider Elephant Room Curator James MacDonald Celebrates 35 Years of T.D. Jakes, Steven Furtick: T.D. Jakes Is My Favorite Preacher In The World, and  Word Faith Heretic Cindy Trimm Receives Award From Billy Graham Evangelistic Association:
[mejsvideo src="https://www.apprising.org/wp-content/uploads/2013/01/Odinow.mov" width=640 height=360]
Further reading