By Ken Silva pastor-teacher on Dec 29, 2012 in Current Issues, Features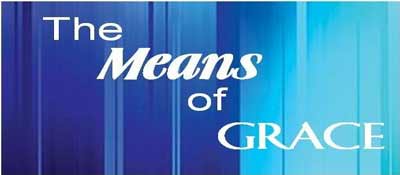 And they devoted themselves to the apostles' teaching and the fellowship, to the breaking of bread and the prayers. (Acts 2:42)
Disciples Of Christ Growing In The Lord Through The Means Of Grace
Today we are witnessing the spread of what I call a cult of Foster-Willardism deep within mainstream Protestant evangelicalism; and with it, a rebirth of Pietism masquerading as the Spritiual Formation espoused by Southern Baptist minister Dallas Willard and his spiritual twin Living Spiritual Teacher and Quaker mystic Richard Foster.
Along with this Contemplative Spirituality/Mysticism and its crown jewel of Contemplative/Centering Prayer (CCP), which is all simply a reimagined form of the alleged "Christian" mysticism from apostate Roman Catholicism, we have long been hearing way too much talk about so-called "spiritual disciplines."
You need to understand that these so-called disciplines are largely repainted artificial ascetic practices of Roman Catholic monks and monkettes that greatly contributed to God bringing about the Protestant Reformation in the first place. And yes, it was the Spirit of the Lord Himself moving upon men like Martin Luther.
As a former monk, Luther had forgotten more about ascetic "disciplines" than apparent monk wannabes like Foster and Willard will ever know. If you've bought into their mystic malarkey of centered on the self spiritual formation I will remind you here that the Biblical definition for growing in the grace of God is discipleship.
And the proper term the Protestant Reformers would use for things e.g. like prayer and studying the Bible would be "the means of grace." With this correct Biblical Protestant evangelical position in mind then, if you're feeling stressful or anxious; why not "get away" and spend some time searching the Scriptures.
Apprising Ministries is pleased to point you now to a piece from Geoffrey Thomas, which provides us good solid information about the Bible itself as well as the importance of searching the Scriptures as a means of grace. Thomas. pastor of Alfred Place Baptist Church, tells us:
There are few greater privileges than to have the Bible in one's own language. Over 450 years ago Erasmus expressed a hope that some day the farmer as he followed the plough and the weaver as he sat at the loom would cheer themselves with the message of Scripture. The thought burned in the heart of William Tyndale who longed to give English-speaking people the Bible in their own tongue.

Arguing once with a man who disdained this hope Tyndale said, 'If God spare my life, ere many years I will cause a boy that driveth the plough shall know more of the Scripture than thou doest'. At the cost of his own life Tyndale fulfilled his ambition and for centuries we have had the Bible in English…

To have the Scriptures in our own language with a ready access to them and complete freedom to study them – these are great privileges. Yet we can fail to profit from the Bible and make little progress in understanding it. The Christian life is paved with the best intentions of reading the Scriptures regularly, and also with many broken resolutions and disappointments.

Jesus exhorts us to search the Scriptures [John 5.39]; that is, we are to ransack the Word of God, to pore over it, subject it to every kind of analysis, and grasp its every shade of meaning. We are to be obsessed with a desire to understand it. This passionate concern is never to become incidental or secondary.

It should be a priority in the Christian life, an activity around which our existence revolves. If man cannot live by bread alone but by every word which proceeds out of the mouth of God, then God's Word must have an absolutely basic place in the whole of our Christian life. To its reading we must apply ourselves with the utmost industry…

To keep reading the Bible regularly, self-discipline is essential… Reading the Bible is not like reading another book. If we do not allocate particular portions of our time to this activity it will never be done… The self-denial required to create a daily time for God's Word is the continued duty of every Christian…

You can take a Bible anywhere, and it is one of the great pleasures of the Christian life to be on a hilltop, or at the seaside, or by a river, reading the Word. But for regular, disciplined reading a place is needed as free from distraction and as conducive to study as possible. Our Saviour went to a garden, Peter had a rooftop, and Elijah an upper room.

There is an advantage in reading the Scriptures day after day in the place which is firmly associated in your mind with that activity. You can slip into the right frame of mind the moment you sit down, because you have established the habit of getting down to study once you are in that place…

[And take heart because the] briefest regular perusal of Scripture has deep and largely unconscious effects upon us. So even if your achievements on certain days fall short of your desires, do not be discouraged, for 'in due season we shall reap if we faint not' [Galatians 6.9]… (source)
You can read this informative article by pastor Geoffrey Thomas in its entirety right here.
Further reading