By Ken Silva pastor-teacher on Dec 22, 2012 in AM Missives, Current Issues, Features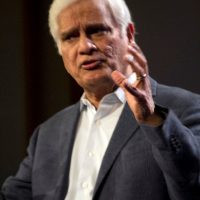 UPDATE: RAVI ZACHARIAS: GOD INSPIRED NICKY GUMBEL IN HIS WORK WITH THE ALPHA COURSE
Apprising Ministries broke the story the other day that Ravi Zacharias Calls Word Faith Preacher Joyce Meyer "Such A Great Bible Teacher" God Is Using.
This would lead to Ravi Zacharias Praises Word Faith Preacher Joyce Meyer where RZIM spokesman Rick Manafo accusing me of doing a "make-up job."
Really? Here's the exclusive AM video clip containing the relevant sections of Zacharias' appearance with Meyer on December 17th entitled Finding Answers – Pt 1.
You'll see for yourself as this celebrated evangelical apologist praises WF heretic Joyce Meyer as "such a great Bible teacher" and tells her that God is doing "great things" with her:
Later I would receive an email from Benenz Hitchcock, a reader of Apprising Ministries, which was sent to him by Julie Moore. Moore just happens to be the Executive Assistant to Dr. Ravi Zacharias.
I noticed it had been forwarded to her by Margaret Manning, whom I mentioned in Ravi Zacharias International Ministries Defending Universalist Henri Nouwen And Contemplative Spirituality/Mysticism.
The immediate contect of that piece was Manning defending Ravi Zacharias when he emphatically proclaimed as "one of the greatest Christian saints" apostate Roman Catholic mystic Henri Nouwen (1932-1996):
Leaving aside Nouwen being professor of secular psychology at godless Harvard University, he was also a universalist. Here's what Nouwen himself wrote not long before he died:
Today I personally believe that while Jesus came to open the door to God's house, all human beings can walk through that door, whether they know about Jesus or not. Today I see it as my call to help every person claim his or her own way to God. ((Henri Nouwen, Sabbatical Journey [New York: Crossroad Publishing, 1998], 51, emphasis mine.))
Zacharias did offer a flimsy excuse in Ravi Zacharias Clarifies Calling Henri Nouwen Great Saint; but when I saw Manning's name, I investigated her a bit further. It turns out it's "Rev." Margaret Manning (in video below).
"Rev." Manning tells us she's "an excellent public speaker and writer" ((http://www.linkedin.com/pub/margaret-manning/5/6b1/1a4, accessed 12-23-12.)) and it seems that back at Community Church at Tellico Village in 2006 she made the "discovery of her potential to become a senior pastor." ((http://www.tellicochurch.com/lectionary-sermons/Sermons/060806.html, accessed 12-23-12.))
Manning's RZIM bio further informs us that: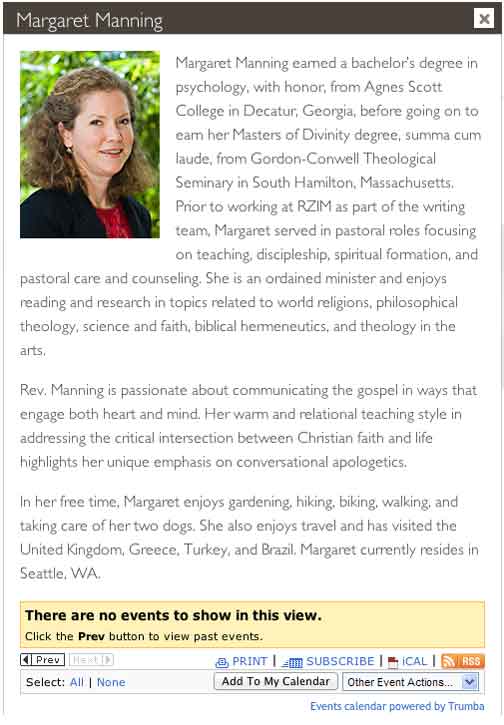 (source)
Noting Manning has a B.A. in psychology and has performed "in pastoral roles" teaching Contemplative Spirituality/Mysticism (CSM); now we understand why she was quick to share these myths in her defense of CSM:
With regards to Henri Nouwen, as an apologetics ministry, we would urge you to read Nouwen for yourself and then make up your mind as to Christian commitment. I would recommend you begin with his excellent book, The Return of the Prodigal Son.

With regard to Ravi quoting Nouwen or anyone else, you should know that it does not mean that we agree with every statement the author has ever written or spoken; rather, we believe that the book will, on the whole, be helpful to readers…

Henri Nouwen is often associated with contemplative prayer or spirituality. Contemplation, or contemplative prayer has been practiced throughout the church for millenia [sic] beginning in the early monastic movements of both the Western (Catholic) and Eastern (Byzantine) Church.

To "contemplate" is simply another term for the Hebrew understanding of "meditating" on God's word, and simply another way to pray. Contemplative prayer and spirituality as it is being recovered in Christian worship and devotional life, is simply that—a recovery of ancient practices and teachings from church history. ((Copy on file at Apprising Ministries))
These fables could have come from Living Spiritual Teacher and Quaker mystic Richard Foster himself. Nouwen was more than just "often associated with" Contemplative/Centering Prayer; he was a superstar teacher of it.
It now appears obvious that Ravi Zacharias has no objection to women being ordained as elders in violation of God's Word. So I decided to look further to see if there were any other ordained women on his U.S. staff.
Under the category TEAM, in addition to "Rev." Manning, we also find Jill Carattini: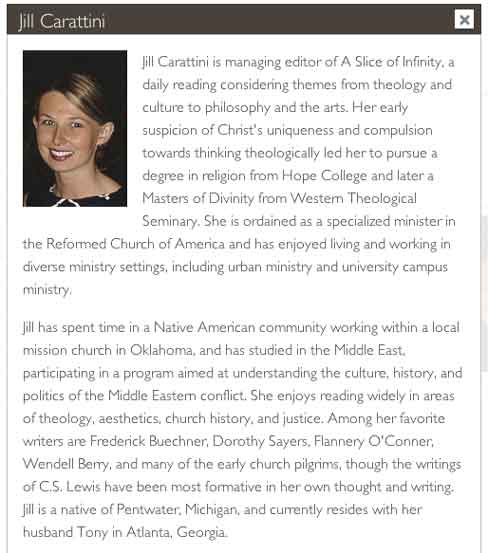 (source)
As you see Carattini is "ordained as a special minister in the Reformed Church of America." The RCA itself has been in rebellion against God's Word and ordaining women as elders for decades now:
In 1972 the denomination opened the offices of deacon and elder to women, and by 1979 women were accepted for ordination as ministers of Word and sacrament.

Today, women in the RCA serve as pastors, elders, and deacons. (source, bold theirs)
We're told that "Rev." Carattini has an apparent affinity for Frederick Buechner who:
found himself profoundly led by the words of George Buttrick, pastor of Madison Avenue Presbyterian Church.  Under Buttrick's encouragement, Buechner enrolled at Union Theological Seminary and studied under such theologians as James Muilenburg, Reinhold Neibuhr, and Paul Tillich. (source)
Neither Neibuhr or Tillich even believed the historic doctrines of the Christian faith. ((see VISIBLE CHURCH IN AN ACCELERATING APOSTASY)) It's also interesting to note that one of "Rev." Carattini's favorite writers is Roman Catholic and mystic ((http://www.academia.edu/234826/The_Mysticism_of_Flannery_OConnor, accessed 12/22/12.)) Flannery O'Connor:
Flannery O'Connor wrote out of a deep, thoroughly [Roman] Catholic vision of life,…and [was] educated in [Roman] Catholic schools…

O'Connor was deeply conversant in [Roman] Catholic theology — a glance at her library, on display in the Flannery O'Connor Room at Georgia State College, reveals works by Thomas Aquinas, St. Augustine, Jacque Maritain, Leon Bloy, Ronald Knox, St. John of the Cross,… (source)
Now that we've met the ordained women of RZIM, perhaps we should look a little closer at what's going on there.
Further reading