By Ken Silva pastor-teacher on Aug 11, 2012 in Current Issues, Features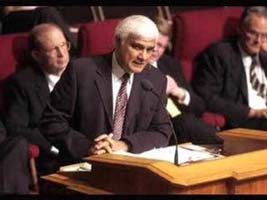 Apprising Ministries showed you Ravi Zacharias Calls Universalist Henri Nouwen "One Of The Greatest Saints." The piece did not speak as to whether Zacharias still considered this universalist apostate such.
I decided to publish it because I'd taken flak for pointing it out originally. The reason being, when the video I used was quickly pulled there was no real evidence left to demonstrate Zacharias had made the statement.
Then there was Ravi Zacharias International Ministries Defend Universalist Henri Nouwen And Contemplative Spirituality/Mysticism and Ravi Zacharias Promotes Roman Catholic Henri Nouwen And Contemplative Spirituality/Mysticism.
Within I discussed an email I received, which was from Margaret Manning, who at the time at least was "Speaking Team/Associate Writer" for RZIM. Among other things she said:
I am responding on behalf of Ravi Zacharias, who regrets being unable to personally correspond due to his intense travel schedule and the volume of mail he receives.

With regards to Henri Nouwen, as an apologetics ministry, we would urge you to read Nouwen for yourself and then make up your mind as to Christian commitment. I would recommend you begin with his excellent book, The Return of the Prodigal Son…

Several of us on staff have been blessed by Henri Nouwen's teachings. As far as I'm aware, his theology was orthodox and faithful to the teachings of Scripture… I would recommend you examine the following articles at Christianity Today that that demonstrates why many Christians would call Henri Nouwen one of our greatest saints…

Henri Nouwen is often associated with contemplative prayer or spirituality. Contemplation, or contemplative prayer has been practiced throughout the church for millenia beginning in the early monastic movements of both the Western (Catholic) and Eastern (Byzantine) Church…

Contemplative prayer and spirituality as it is being recovered in Christian worship and devotional life, is simply that—a recovery of ancient practices and teachings from church history.
It's obvious to those of us who know church history and are familiar with Origin Of Contemplatve/Centering Prayer that Manning is merely parroting the mythology taught by leading proponents of corrupt Contemplative Spirituality/Mysticism (CSM).
Manning also opined:
The context of the you Tube video, and the clip (24 seconds, I might add, so completely without context), is from his autobiography called Sabbatical Journey, is a collection of his writings from his personal diary.
The complete video clip is below so you can see for yourself Manning's really dreaming here. By the way, it was a bad idea to reference that particular book by Henri Nouwen because that's where he wrote:
Today I personally believe that while Jesus came to open the door to God's house, all human beings can walk through that door, whether they know about Jesus or not. Today I see it as my call to help every person claim his or her own way to God. ((Henri Nouwen, Sabbatical Journey [New York: Crossroad Publishing, 1998], 51, emphasis mine.))
You can also see that this representative of RZIM was not only clearly defending the statement by Ravi Zacharias but also CSM and its crown jewel Contemplative/Centering Prayer , which is a form of meditation in an altered form of consciousness.
In closing this, we'll leave this aside; and in the interest of fairness, which I'm rarely given credit for, Interview with Dr. Ravi Zacharias on his latest book, "Why Jesus?" has been brought to my attention today.
Zacharias was asked in this January 2012 interview:
If in your book, you wrote how Eastern mysticism is completely erroneous, why did you state in one of your speaking engagements that Henri Nouwen was one of the greatest saints who lived in our time, when Nouwen is known to have been influenced by Thomas Merton and others who practice Eastern mysticism? (source)
Here is his answer:
I regret having said that. At the time, I based my comment on Nouwen's story of the prodigal son which I felt was on target. But later as I learned more about Nouwen and Merton, I found their writings to be very troubling. I believe that doctrinally, Nouwen lost his way.

I used to read Malcolm Muggeridge too until I read his book, "Jesus Rediscovered". Muggeridge was morally and culturally a good thinker, but he was not theologically sound. (source)
[mejsvideo src="https://www.apprising.org/wp-content/uploads/2012/08/ZachNouwen1.mov" width=640 height=360]
Further reading