By Ken Silva pastor-teacher on Dec 13, 2012 in AM Missives, Current Issues, Emergence Christianity, Emergent Church, Features, Homosexuality/"Christian", Jay Bakker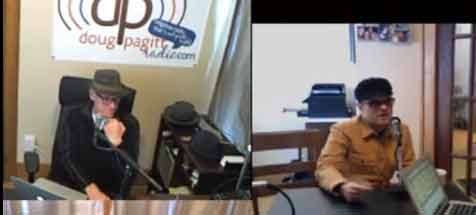 In Apprising Ministries articles such Doug Pagitt And Homosexual Sin I've explained to you that the neo-liberal cult openly operating within the Emerging Church aka the Emergent Church was always a veritable Trojan Horse that was chock-full of heresy.
That sector was headed by, among others, the unholy EC trinity of apostates, Living Spiritual Teacher and EC guru Brian McLaren, universalist EC pastor Doug Pagitt, and his friend Dr. Tony Jones, the progressive "theologian in residence" at Solomon's Porch.
What you need to understand is this has now become an upgraded Emerging Church 2.0—with its new form of postmodern Progressive "Big Tent" Christianity that's being referred to by these rebels against the final authority of God's Word as Emergence Christianity.
I also pointed out not long ago, in Emergent Apostates Like Tony Jones Are Not Interested In Honest Conversation, that from years of personal dialogue with such as these I know they are progressive/liberals who want to follow the desires of their own heart.
Don't be fooled, these vipers have an agenda to convert you to their evil positions; and with their spiritually bankrupt Emergence Christianity, are out to destroy the historic doctrines of the Christian Church in order to lure people into their forms of liberalism and universalism.
As you can see e.g. in Jay Bakker Critiques Ken Silva At Religion Dispatches over the years I've had my run ins with him. If you didn't know, gay-affirming Jay Bakker is "pastor" of Revolution:NYC and tip-of-the-spear for the EC's pro-homosexual attack upon proper biblical Christianity.
Here's Bakker's main shtick for the EC. His mission is to continue pushing for acceptance within mainstream evangelicalism that the deviant and sinful lifestyle of having sexual relations with another of the same sex, i.e homosexuality, is a viable one for the regenerated Christian.
You also need to be aware that Bakker's friends Tony Jones and Doug Pagitt do believe this themselves as well, which you can see for yourself in pieces like Doug Pagitt, The Emerging Church, And Affirming Homosexuality and Doug Pagitt And His Solomon's Porch Affirm Homosexual Sin.
The same pro-homosexual lobby that's, right now, ripping apart the mainline denominations has trained its guns upon the mainstream. Now you are at the proper vantage point from which to survey this section of the evangelical battlefield as I point you to Doug Pagitt's interview with Jay Bakker.
Released today, in the first part Tony Jones joins in along with Victoria Petterson-Hilique, "the side-kick" who "brings some class." ((http://dougpagittradio.com/about, accessed 12-13-12.)) They begin with some background concerning Bakker's famous parents before moving into their wild speculations and fables about the Apostle Paul.
Early in Part 2 Pagitt and Bakker discuss their view of Holy Scripture; and by doing so, these two apostates rather inadvertently reveal where it is they jumped track into this EC train wreck. After listening to these segments I have to tell you that there's actually no real nice way to say it.
The sad fact is, these people truly have absolutely no clue concerning what the Christian faith is. Now let me put that in proper perspective for you: Even so, such as these are in teaching positions ((http://www.patheos.com/blogs/tonyjones/2012/12/13/the-future-of-christianity/, accessed 12/13/12/.)) within evangelicalism:
Part 1
Part 2
Further reading