By Ken Silva pastor-teacher on Feb 4, 2011 in AM Missives, Current Issues, Emergence Christianity, Emergent Church, Features, Homosexuality/"Christian", Jay Bakker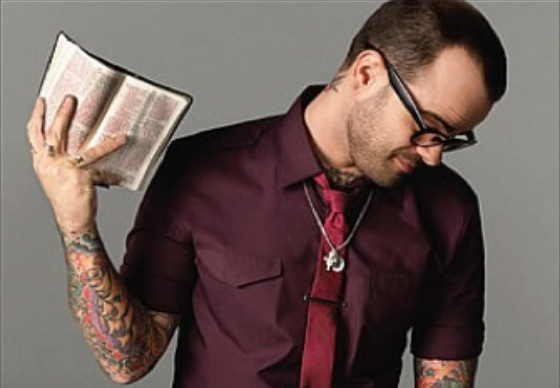 Or do you not know that the unrighteous will not inherit the kingdom of God?
Do not be deceived: neither the sexually immoral, nor idolaters, nor adulterers, nor men who practice homosexuality, nor thieves, nor the greedy, nor drunkards, nor revilers, nor swindlers will inherit the kingdom of God. (1 Corinthians 6:9-10)
Ears Grow Itchier In Evangelicalism
Apprising Ministries has told you that gay-affirming "pastor" Jay Bakker heads up a rather rapscallion, and largely Biblically illiterate, bunch in the sinfully ecumenical neo-liberal cult of the Emergent Church who've crowned themselves Outlaw Preachers.
He's also leader of a support group called Revolution NYC, which is trying to pass itself off as a church. Bakker's appearance at the last apostasia-palooza of the Emerging Church, something called Big Tent Christianity: Being and Becoming the Church (BTC), was his coming out party in the EC. You should also know that Bakker, who really shouldn't even be teaching Sunday School—let alone pastoring a church—is tip of the spear for the coming EC advance of their pro-gay agenda to convince your young evangelicals that the deviant and sinful lifestyle of having sexual relations with another of the same sex, i.e homosexuality, is a viable one for the regenerated Christian.
That's why I've been using the issue of homosexuality to light up the sky with the Word of God to give you a chance to see the wide, and very rapid, advance of the EC and its evil pro-gay agenda. I've also told you that because evangelicalism has rejected the proper Biblical spirituality of sola Scriptura in favor of Contemplative Spirituality/Mysticism it has placed itself upon the postmodern playing field of existential and highly subjective experience where there are no rules i.e. evangelicalism is defenseless against such as these. For example, Bakker's already told us about a personal chat he had with the LORD God Almighty Who apparently has confided in "Punk Pastor" Jay that He's now changed His mind about the practice of homosexuality:
"The more I follow grace, the more I'm drawn to him [God], the more I'm willing to stand up for people being persecuted," said Bakker. "It sounds so churchy, but I felt like God spoke to my heart and said '[homosexuality] is not a sin.' " (Online source, emphasis mine)
My advice is you'd best get ready for gay affirming arguments like the above, which are not based upon Scripture, because soon they will be erupting within your own local church; this issue is about to detonate within the walls of evangelical churches where EC advocates have already been planted. Now consider the following tweet:
"Revtheodyke" happens to be Candace Chellew-Hodge, author of a book of mythology entitled Bulletproof Faith. Her bio informs us she's an apostate Southern Baptist:
Born in 1965 as the grand finale of five children to a Southern Baptist minister… She gave up her faith at age 17, about the same time she entered a career in journalism that would span some 25 years (including a six-year stint at CNN in Atlanta),… Godless for a brief few years…

Chellew-Hodge did what so many gay, lesbian, bisexual and transgender people do – she believed the lie that she couldn't be both a lesbian and a Christian. She returned to the church in her early 20s, kicking and screaming, at the insistence of her first girlfriend. She describes her first service at a Metropolitan Community Church in Atlanta, Georgia as "coming home." (Online source)
Sadly, we could hardly find a clearer example of the following from Scripture — people will not endure sound teaching, but having itching ears they will accumulate for themselves teachers to suit their own passions, and will turn away from listening to the truth and wander off into myths (2 Timothy 4:3-4). It doesn't bring me pleasure to have to show you this; however, as a pastor-teacher it's my job to — preach the word; be ready in season and out of season; reprove, rebuke, and exhort, with complete patience and teaching. "Rev." Chellew-Hodge also founded Whosoever: An Online Magazine for Gay, Lesbian, Bisexual and Transgender Christians and further:
Chellew-Hodge graduated from the Candler School of Theology at Emory University in Atlanta, Georgia in 2002 with a Master of Theological Studies degree… In 2007 she was licensed as a United Church of Christ minister and became associate pastor at Garden of Grace.

Chellew-Hodge is also a spiritual director, trained through the Episcopal Diocese of Atlanta. She has also been the co-host of Rainbow Radio since it began in 2005. Rainbow Radio is the first radio show for GLBT people in South Carolina. (Online source)
The point being that Candace Chellew-Hodge, a practicing lesbian pastrix, is more than educated enough to be held accountable for her views, and Jay Bakker himself also claims to be a pastor. As such then, they both must hold firm to the trustworthy word (Titus 1:9)—which quite obviously neither of them do. Lord willing, I'll have more on pastrix Chellew; but for now, the link in the tweet above takes us to Jay Bakker on LGBT Justice and the Demands of Grace, which is an interview with Bakker conducted by Chellew-Hodge at Religion Dispatches online magazine. In closing this, for now, I'll just tell you that during the interview Chellew decided to bring me into the conversation:
If Bakker had been more truthful, his answer to the question about how he responds to criticism would have been, he doesn't. I've told you before that these so-called loving and tolerant ones like Jay Bakker are only loving and tolerant until…you disagree with them. So, I'm "extremist and obsessed," and nobody "fits in in [my] book"? Anyone actually familiar with my work will know I believe plenty of people "fit" within what renowned Christian apologist Dr. Walter Martin so often referred to as the "historic orthodox Christian faith." However, people like Jay Bakker aren't interested in the narrow gate (Matthew 7:13) to the faith that was once for all delivered to the saints ( Jude 3), which Jesus Himself said those who find it are few (Matthew 7:14).
Rather, Bakker opts for the universalism of the "big tent" postmodern version of Progressive Christianity, often referred to by these rebels against the Word of God as Emergence Christianity—the Liberalism 2.0 that Living Spiritual Teacher and EC guru Brian McLaren began laying out in his book A New Kind of Christianity. Actually it's the very same skubalon also pushed by Bakker's good friend Tony Jones, the progressive "theologian in residence" at the Emerging Church of universalist Doug Pagitt as well. I recently covered the soteriology of this Liberalism 2.0 in Tony Campolo Goes On A Tirade and brought out the incontrovertible fact of its universalism. As I said, it does play very well for the pouty postmodern people-pleasers; but it isn't at all even close to the Gospel of Jesus Christ.
What Bakker says next is laughable: "You can't even get in touch with Ken Silva or meet with him. I find it best to ignore those folks." Translation: I can't support my mythology from the Bible, so I don't have any way to actually respond to Christian pastoral criticism; and perhaps, if he's ever even been on Apprising Ministries, he missed this:

Or…he could have talked with his friend Tony Jones, he's called me on the phone; as has Doug Pagitt a few times. Leaving aside his foolish ad hominem arguments, I'll simply repeat what I just told a friend of Pagitt's today, with whom I've been having a lengthy email exchange—rather odd indeed for someone who can't be contacted, don't you think? Jesus tells us in the Bible that the men he calls must hold firm to the trustworthy word as taught, so that he may be able to give instruction in sound doctrine and also to rebuke those who contradict it (Titus 1:9). 1) this presupposes there is such a thing as sound doctrine, and 2) because Jay Bakker et al contradict it, then I am left no choice but to rebuke them because they make shipwreck of people's faith (1 Timothy 1:19).
As far as Chellew-Hodges' question about "how can we do that work of restoration with people like Ken Silva who don't even want us to reach out to them," there can't be any restoration with those who preach another gospel, which is really no gospel at all (cf. Galatians 1:6-9). But Bakker dreams:
It's going to have to be through prayer and relationships. I really don't know other than continually living an example of grace and hoping that they'll see the peace and joy that we have and will want what we have… We just have to try to give grace. (Online source)
No rather, Holy Scripture would place Bakker among those who have now crept in unnoticed while mainstream evangelicalism slips deeper into a spiritual coma, and who pervert the grace of our God into sensuality and deny our only Master and Lord, Jesus Christ (Jude 4). "O, but I love Jesus," Bakker would retort; so e.g. did the Gnostics whose false gospel was condemned by the Apostles in inspired Scripture. See for yourself in Will The Real Jesus Please Stand Up? there's tons of Jesus' running around the landscape. The rest of what Bakker says, as it concerns the "peace and joy" they personally have, is to commit the logical fallacy of appeal to emotion; I also have peace and joy as well so that, in and of itself, proves nothing. For example, the same can also be said of a devout Mormon, or even a Muslim.
The bottom line is this: What does God's Word in the Bible teach about same-sex sexual relations i.e. homosexuality. I'm not "really hateful" at all; what I am is among unworthy ambassadors for Christ, with no righteousness of our own, imploring the condemned (cf. John 3:18, 36) on behalf of Christ, be reconciled to God (2 Corinthians 5:20). I would tell you in the Lord that men like Jay Bakker are the ones leaving these precious LGBT people, for whom Christ died, locked away in the chains and darkness of their own personal prison cell of sin. As such then, here I am going to offer that the really hateful ones are, in actuality, those who practice this kind of evil homopression of the LGBT community. Let us pray that God in His mercy will grant such as these repentance from their sin, before it's too late.
See also:
OUTLAW PREACHERS KHAD YOUNG AND JAY BAKKER DON'T LOVE ENOUGH
WHY NO CONDEMNATION FOR CHRISTIANS WHO ARE HOMOPRESSIVE?
BUT DO EMERGENCE CHRISTIANITY AND BRIAN MCLAREN REALLY LOVE GAY PEOPLE?
THE SIN OF HOMOSEXUALITY IS DIFFERENT
APPRISING MINISTRIES: SHOCKING NEW EVIDENCE JESUS CONDEMNED THE PRACTICE OF HOMOSEXUALITY
DOUG PAGITT AND THE EMERGING CHURCH GAY AGENDA