By Ken Silva pastor-teacher on Oct 8, 2012 in AM Missives, Current Issues, Features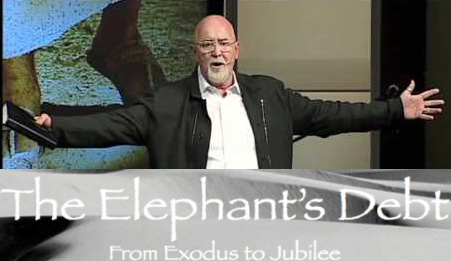 Apprising Ministries has told you that the Elephant Room 2, with its mainstreaming of Word Faith mogul and prosperity preacher T.D. Jakes really detonated as an explosion within mainstream contemporary evangelicalism and its aftermath continues spreading shockwaves throughout professing Christendom.
So far we've witnessed cracks forming in The Gospel Coalition, Acts 29 Network, and the Harvest Bible Fellowship, which was founded by Elephant Room curator James MacDonald. ((http://www.harvestbiblefellowship.org/staffcategory.aspx?category_id=1255&site_id=10295, accessed 10/7/12.)) Sources inside Harvest Bible Chapel, where MacDonald is senior pastor, tell me there's unrest within HBC itself as well.
There are those who are quite disappointed with the drift of James MacDonald, e.g. with the rise of Emerging Ecumenical Evangelephants And The Word Faith Movement and Steven Furtick, James MacDonald, And Joel Osteen. MacDonald and ER 2 co-host Mark Driscoll also seem to be forming an ecumenical magisterium.
A number of the members can be seen in this advertisement for the upcoming Acts 29 Resurgence R 12 conference, which begins tomorrow. We find ER co-hosts James MacDonald and Mark Driscoll along with ER1 vet Graig Laurie and synergistic Seeker Driven generals Rick Warren and Craig Groeschel:


(source)
With all of this fresh in mind then, I'll now point you to more indication that there are people close to Harvest who have very serious concerns about James MacDonald. Over the past few days a number of sources have sent me the link to something called The Elephant's Debt: From Exodus To Jubilee of Scott Bryant and Ryan Mahoney.
As I understand it, Bryant was actively involved in a couple of church plants for Harvest Bible Fellowship and Ryan Mahoney, whom I'm told is an attorney, has also been personally involved with HBC. In addition, sources have informed me that Bryant and Mahoney have spoken with several former members of leadership.
Under Our Story we learn:
Over the past few months, on more than one occasion, the authors of this blog have been asked to explain why we write on the subject of Harvest Bible Chapel.  This is a legitimate question worthy of an open and honest answer.

Back in 2010, when we chose to leave Harvest Bible Chapel, both of us were aware of certain issues that were rising to the surface… Now some may be tempted to ask, why would you go public with your concerns?  Why would you not simply address this matter in-house, with those that are directly affected by the situation.  Is that not what Matthew 18 requires you to do?…

Why involve others who may be outside the walls of Harvest?…this question also presumes that Harvest Bible Chapel is nothing more than a local church impacting its own local congregation.  In the case of Harvest, this is simply an untrue assumption.  As anyone can clearly see, the actions of James MacDonald extend far beyond the limited reaches of his own congregation.  In 2011, MacDonald's church was listed as one of the 25 largest churches in the United States, while also being listed as one of the fastest growing.

He has a extensive, national radio ministry through Walk in the Word, he is the author of numerous books aimed at influencing the church at large, he has a massive church planting ministry, he has an active blog, and even as we write these concluding words, he has just returned from a 40-city tour of North America, where he attempted to teach other churches how to get "vertical" in the same way that Harvest gets "vertical."

Yet another example of MacDonald's expanding influence within the broader Evangelical culture can be seen through Mark Driscoll's recent invitation for MacDonald to speak at a gathering of North American pastors known as The Resurgence Conference.  MacDonald has been billed (see video below) as a man who has the "spiritual gift of real-estate acquisition."  Driscoll goes on to say that churches need to "be good stewards" of their resources, and "that's really his [MacDonald's] specialization."

In our opinion, it seems clear that MacDonald is being advertised as a financially gifted, public leader that others in Evangelicalism would do well to emulate… So, given the public actions of this man, and the public influence he seeks through events such as the upcoming Elephant Room 3 and The Resurgence Conference, it is the opinion of these authors that the response to his actions must be public as well. For if we were to merely bring the man before his own body, it would deny the very scope of his national ministry and the influence it has upon the church universal. (source)
There's also another legitimate reason why any necessary correction in this case would need to be public. It's because of the inherent flaw in the cult of celebrity megachurch vision-casting prophet-leaders; they believe they've received direct revelation from God, i.e. to disagree with them is essentially to oppose God Himself.
I showed you an example of this recently in Mark Driscoll Vision-Casting Dead Bodies His Mars Hill Bus Will Roll Over where I shared a segment from Fighting for the Faith by Christian apologist Chris Rosebrough of Pirate Christian Radio. In his introduction he tells us:
If you disagree with or are disloyal to the vision that God supposedly gave Mark Driscoll then you're going to be thrown of the bus or have the bus run you over. In Driscolls own words, by God's grace there will be a mountain of bodies before they're done.

This segment of Fighting for the Faith has Mark Driscoll telling a room full of church planters about what he calls "Blessed Subtraction." (source)
So, in closing this piece, following is the infamous catapult message of James MacDonald. This is a clip from MacDonald's message 5 Things Your Pastor Wants You To Know But Can't Tell You, where he tells us he was actually teaching church leaders and pastors:
Wow. Yesterday, after 2.5 days of pouring into and worshiping with over 2000 pastors and leaders from around the world, we closed out Harvest University 2012. (source)
Now as further illustration that such as these appear to be unwilling to listen to criticism, here's a bit of a lowlight for you. By the way, James MacDonald thanked "God for the outpouring of His Spirit" at this event, which apparently includes the following:
I secretly wish that these two verses were my elders' favorite verses. They're not my life's verse, but I wish that my elders had these two verses for their favorites. One's from the pastoral epistles where it says: Reject a factious man after the second admonition (Titus 3:10). I wish that was my elders' life verse. How much heartache is caused in a church by elders who forebear, for the sake of friendship, with a factious man?

Reject a factious man after the second admonition. Now reject him doesn't mean he has to sit halfway back. Okay. Reject him means you can't come here any more. "Well, I'm sorry." Okay, that means you get to go to a different church. Reject! Do I need to spell that out?  "Why, why, why? That's so cold." It's so wise…

A factious man is a danger to the church and you are released by Scripture to release him. And I am releasing you to a take a small portion of your church's budget, build a catapult, put it in the church parking lot and load it regularly. "I think we can shoot this one right out of our county."…

I wish that my elders' life verse was: Reject a factious man after the second admonition. And I wish their other life verse from Proverbs was: Cast out the scoffer and the strife will cease (Proverbs 22:10).
[mejsvideo src="https://www.apprising.org/wp-content/uploads/2012/10/JMacDCatapult.mov" width=640 height=360]
Further reading