By Ken Silva pastor-teacher on Sep 10, 2012 in Current Issues, Features, Steven Furtick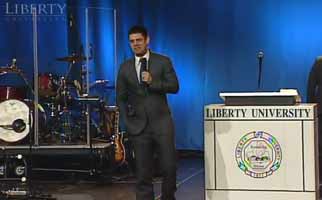 In the Apprising Ministries piece Steven Furtick As Televangelist At Lakewood Church Of Joel Osteen I told you many are quick to simply slough off coverage of rising star prophet-leader Steven Furtick.
So, I reminded you of just how big within professing Christendom he's becoming already. He's recently spoken for Bill Hybels' Leadership Conference, which boasts the likes of names such as Word Faith mogul T.D. Jakes.
Speaking of Jakes, Furtick's already close enough to this superstar prosperity preacher that he was able to have Jakes in to speak at his Code Orange Revival this past January right in Furtick's own Elevation Church.
Furtick's appeared on TBN and among his friends we find influential preachers like Joel Osteen, Rick Warren, Craig Groeschel, Perry Noble and co-hosts of the Elephant Room, James MacDonald and Mark Driscoll.
In fact, Steven Furtick is part of the emerging ecumenical evangelical magisterium growing up around them. Here's another example of Furtick's ascent in Pastor Steven Furtick speaks on the 'greater' power within.
In this Liberty University piece, which has a title straight out of something that we'd expect to hear from Robert Schuller, we find:
Pastor and author Steven Furtick returned to Liberty University for Wednesday's convocation, challenging students to look to the "greater" power of Jesus that lives in each Christian. (source)
The fact is, Furtick has already spoken at LU once before. We're also told some things which further illustrate Furtick's own growing influence within apostatizing evangelicalism:
Furtick is the author of two best-selling books, "Sun Stand Still" and the follow-up book, "Greater," which was released this week and is already climbing to the top of sales charts. He is also the founder and lead pastor of Elevation Church in Charlotte, N.C.,…

It has been named one of the Fastest Growing Churches in America by Outreach Magazine. In less than seven years, it has grown to more than 10,000 people in weekly attendance, meeting at seven locations in the Charlotte area…

More than 100 Liberty students attend Elevation when they are home on breaks. Within the next year, the church is planning on opening a new site in Toronto, Canada. (source)
Since my late mom was from Sydney, Nova Scotia, Canada is dear to my heart so I'm saddened to see Furtickism is set to invade our family to the north. Truth is, Steven Furtick isn't going away; he is increasing in influence.
With this in mind then I leave you, for now, with the following review of Furtick's sales pitch for…er, make that, sermon on his book Greater by Chris Rosebrough of Pirate Christian Radio:

[mejsaudio src="https://www.apprising.org/wp-content/uploads/2012/09/GreaterSermon.mp3″]
Further reading