By Ken Silva pastor-teacher on Aug 24, 2012 in Current Issues, Features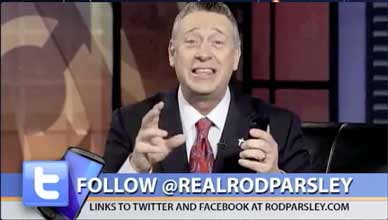 Apprising Ministries has given you examples of how the new ecumenical evangelical magisterium that's sprung up around the Elephant Room (ER) has opened the door for increasing syncretism with the Word Faith movement. For example, Joel Osteen Has Influenced Steven Furtick Longer Than You May Know.
Sadly, it's gotten so bad so fast that now Prophet-Leader Steven Furtick Descends Down To Word Faith Heretic Rod Parsley. His discernment is so off that prophet-leader Steven Furtick, a two-time ER vet, has referred to Parsley—one of the most blatant of WF spiritual snake oil salesmen—as "a preaching machine."
Well, in the beginning of this clip below from Parsley's current Breakthrough message Power To Get Wealth he'll tell us that "God doesn't just reserve Sunday morning to speak to my heart." Parsely then explains:
He deposits little nuggets, pieces of [direct] revelation; inspiring, encouraging, words and thoughts into my spirit—often several times every day.
Wowee. Several times a day God yaks it up directly with His revelator Rod Parsley giving him "little nuggets" of direct revelation from the LORD God Almighty Himself! Who knew? Parsley goes on:
I used to keep a notepad with me all the time so I could jot them down and then share them on Sunday morning or the next place I was preaching across America.
But not anymore. With the advent of social media Word Faith prophet-leader Rod Parsley has new avenues with which to share his personal revelations from God. Parsley informs us:
But now, all I have to do is tweet them out to everyone who follows me on Twitter as soon as I receive them in my spirit.

People of faith—just like you—following me on Twitter or liking me on Facebook, and they're all having a faith infusion with me—sometimes several times a day—and you can too.
[mejsvideo src="https://www.apprising.org/wp-content/uploads/2012/08/ParsleyNuggets.mov" width=640 height=360]
Wow, today could be our breakthrough? Well, now let me share with you one of these "nuggets" of direct revelation from God via the following tweet from Rod Parsley. Apparently the Lord was in playful mood today:

(source)
Apprising Ministries has put in a call in to Bible Code expert Chuck Missler to see it he can decode this message.
Further reading