By Ken Silva pastor-teacher on Aug 21, 2012 in AM Missives, Current Issues, Features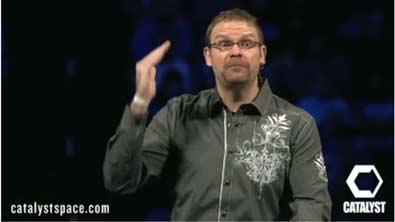 Apprising Ministries offers that if you don't think the mainstream of evangelicalism is in a New Downgrade No-Controversy then you're not paying close enough attention. For example, consider former Gospel Coaliiton members James MacDonald and Mark Driscoll assisted the mainstreaming of Word Faith mogual T.D. Jakes.
The Elephant Room each participated in also helped launch his wannabe, Seeker Driven prophet-leader Steven Furtick, into wider acceptance as well. As I've been warning, the ER has become the fertile ground for a new ecumenical evangelical magisterium which has been hijacking the younger sectors of Christendom.
In Elephant Room Curator James MacDonald Points Us To A Couple Conferences Of Interest we get some inkling as to who some of these are. First look at the lineup for the Resurgence R12 conference:

(source)
Note MacDonald and Driscoll along with Rick Warren and Steven Furtick's pastor Craig Groeschel. Now we look at who's slated for New Spring Leadership Conference 2012 to be put on by Furtick's mentor Perry Noble:

(source)
There's James MacDonald again; also, Mark Driscoll and Craig Groeschel were with Noble for his Leadership Conference last year. You might also recall this tweet from Rick Warren who was scheduled for Noble's 2010 LC:

(source)
Do you think it's simply a coincidence that most of these same guys have been in the ER and at each other's conferences and revivals these past two years? And New Calvinist mentor John Piper really opened the door for Rick Warren into that camp as see by this tweet today from Mark Driscoll:

(source)
As far as Perry Noble is concerned, in his endorsement for Noble's new book Mark Driscoll tells us he's a friend:


(source)
I already told you back in October of last year that Former Gospel Coalition Council Member James MacDonald Loves Perry Noble. MacDonald gushes:
hear me, I LOVE PERRY NOBLE. He is a long-suffering servant of Christ, and I praise God for his passion to see people reached with the gospel. (Online source)
So clearly ecumenical evangelical magisterium member Perry Noble has the support of some very influential men and even has them assisting him in teaching other pastors and leaders. Here following is an example of Noble's teaching. The sophomoric section in this exclusive video clip below is the opening to his sermon this past Sunday.
It's entitled Going For The Big Ask. As you can see from his blog post from yesterday Hey NewSpring, It's A Big Ask Week! Noble's pretty proud of it:

(source)
To paraphrase that classic old song by Timbuk 3, the future's so dark, you better throw away the shades…
[mejsvideo src="https://www.apprising.org/wp-content/uploads/2012/08/NobleSoph.mov" width=640 height=360]
Further reading