By Ken Silva pastor-teacher on Jul 6, 2012 in Current Issues, Features, Word Faith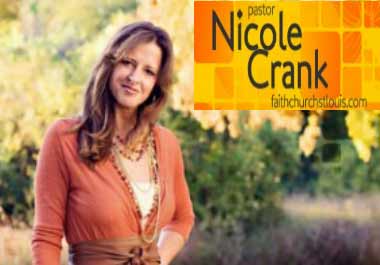 I've seen a lot  here at Apprising Ministries over nearly seven years monitoring the social media intel of people who're being used by enemy forces. What follows is another indicator of the growing boldness of female rebels against the Word of God claiming to be elders.
You might recall the name of pastrix Nicole Crank from Bil Cornelius Welcomes Word faith Preacher David Crank To His Bay Area Fellowship and Steven Furtick And Word faith Heresy where I continue warning of this sickening syncretism slithering deeply into the Seeker Driven camp.
Along with her husband David, her fellow rebel against the final authority of God's Word, pastrix Crank heads up a social gathering called Faith Church (FC) in St. Louis. Rising in the ranks, this Biblically twisted pair is also friends with WF prosperity preacher Joel Osteen:
I also find it interesting interesting that Southern Baptist megachurch pastor Ed Young, Jr. would viciously attack Christians who adhere to sola Scriptura; and here he is saying he "always" goes to FC and lavishing praise upon the warped work of pastor and pastrix Crank:
This is a "whole 'nutha level" alright; of rebellion against the Word of God, which knows nothing of women pastors. Yet a high profile SBC pastor, and a Major General in the Seeker Driven camp, is all too willing to embrace these apostates. This kind of promotion also helped David Crank to preach for Bil Cornelius.
Pastrix Nicole is wont to tweet things like:

(source)
Sounds more like self-help guru Tony Robbins than Jesus to me. O, and she wanted us to know about her blog, so today pastrix Nicole tweeted out:

(source)
The link brings us to this Paula White-esque video promo for her blog:
And just what kind of videos and conversation might we get from pastrix Nicole? You know how we've talked about "circus church" within evangelicalism; well, um…Faith Church has quite literally cranked it up:
O-kay; ah, it grows increasingly difficult to satirize increasingly narcissistic evangelicalism because real life is even more bizarre. Case in point would be The Glass Slipper:


(source)
There's no distinction that one must be born again to be a daughter of God (cf. John 1:12; John 3:3). The website for this event furthers the murky mythology:

(source)
As you can see above and in the video lowlights below, no matter how well intentioned it might be, this is merely more centered on the self  (cf. 2 Timothy 3:2) WF fables:
I'll sound the warning yet again; this kind of foolishness is a reason why God did not call women to be elders. Yes, I am well aware that there is a plethora of pastors who are male doing the same silly shenanigans in the Lord's Name. Well, as Dr. R.A. Torrey said of such as these, they are essentially women in men's pants.
This issue of women usurping the position of elder within mainstream evangelical churches is about to explode. Now consider wildly popular Southern Baptist Bible Teacher Beth Moore Preaches Sunday Morning Service At Louie Giglio's Passion Church while he is busy making the rounds within WF circles.
For example, Louie Giglio to Join Word Faith Lineup at 2012 Hillsong Conference and Louie Giglio To Preach At Joel Osteen's Lakewood Church; both gatherings feature pastrixes in violation of God's Word. Speaking of Hillsong, one of those rebels, pastrix Christine Caine is fast becoming an evangelical darling.
You might recall in January of this year Seeker Driven prophet-führer Steven Furtick had Word Faith Pastrix Christine Caine Preach His Sunday Morning Sermon. Caine's also become very good friends with the aforementioned Beth Moore and her SBC Deeper Still conference running buddy Priscilla Shirer.
Let me say this very plainly: Who shepherds God's people in local churches is not a secondary issue and it isn't open to discussion. The Bible forbids women elders. If you want an illustration why, then just look closely at what pastrixes did to the mortally wounded mainline denominations; and then pray evangelicalism doesn't follow suit.
Further reading