By Ken Silva pastor-teacher on Jun 29, 2012 in AM Missives, Current Issues, Features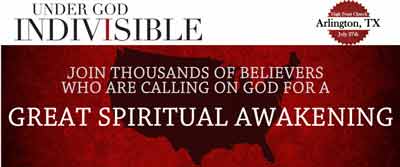 '
As God sends spiritual blindness upon the world, this postmodern time in which we live has headed people deeper and deeper into the shadows of darkness. From where I stand, many can no longer even tell their face from their spiritual elbow and are descending into delusions and silly superstitions.
Sadly, Apprising Ministries believes Christian apologist Chris Rosebrough is dead-on-target with his tweet today:

(source)
What they're falling for is the deception sweeping through Christendom that somehow it's now become God's "dream" for all of the various factions calling themselves Christian to unite and begin working together to make the world a better place.
There's another strain to this virus as well, which is what's growing into a real spiritual fetish about bringing "America back to God," as it it ever even was of God. The United States was never a covenant nation to the Lord and it doesn't replace Israel.
Now you have the background to come with me as we begin with this tweet by heretical Word Faith prosperity preacher Robert Morris just a bit ago as of this writing:

(source)
Interesting to see this WF prosperity preacher will be featured at that upcoming event along with the sinfully ecumenical James Robison, evangelical apologist Ravi Zacharias, and Dr. Tony Evans, pastor of the Oak Cliff Bible Fellowship megachurch.
You may also find it interesting to note that Evans' daughter is SBC Bible teacher Beth Moore s friend Priscilla Shirer. That tweet by Robert Morris takes us to something called Under God Indivisible, an upcoming Leadership Conference:


(source)
The title Under God Indivisible (UGI) is kind of a play on words; as in the Pledge of Allegiance, "one nation indivisible." ((http://en.wikipedia.org/wiki/Pledge_of_Allegiance)) This July 27th UGI is part of a series of these conferences; this first was in Arkansas back on April 26, 2012:
Our time in Arkansas was incredible as hundreds of people from around Arkansas came together to hear James Robison, Jay Richards, Pastor Jim Garlow, Pastor Robert Morris, and Pastor Rick Bezet. (source)
UGI also happens to contain the name of James Robinson's latest book Indivisible, which he co-wrote with apostate Roman Catholic Dr. Jay Richards. ((http://www.patheos.com/Resources/Additional-Resources/Opposing-the-Culture-of-Contraception-Jay-Richards-05-20-2011.html)) Your key to understanding we're going to jump the track is "spiritual leaders from across the country and from many denominational backgrounds."
Spiritual leaders reveals to us that this leadership conference will also include non-believers as well. However, under its own Our Mission section this UGI is clearly billed as a Christian leadership conference:


(source)
For UGI to be billed as a Christian leadership conference now brings it under here in God's Word:
Do not be unequally yoked with unbelievers. For what partnership has righteousness with lawlessness? Or what fellowship has light with darkness? What accord has Christ with Belial? Or what portion does a believer share with an unbeliever? What agreement has the temple of God with idols? (2 Corinthians 6:14-15)
No way around it. Here's the promotional poster so you can see some of the speakers at this UGI Christian leadership conference: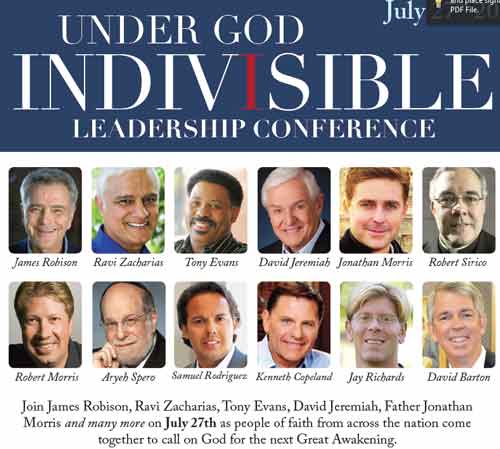 (source)
Interestingly enough, you'll find quite of few of the above lavising praise upon Robinson's and Richards' book. ((http://www.amazon.com/Indivisible-Restoring-Family-Freedom-Before/dp/1455503126/ref=cm_cr_pr_orig_subj, scroll 1/3 way down to Editorial Reviews)). You might recall the name Jonathan Morris, a Roman Catholic priest, from James Robison And Rick Warren Working To Reverse The Protestant Reformation.
There I gave you the video and transcript of Morris' 12/1/11 appearance on James Robison's Life Today TV program where it's clear Robison considers the apostate Morris a brother in Christ. The man to the right of Jonathan Morris might seem familiar to you as well.
Actually, in The Emerging Church Is Unaware It's Dead I told you that Robert Sirico, a Roman Catholic priest who founded a think tank known as the Acton Institute, actually preached at Mars Hill Bible Church for Rob Bell—former icon of the Emerging Church.
Since this UGI is a spiritual sinkhole, I can't cover everything that needs to be pointed out here. So, until next time, I'll only focus upon this further reversing of the Reformation. No practicing Roman Catholics can take the platform at a Christian leadership conference without rebelling against Scripture.
We're told "people of faith" are coming together at UGI; which faith? That of the Roman Catholic Church who left the Body of Christ (cf. 1 John 2:19) to follow her own antichrist dogma and would end up placing her never rescinded anathema upon the Gospel of Jesus Christ. No light matter.
As I just showed you in Southern Baptist Ed Young, Jr. Advancing Wicked Works Of Word Faith "Pastors", it is written:
Everyone who goes on ahead and does not abide in the teaching of Christ, does not have God. Whoever abides in the teaching has both the Father and the Son. If anyone comes to you and does not bring this teaching, do not receive him into your house or give him any greeting, for whoever greets him takes part in his wicked works. (2 John 1:9-11)
Can you see there; those teaching false doctrine are involved in wicked works. This means people who promote and help advance such as these take part in his wicked works. That's not merely my opinion, and it also isn't open to debate; this is what God Himself has instructed us in His Word.
In the end, according to the Word of God, each Christian who shares the platform at this Under God Indivisible with Roman Catholic apostates like Jonathan Morris, Robert Sirico, and Jay Richards is giving them credibility in the Christian community and also taking part in their wicked works.
This now becomes a vivid illustration of the foolishness of making your nation an idol and thinking as men think (cf. Matthew 16:23). For you see, to give the impression that the purity of the Gospel really doesn't matter is exactly the wrong message to set before the world which desperately needs it.
Frankly, as I see it, men like Ravi Zacharias, Tony Evans, and David Jeremiah should be ashamed of themselves.
Further reading