By Ken Silva pastor-teacher on Dec 30, 2010 in AM Missives, Brian McLaren, Current Issues, Emergence Christianity, Emergent Church, Features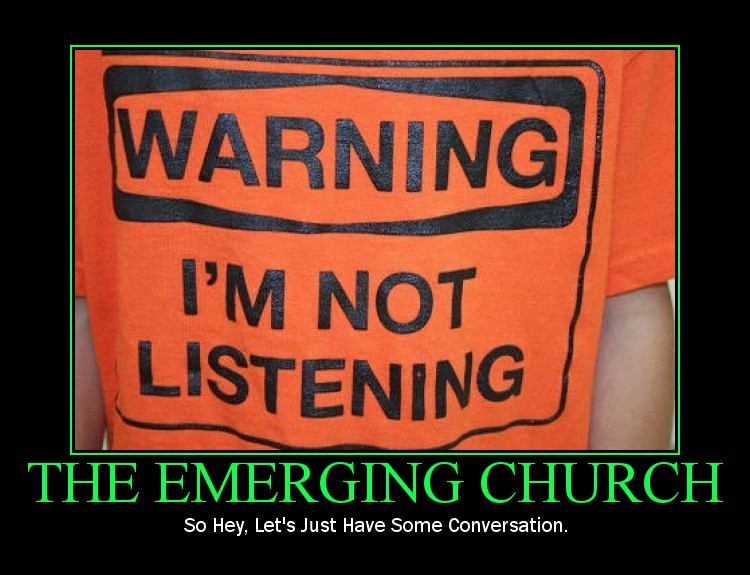 For certain people have crept in unnoticed who long ago were designated for this condemnation, ungodly people, who pervert the grace of our God into sensuality and deny our only Master and Lord, Jesus Christ… Yet in like manner these people also, relying on their dreams, defile the flesh, reject authority, and blaspheme the glorious ones…
These are hidden reefs at your love feasts, as they feast with you without fear, shepherds feeding themselves; waterless clouds, swept along by winds; fruitless trees in late autumn, twice dead, uprooted.
(Jude 4, 8, 12)
Put Them Out From You
The Lord be praised that He has seen fit to open the door for Apprising Ministries to have become one of the leading voices against the sinfully ecumenical Emergent Church aka the Emerging Church, a neo-liberal cult now operating within mainstream evangelicalism. Its primary legacy is that through its core doctrine of corrupt Contemplative Spirituality/Mysticism (CSM), masquerading as spurious Spiritual Formation ala Living Spiritual Teacher and Quaker mystic Richard Foster and his spiritual twin Dallas Willard, the Emergent Church leaders have been quite successful in taking the focus off proper Christian spirituality; and instead putting it upon mere subjective feelings.
While this was going on, circa the late 90's, foolish evangelical leaders made the tragic decision to begin using these warped and toxic teachings within their own Young Adult and Youth ministries; and thereby opening them to a veritable who's who of heresy, including the unholy EC trinity of apostates, Living Spiritual Teacher and EC guru Brian McLaren, universalist EC pastor Doug Pagitt, and his friend Tony Jones, the progressive "theologian in residence" at Solomon's Porch headed by Pagitt. You should know that this upgraded Emerging Church 2.0 now has in place its new postmodern form of "big tent" Progressive Christianity—a Liberalism 2.0—sometimes referred to as Emergence Christianity.
Unfortunately, as I first pointed out in Fantasyland: Farewell Emerging Church, 1989-2010 at my Christian Research Network website, the article Farewell emerging church, 1989-2010 is a prime example of how blind mainstream evangelicalism is becoming to its being raped by people who are not even in the faith. The post is by someone named Dr. Anthony Bradley, a Protestant who is on staff for "Research" at the Acton Institute:
A bit more on the woefully misinformed Bradley in a moment; first however, it's important to note that John Emerich Edward Dalberg Acton was a follower of apostate Roman Catholicism, and you may recall from Why Was A Roman Catholic Priest Preaching For Rob Bell At Mars Hill Bible Church? that I told you the Acton Institute was co-founded by Roman Catholic priest Robert Sirico. So this kind of religious confusion on Bradley's part might explain the ignorance of his post What will Rev. Ken Silva do now?, where he opined:
(Online source)
Leaving aside the hyroglifics of his latter statement, if Bradley had bothered to do his homework before taking a swing at me, then he would see that I have covered many other subjects—including the prosperity gospel. Here I just want to key you in to where perhaps Bradley reveals his somewhat supportive position concerning the neo-liberal cult of the Emergent Church when he says I have "built [my] reputation slandering" the Emerging Church. Sorry about that Dr. Anthony Bradley, but 1) since I'm a writer it would be libel, not slander, and 2) he can't prove this due to the heavy documentation within my posts. If I was actually guilty of libel, I would have been sued long ago; the fact is, my articles stand.
Now, anyone who is actually familiar with this move of counterfeit spirituality—really a rebirth of Counter Reformation spirituality aimed at blowing up the central Christian pillar of sola Scriptura—knows that the Emerging Church 2.0 has now gone through a spiritual metamorphosis, and after swallowing up the original liberalism, it has emerged with its own Liberalism 2.0 theology. A case in point is just hours ago Emergent Village tweeted:
The link takes us to A State of Emergence 2010 by Jonathan Brink, which was posted at the Emergent Village Weblog yesterday. Right from the graphic you'll see Brink is correct when he says, "The emerging church isn't dead… It's shedding it old image"; and you'd best understand that these vipers are now busy swallowing up squishy evanjellyfish:
(Online source)
You ignore the emergence of these wolves of  in sheep's clothing at your own peril…
See also:
THE EMERGING CHURCH AND EVOLUTIONARY CHRISTIANITY
MICHAEL DOWD & SPENCER BURKE—INTEGRITY AND EVOLUTIONARY CHRISTIANITY (PART 2)
DOUG PAGITT AGREES WITH EVOLUTIONARY EVANGELIST MICHAEL DOWD
UNIVERSALISM IS TOO SMALL FOR DOUG PAGITT
BRIAN MCLAREN SPEAKS AS A UNIVERSALIST
LIBERALISM 2.0 THE NEW PROGRESSIVE CHRISTIAN THEOLOGY