By Ken Silva pastor-teacher on Jun 26, 2012 in Current Issues, Emergence Christianity, Emergent Church, Features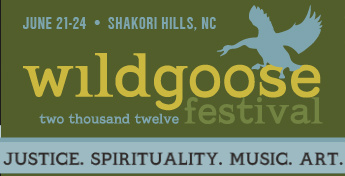 A few days ago in the Apprising Ministries piece The Emerging Church Wild Goose Chase 2012 I reminded you that, far from dead, the Emergent Church aka the Emerging Church has upgraded to the Emerging Church 2.0.
In his book A New Kind Of Christianity Living Spiritual Teacher and EC guru Brian McLaren actually revealed the EC's "big tent" postmodern Progressive Christianity, which they now refer to as Emergence Christianity.
Unfortunately, the über weak nature of the contemporary evangelical community has caused virtually everyone to forget that; even though not long after former EC icon Rob Bell refreshed that page with his Love Wins mythology.
Well, the latest Emerging Church apostasia-palooza called the Wild Goose Festival (WGF) has just wrapped up. As usual, it featured quite the roster of Emergence heretics like Brian McLaren, Shane Claiborne, and Jim Wallis.
WGF also featured Spencer Burke and Phyllis Tickle, the Empress of Emergence. There was also an assortment of neo-Gnostic mystics like Living Spiritual Teacher and Roman Catholic mystic John Dear, who is a Jesuit priest.
To give you an idea of the kind of spirituality espoused at WGF we bring you this exclusive clip:
[mejsvideo src="https://www.apprising.org/wp-content/uploads/2012/06/Wild-Goosers-Sing.mp4″ width=640 height=360]
Oops, wrong clip; essentially the spirituality of the WGF however. Unfortunately, these Wild Gooser's have unbuckled themselves from the anchor of God's Word and are now in a free fall of subjective existentialism.
They crash land into the love of self. For an actual experience of its essence I bring you the below tweet from Steve Knight, whom I introduced you to a few years ago in Emerging Church And TransFORM's Steve Knight:

(source)
I leave you now with Gareth Higgins and the Emergence as they close WGF 2012 by performing that classic hymn "Purple Rain" by he of the unpronounceable symbol. O, wait; I think he's back to being called Prince again:
[mejsvideo src="https://www.apprising.org/wp-content/uploads/2012/06/Wild-Goosers-Purple-Rain.mp4″ width=640 height=360]
Further reading