By Ken Silva pastor-teacher on Jan 18, 2012 in Current Issues, Features, Joel Osteen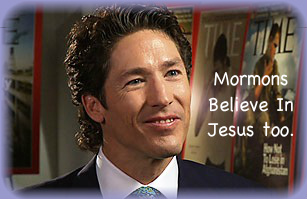 Among the issues Apprising Ministriescovers is how even the heretical Word Faith movement continues heading toward acceptance within the mainstream of evangelicalism.
Unfortunately, as apostasy spreads like an Oklahoma wild fire, with timid leaders scared of their own spiritual shadows, we now find ourselves in a nauseating New Downgrade No-Controversy.
This you can see for yourself e.g. in Word Faith Heretic Cindy Trimm Receives Award From Billy Graham Evangelistic Association or Oneness Pentecostal T.D. Jakes Goes Mainstream Evangelical or Steven Furtick Bringin' On Word Faith And The Pastrixes.
Unless you've been living in a cave you know that Gospel Coalition Council member James MacDonald has invited notorious blab it, grab it Word Faith modalist T.D. Jakes into his Elephant Room 2. ER's goal is to form a new unified tribe as I recently showed you in Dung Droppings From The Elephant Room: Greg Laurie.
It's important for you to understand that the first ER served to create a strong bond with Seeker Driven, i.e. man-centered, Prophet-Führer Steven Furtick and that would help launch this false teacher further into the mainstream of the church visible. So we have solid reason to believe the same will happen with T.D. Jakes.
Apparently, Word Faith heretic Joel Osteen will be the next prosperity preacher ushered into the mainstream of spiritually spineless evanjellyfish. Consider that Furtick has already proclaimed Joel Osteen Is A Great Man Of God and Megachurch Pastors Joel Osteen And T.D. Jakes Unite And Why You Should Care.
With this in mind I point you to Joel Osteen: Mitt Romney Is a 'Believer in Christ Like Me' by Christian Post Reporter Ravelle Mohammed who tells us:
Joel Osteen, pastor of America's fastest growing megachurch, has reiterated his opinion that GOP presidential hopeful Mitt Romney is a "believer in Christ like me" and that the former Massachusetts governor's confession of Jesus as the Son of God is "enough" for him.
(Online source)
We originally looked at this in Joel Osteen: Mitt Romney And Mormons Are Christians the first time Romney ran for president. December 23rd 2007 Osteen appeared on FOX News Sunday With Chris Wallace where Wallace asked the prosperity preacher, who's apparently living large in a 10.5 million dollar mansion[1], about Romney's Mormonism:
WALLACE: And what about Mitt Romney? And I've got to ask you the question, because it is a question whether it should be or not in this campaign, is a Mormon a true Christian?
OSTEEN: Well, in my mind they are. Mitt Romney has said that he believes in Christ as his savior, and that's what I believe, so, you know, I'm not the one to judge the little details of it. So I believe they are.

And so, you know, Mitt Romney seems like a man of character and integrity to me, and I don't think he would — anything would stop me from voting for him if that's what I felt like.

WALLACE: So, for instance, when people start talking about Joseph Smith, the founder of the church, and the golden tablets in upstate New York, and God assumes the shape of a man, do you not get hung up in those theological issues?

OSTEEN: I probably don't get hung up in them because I haven't really studied them or thought about them. And you know, I just try to let God be the judge of that. I mean, I don't know.
I certainly can't say that I agree with everything that I've heard about it, but from what I've heard from Mitt, when he says that Christ is his savior, to me that's a common bond. (Online source, emphasis mine)
So we're not surprised that Joel Osteen hold this view; after-all, James Robison Says Jesus Is In The Heart Of Mormon Glenn Beck. This is what happens when we appeal to our fickle feelings and do theology by liver shiver. What's surprising is new evangelical darling Prophet-Führer Steven Furtick is seemingly so dense spiritually he thinks Joel Osteen's a solid Christian.
With his wife as pastrix and his Robert Schuelleresque pamblum, he certainly is not. Be sure we're not caught chasing down rabbit trails. The issue is not whether Mitt Romney is a moral man; the issue is that he like Glenn Beck are faithful slaves to the non-Christian cult of the Church of Jesus Christ of Latter-day Saints (the Mormons). Osteen has "a common bond" with them?
Romney's "confession of Jesus as the Son of God" is "enough" for Osteen? As a practicing Mormon, here's the nonexistent "Jesus" in whom Romney believes:
I am the Jesus Christ of the Church of Jesus Christ of Latter-day Saints (the Mormons). My original Church went through a total apostasy and I took the Priesthood from the earth. In 1820 by one account—as there are nine different accounts—I appeared, with Heavenly Father, to Joseph Smith who would be the prophet to restore my Church. I told him that everything the historic Christian Church had taught was an abomination in my sight and that all who believe in those doctrines are corrupt. I am the spirit child who was born first to Heavenly Father, whose name is Elohim, and who has a body of flesh and bones as tangible as man's.
Elohim was once a man who lived on the planet Kolob. He died and was resurrected by his father—after earning his way to godhood—as did his father before him, and so on back. Heavenly Father pro-created all of us through sexual relations with one of his celestial wives, and we are all his spirit children. I was born first; next was Lucifer, and then on down the line comes you. When the head of the gods—of which there are countless numbers—called a council of the gods I came up with a better plan of salvation than my brother Lucifer did. So I became the Savior for Heavenly Father's children on earth. I was conceived for my earthly mission when Heavenly Father came down and had sexual relations with his daughter the Virgin Mary.
I sweat great drops of blood for your sins in the Garden of Gethsemane. Then on the cross I finished my work; and because of that atonement, all persons on this earth are going to be resurrected. And so now you have a chance to earn your way to becoming a god, just like me, by working the Gospel Principles taught by the Mormon Church. But be careful because my blood was not sufficient to cover some of your sins as my prophet Brigham Young once taught for me. He said, "There's not a man or woman who violates the covenant made with their God that will not be required to pay that debt. The blood of Christ will never wipe that out. [And y]our own blood must atone for it."
From the official website of the Mormon Church you'll see they actually teach that Satan is quite literally the younger brother of Jesus:
Jess L. Christensen, Institute of Religion director at Utah State University, Logan, Utah. On first hearing, the doctrine that Lucifer and our Lord, Jesus Christ, are brothers may seem surprising to some—especially to those unacquainted with latter-day revelations. But both the scriptures and the prophets affirm that Jesus Christ and Lucifer are indeed offspring of our Heavenly Father and, therefore, spirit brothers.
(Online source, italics and underlining mine)
No, a great man of God will hate that doctrine from the pit of hell and preach the Gospel to Mitt Romney.
___________________________________________________________________________
End notes:
[1] http://bit.ly/vL6yY5, accessed 1/19/12.
See also:
STEVEN FURTICK, JAMES MACDONALD, AND JOEL OSTEEN
MEGACHURCH PASTORS JOEL OSTEEN AND T.D. JAKES UNITE AND WHY YOU SHOULD CARE
AS SHE VISITS HIS CHURCH JOEL OSTEEN CELEBRATES WHAT GOD IS DOING WITH OPRAH WINFREY