By Ken Silva pastor-teacher on Dec 6, 2011 in Current Issues, Features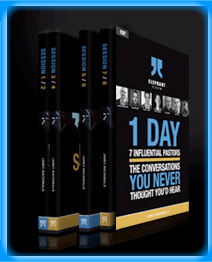 As we document the falling away of the evangelical community at Apprising Ministries one of the issues that's been covered is something called The Elephant Room:
If you didn't know, the ER originated with Gospel Coalition Council Member James MacDonald who hosted the first one, though ER2 will have TGC member Mark Driscoll as co-host.
As you can see in the rock star styled video below ER featured Driscoll, Matt Chandler, Greg Laurie, David Platt, along with Prophet-Pastors Perry Noble and Steven Furtick.
We find out above, ER was flawed from its inception as the "goal is unity" because the idea was already to form "a new 'tribe.'" A tribe that now even includes Word Faith Oneness Pentecostal heretic T.D. Jakes.
Following is a tweet from fellow ER tribe member Steven Furtick showing us where Greg Laurie spent his day:
Guilt-by-endorsement as the slimy syncretism spreads within spiritually spineless evanjellyfish…
The Elephant Room from Harvest Bible Chapel on Vimeo.
See also:
JAMES MACDONALD AND HIS PAGAN CRITICS