By Ken Silva pastor-teacher on Nov 7, 2011 in Current Issues, Features, Joel Osteen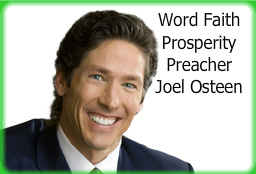 Despite sagging funding Apprising Ministries continues covering the falling away of the largely pretending to be Protestant evangelical community. Here I draw to your attention that once again Word Faith heretic Joel Osteen is in the news.
Through the promotion of people like Seeker Driven Prophet-Führer Steven Furtick, who calls Osteen a great man of God, the "blab it and grab it" prosperity preacher continues to gain ground even in the mainstream of the church visible.
However, as I pointed out in The Joel Osteen Church Network, if Joel Osteen is a great man of God, then Mormon founder Joseph Smith was actually a Christian prophet. And after-all, Osteen's already said Mitt Romney And Mormons Are Christians.
Next we'll probably hear Osteen pronounce Oprah Winfrey, a known proponent and practitioner of the New Spirituality aka New Age, a Christian as well. This brings me to Joel Osteen Welcomes Oprah Winfrey, Tyler Perry to Lakewood Church where Christian Post contributor Allison Summers tells us:
Television mogul Oprah Winfrey and stage and movie producer Tyler Perry created a stir with a surprise appearance at Pastor Joel Osteen's Lakewood Church in Houston, Texas, Sunday for an 11 a.m. service.

"Awesome to have you!" said Osteen, announcing their presence and welcoming the celebrities to the church. "We're so honored to have you both here, and we just celebrate and pray for you guys with what God is doing in your lives." (Online source)
Though Winfrey professes to be a Christian, as I showed you in Oprah Winfrey Speaking As A Christian, her testimony and teaching simply doesn't bear that out. We need to be praying for her salvation because she has no relationship with God; she is currently an outspoken enemy of the Cross of Christ (cf. Philippians 3:18).
Summers then informs us that:
Winfrey was in the area to interview Osteen as part of her new series "Oprah's Next Chapter," which is set to premiere in January on her channel, the Oprah Winfrey Network.

She reportedly joined Osteen and his wife, Victoria Osteen, for lunch at their home and discussed topics with them such as power, marriage and faith, according to The Houston Chronicle. (Online source)
In such a setting Osteen usually manages to open his mouth to exchange feet. Summers says he:
has been known to spark controversy in the Christian community on his views about certain fundamental beliefs of the church, such as homosexuality. (Online source)
Controversy is rather an over-statement; apostatizing evanjellyfish is pretty much anything goes. From monitoring Internet intel along its younger sectors, the deviant pro-homosexual lobby's got them about to cave on homosexuality; the same as it once did the dead mainline denominations now being ripped apart by it.
You need to understand that Joel Osteen's wishy-washy non-views are actually becoming an evangelical norm.
See also:
JOEL OSTEEN: SMILE WHEN YOU LIE
STEVEN FURTICK, JAMES MACDONALD, AND JOEL OSTEEN