By Ken Silva pastor-teacher on Jan 17, 2012 in AM Missives, Current Issues, Features, Steven Furtick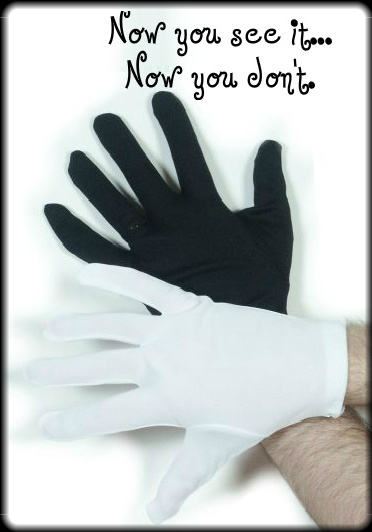 As I pointed out in the Apprising Ministries article Study In 1 John 4:1—Test The Spirits there is a critical lack of proper Biblical understanding of the Gospel and the actual mission of the Church.
This is exactly what's producing the man-centered pragmatism of the whole Seeker Driven Church Growth Movement, aka attractional, as typified e.g. by Prophet-Führer Steven Furtick and his Code Orange De-vival.
I'm also not endorsing the ministry of Matt Chandler, who's in the Young, Restless, and charismatic Reformed camp, as I have much concern with its postmodern form of so-called New Calvinism.
Take for example Still Curious, But Better, Decisions And Matt Chandler. That said, I now point you back to where this story begins in Steven Furtick, Matt Chandler & A "Programming Change."
You may remember Furtick made a real tactical blunder by not running Chandler's sermon on the rebroadcast of the OC De-vival. Apprising Ministries special correspondent Erin Benziger told us in her post Is Steven Furtick Suppressing the Truth of the Gospel of Jesus Christ? that:
Last night, Matt Chandler preached the Gospel at Code Orange Revival. He even tossed in a few well-approached, much-needed rebukes toward Elevation Church and "pastor" Steven Furtick…

Nevertheless, there is no denying that Matt Chandler preached both Law and Gospel before an audience that likely had never heard such a thing before…in a venue where the truth obviously is not welcome. (Online source)
Benziger statement truth "is not welcome" at Code Orange proved to be dead-on-target as:
Following each evening's message, there is a rebroadcast of the entire night's "revival" footage at 10:12 pm, 3:12 am, and 12:12 pm the next day. Well, apparently Matt Chandler hit a rather tender nerve in Steven Furtick's ego.

Trusted sources tell me that the revival footage from Friday, January 13 was aired at 10:12 pm last night and 3:12 am this morning without Matt Chandler's message. They actually cut out and removed his sermon from the rebroadcast! (Online source, emphasis hers)
Steven Furtick would later tweet an explanation, but that really only served to make it more obvious what actually happened:
As I said before, Steven Furtick calls the omission of Matt Chandler's sermon a "programming change"; he didn't say programming "error." This can only mean that it was a conscious decision on someone's part in choosing to not rebroadcast Chandler's message. I think we're safe to assume, since Steven Furtick is in charge of virtually everything at his church—at the very least—he would have had to ok this.
You may recall I'd also offered that I'd even find it very likely that it would have been Furtick's own decision to have Chandler's sermon excluded from the rebroadcast; but it turns out I'm wrong. It wasn't Steven Furtick; no, apparently it was God the Holy Spirit Himself. Before I show you the proof, let me point out that Chandler's sermon did air the next time Code Orange ran.
Then when it got on YouTube I put it in Matt Chandler At Code Orange Revival: God Is For God. Well, God/Steven really doesn't want that sermon seen because here's screen capture of Chandler's sermon now:

As far as how the original programming change came about we turn to the Facebook wall of Geoff Schultz, "Motion Graphic Designer at Elevation Church." Note carefully his answer early Saturday morning, January 14, when asked why Chandler's sermon wasn't rebroadcast: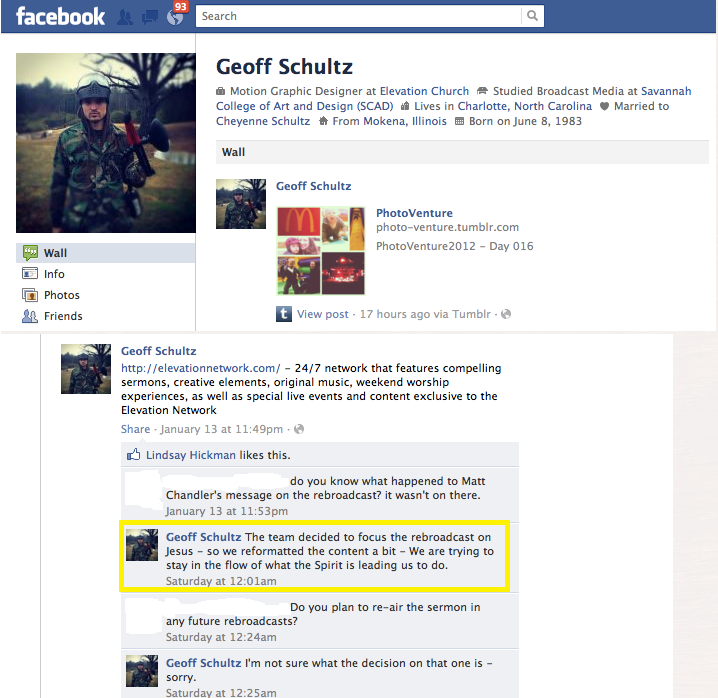 So, now we know that "the team" made the decision to pull the sermon in order to "focus the rebroadcast on Jesus" because they were trying to "stay in the flow of what Spirit" was "leading" them "to do." The Elevation Church Code Orange De-vival team believed God the Holy Spirit wanted Matt Chandler's sermon pulled to…um, focus more on Jesus.
Well, leaving my differences with Matt Chandler aside, I can tell you from viewing his God Is For God sermon there's no way the LORD God Almighty would have led that team to pull it. Looks to me as if Steven Furtick's team is following another spirit (cf. 2 Corinthians 11:4). I'll tell you what; make up your mind for yourself.
Below Chris Rosebrough of Pirate Christian Radio discusses the issue further and then plays Matt Chandler's sermon in its entirety:
See also:
STEVEN FURTICK, JAMES MACDONALD, AND JOEL OSTEEN
SUN STAND STILL PRAYER, STEVEN FURTICK, AND THE APOSTLE PAUL