By Ken Silva pastor-teacher on Sep 30, 2011 in Current Issues, Features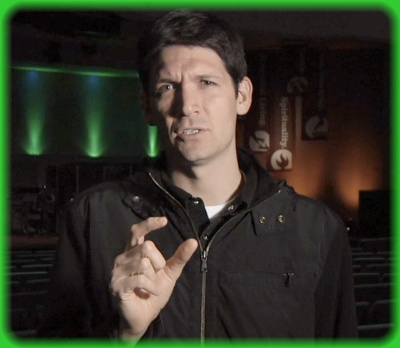 This New Downgrade No-Controversy continues and works like Apprising Ministries—helping to pioneer this field of online apologetics and discernment—becomes even more necessary because so many evangelical leaders are nearly spiritually comatose.
Here I offer a bit of a follow-up to Matt Chandler And Curious Decisions, a participant in The Elephant Room (ER) along with fellow Gospel Coalition Council Members James MacDonald and Mark Driscoll, all also associated with the Young, Restless, and Reformed camp. 
In this earlier post I showed you that some of the fruit of ER was, like MacDonald, Chandler has also decided to preach at a conference put on Prophet-Pastor Steven Furtick, also an ER participant:
Once again, let me make sure you know I'm not doing a Terry Tate here; and understand that 1) I'm writing in a tone we'd use discussing this over coffee, and 2) in no way, shape, or form, do I consider Matt Chandler anything like someone such as the apostate Rob Bell of the Emerging Church.
Yesterday Chandler tweeted his The Village Church had:
Well, I felt led that this would be a good time to see whether there'd been any changes concerning the books recommended for the TVC flock by Lead Pastor Chandler and his staff. First, I was a little surprised to see this is one of the main items scrolling on the front page:
When we click the graphic on the TVC website we get to the Recommended Books section. I didn't see that caveat, which was on the old site:

I did a search for Living Spiritual Teacher and Quaker mystic Richard Foster, which is easier now with a drop-down bar with each recommended author. And as before, we still find:
As we look once again for the authors I talked about in my earlier article, we still find squishy evangelical Philip Yancey—hedging on homosexuality, [1] the neoorthodox Dietrich Bonhoffer, and A.W. Tozer, with his quasi-mystic "deeper life." Still recommended under Spiritual Life is apostate Roman Catholic mystic:

Though oddly another Roman Catholic Carmelite monk Nicolas Herman aka "Brother Lawrence" is no longer there. Also apparently removed is apostate contemplative mystic Brennan Manning as well, whom I discuss in Evangelicalism Now Reaping What It Has Sown, so there's some improvement in discernment.
It's also good TVC dropped highly ecumenical Leslie Newbigin, who helped spawn A Generous Orthodoxy by Living Spiritual Teacher and EC guru Brian McLaren, one of the unholy Emergent Church trinity of apostates along with heretical quasi-universalist pastor Doug Pagitt and his equally heretical "theologian in residence" Dr. Tony Jones.
Let's continue to pray Matt Chandler and TVC will also remove the above as well.
________________________________________________________________________________
End Notes:
Back to note 1 — See Philip Yancey And A Non-Stance On Homosexuality and Affirming Christian Network, Philip Yancey, And Gay Christian Network.
See also:
"CELEBRATION OF DISCIPLINE" BY RICHARD FOSTER AN ENCYCLOPEDIA OF THEOLOGICAL ERROR
MARK DRISCOLL AND CONTEMPLATIVE IDOLATRY