By Ken Silva pastor-teacher on Dec 5, 2011 in Current Issues, Features, Rick Warren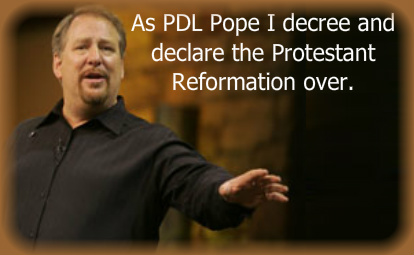 Apprising Ministries has long been a leading critic of the semi-pelagian (at best) doctrine of Purpose Driven Pope Rick Warren.
In articles like Rick Warren And Teachings Of Demons I've also clearly documented his sinful ecumenicism as well.
Of course that's merely one of the fruits within apostatizing evangelicalism because of its foolish fascination with corrupt Contemplative Spirituality/Mysticism.
Now I point you to the Christian Today piece Rick Warren's church cancels Christmas service, aim to serve surrounding community where we're informed:
In a rare move, the 20,000-member Saddleback Church in Orange County is canceling all of its worship services during the second weekend in December in order to help facilitate a huge neighborhood volunteer opportunity.

Best-selling author and pastor Rick Warren is asking members of his congregation to take at least a half day on Saturday or Sunday (Dec. 10, 11) to go "serve in the community and love your neighbor as yourself."

In its 31-year history, the megachurch has canceled weekend services less than a handful of times, according to Warren.

Church officials are hoping to mobilize Saddleback's base of 5,000 Bible study groups, referred to as "small groups," to perform their own chosen acts of kindness in their neighborhoods…

Warren recently enlisted pastors Bill Hybels of Willow Creek Community Church in the Chicago area, and Miles McPherson of Rock Church in San Diego, who gave weekend messages last month about evangelizing and giving service out of love to neighbors. (Online source)
On the positive side, at least this will be one weekend the Saddleback faithful would have the chance to avoid the Bible-twisting of Rick Warren and fellow man-pleasing Church Growth Movement pals like Bill Hybels.
See also:
RICK WARREN TWEETS A MESSAGE TO KEN SILVA?
RICK WARREN MINISTRY RECOMMENDS MANTRA CENTERING PRAYER