By Ken Silva pastor-teacher on Oct 21, 2011 in Current Issues, Features, T.D. Jakes, Word Faith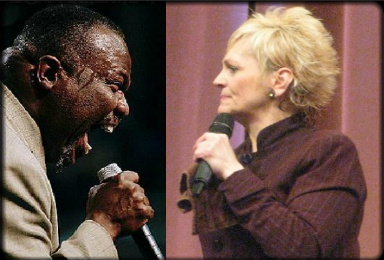 Apprising Ministries has been covering how even the heretical Word Faith movement continues heading toward acceptance within the mainstream of evangelicalism.
Something called The Elephant Room, put on by Gospel Coalition Council Member and caretaker James MacDonald, is actually starting to contribute to this.
The problem with the upcoming ER2 is two-fold as I see it. First, returning ER veteran Prophet-Pastor Steven Furtick is even more off-track now than before.
In Steven Furtick, James MacDonald, And Joel Osteen I presented you with plenty of evidence of Furtick's heading further toward Word Faith teaching himself.
Not a real surprise as we consider that fact that Furtick is a huge fan of another WF mogul T.D. Jakes, who will also be in ER2 with him. ER has also forged more endorsement of Furtick's work.
You see, MacDonald himself is set to close a conference that Furtick's putting on in January of 2012. The second problem with ER is that now with reputed modalist Jakes involved we're dealing with the Gospel.
Here you'll get another example of the fruit of the ministry of T.D. Jakes, which because of ER2 and Steven Furtick, moves closer to the mainsteam. The below is from the 9/1/11 TBN Praise the Lord program.
The three WF pastrixes he introduces below are featured speakers at his Woman Thou Art Loosed 2011 hosted by the Lakewood Church of Joel Osteen. At 3:50 in Jakes tells us of great things God's supposedly doing.
Specifically he refers to The Potter's House North where he tells us we "need to discover the anointing going on up there." He then introduces pastrix Sheryl Brady, whom T.D. Jakes called personally to serve there.
You should be able to see Oneness Pentecostalism isn't the only baggage T.D. Jakes comes with because it simply beyond question that he is a WF prosperity preacher. In closing, for now, I leave you with the following.
Below is pastrix Sheryl Brady in action along with her husband "Bishop" Joby. It speaks for itself.
See also:
STEVEN FURTICK AND WORD FAITH HERESY