By Ken Silva pastor-teacher on Sep 27, 2011 in Current Issues, Features, T.D. Jakes, Word Faith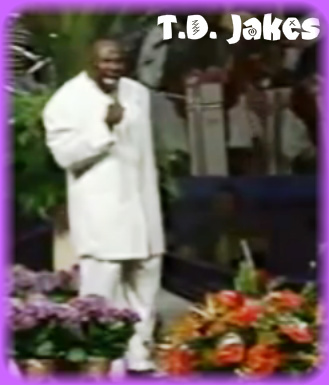 Slimy syncretism slithers deeper into spiritually spineless evanjellyfish every day and despite dwindling funding Apprising Ministries continues to point it out for you wherever we find it.
You just can't make this stuff up. Think about it; who would have ever thought that Oneness Pentecostal heretic T.D. Jakes—a top superstar in the corrupt camp of Word Faith prosperity preachers—would be mainstream.
I just outlined his pitiful progression into the heart of the evangelical camp in T.D. Jakes Spiritual Father Of Paula White; and in Steven Furtick And T.D. Jakes you'll see he'll open the year for one of evangelicalism's new darlings.
Then today we have James MacDonald, T.D. Jakes & The Trinity, where I told you Gospel Coalition Council member James MacDonald announced:
We are thrilled to announce that T.D. Jakes will be joining us at Elephant Room 2.

T. D. Jakes is a charismatic leader, visionary, provocative thinker, and entrepreneur who serves as Senior Pastor of The Potter's House, a global humanitarian organization and 30,000-member church located in Dallas, Texas. (Online source)
I also told you Jakes is "Chief Pastor" of a church called The Potter's House (TPH). He has also long been said to be a Oneness Pentecostal, which would mean that T.D. Jakes denies the cardinal doctrine of the Holy Trinity. Here I'm simply going to give you the evidence to establish this charge is true.
What I'm going to do this with minimal comment other than adding information that might be necessary to help you understand the context. First, the following is a screen capture from the (TPH) website moments ago as of this writing:
The use of the term manifestations is the language of classic Oneness Pentecostalism, not orthodox Christianity. Here's what we do know, Jakes is Higher Ground Always Abounding Assemblies, Inc. (HGAAA) where he is Vice Prelate:
You can see here (click to enlarge) from an earlier T.D. Jakes Ministries website that he's been with HGAAA from the beginning of his ministry:
In an op-ed article My Views on the Godhead, from the February 1, 2000 edition of Christianity Today, Jakes informs us:
I was raised Baptist and became Pentecostal 26 years ago at a Greater Emmanuel Apostolic Church, where I was later ordained a Bishop. I resigned from that denomination 11 years ago, and have continued to fellowship with Higher Ground Always Abounding Assemblies. This small fellowship of churches is not a denomination, and differs in many ways from traditional Apostolic churches.

Both chapters of my early spiritual journey contributed volumes to my faith and walk with God, helping to hone my character. I was shaped by and appreciate both denominations, but am controlled by neither. My association with Oneness people does not constitute assimilation into their ranks any more than my association with the homeless in our city makes me one of them. (Online source)
There's actually quite a bit of information there. I can tell you from my many years of personal reasearch and study that almost invariably when we see the word Apostolic in the name of a church it is Oneness Pentecostal. It should also be noted there are more than a few of such within HGAAA as well.
Here Jakes does tell us of his "association with Oneness," which is heretical in and of itself. He also says HGAAA "differs in many ways from traditional Apostolic," i.e. Oneness aka Jesus Only, churches. This is essentially an admission on Jakes' part of his acceptance of the Oneness Pentecostal position.
In the aforementioned CT article Jakes also says:
While I mix with Christians from a broad range of theological perspectives, I speak only for my personal faith and convictions. I am not a theologian, and I avoid quoting even theologians who agree with me. To defend my beliefs, I go directly to the Bible.
My views on the Godhead are from 1 John 5:7-8, "For there are three that bear witness in heaven: the Father, the Word, and the Holy Spirit; and these three are one." (NKJV)
I believe in one God who is the Father, the Son and the Holy Spirit. I believe these three have distinct and separate functions—so separate that each has individual attributes, yet are one. I do not believe in three Gods (Online Source, emphasis mine).
However, in T.D. Jakes Responds to the Journal Elliot Miller further fills us in concerning this CT op-ed piece by Jakes:
Although he has not directly corresponded with the Journal, T. D. Jakes has publicly responded to last issue's cover article, "The Man, His Ministry, and His Movement: Concerns about the Teachings of T. D. Jakes" by Jerry L. Buckner. (Online source)
I'll point you to Buckner's article in a moment; first, in the spirit of — The one who states his case first seems right, until the other comes and examines him (Proverbs 18:17), I'll show you that Miller goes on to emphasize that:
It also needs to be pointed out that nothing Jakes said contradicts modalism or commits him to the orthodox doctrine of the Trinity. Theologians recognize two distinct conceptions of the Trinity: the ontological Trinity, which refers to the existence of three distinct Persons within the Godhead apart from any relationship to the creation, and the economic Trinity, which refers to the distinct roles the three Persons assume in relation to creation.

Modalism essentially teaches that the economic Trinity is the only Trinity there is. Their God, who ontologically is not Triune, assumes three distinct modes or roles in relation to creation…. In his rebuttal Jakes never affirms an ontological Trinity but only an economic one. He speaks of different functions the Father, Son, and Holy Spirit perform, but then he clarifies that he does not believe in three Gods, by which it is fairly clear he means Persons…

The key tip-off that Jakes is a dyed-in-the-wool modalist is his unwavering insistence — both before our article was published and even in response to our article — on using the word manifestations rather than persons in regard to the Trinity. (Online source)
You also saw above that today, even many years later, T.D. Jakes still uses the language of modalism aka Oneness Pentecostalism. I have said before, it's little wonder why Jakes avoids quoting "even theologians who agree with" him; likely because of those of us who study Comparative Religion.
We would immediately recognize that modalism they would be defending, and which, is even contained in the vague explanation of his personal beliefs. As I close this out, for now, we turn to The Man, His Ministry, and His Movement by Jerry L. Buckner and his Concerns About the Teachings of T.D. Jakes.
Buckner explains to us [circa 2000] that:
CRI [Christian Research Institute] has received two e-mails sent by T. D. Jakes Ministries to people inquiring about that subject. One e-mail response is that "Bishop T. D. Jakes and The Potter's House of Dallas believe there is one God who manifest [sic] Himself in the Trinity — Father, Son, and Holy Spirit. We have never denied the Trinity, and we are disappointed that anyone would misunderstand or misrepresent us."

The meaning of the term Trinity, according to historic Christianity, is that within the nature of the one God co-exist three equal and eternal persons — Father, Son, and Holy Spirit. T. D. Jakes Ministries and historic Christianity both use the word Trinity, but the meaning of the word appears to be different.

Walter Martin taught us that we must scale the language barrier of the cults. We must recognize the reality that unless terms are defined, a semantic jungle will envelope us, making it difficult, if not impossible, to properly contrast orthodox Christianity with teachings outside it. (Online source)
Of course hiding in the shadows of the semantic jungle is precisely what spiritually spineless postmoderns love to do. Buckner then informs us:
On the T. D. Jakes Ministries Web site, an older but still accessible version of their Statement of Faith reads, "There is one God, creator of all things, infinitely perfect, and existing in three Manifestations: Father, Son, and Holy Spirit." Their current doctrinal statement has been altered somewhat to read: "THREE DIMENSIONS OF ONE GOD (1 John 5:7, Matt. 28:19, 1 Tim. 3:16)" — "We believe in one God, who is eternal in His existence, Triune in His Manifestations, being both Father, Son and Holy Ghost AND that He is Sovereign and Absolute in His authority."

The position taken by T. D. Jakes Ministries remains problematic. The problem lies in the word "manifestation." Manifestation is a modalistic term often used by Oneness Pentecostals. Modalism views Father, Son, and Holy Spirit as different modes of God's activity rather than three separate persons.

Jakes was interviewed in August 1998 by Living by the Word (LBTW) ministry. This interview was aired on KKLA 99.5 FM in Los Angeles. During this interview, Jakes said, "We have one God, but He is Father in creation, Son in redemption, and Holy Spirit in regeneration."

This wording is identical to the Oneness Pentecostal view as described by David K. Bernard, pastor of New Life United Pentecostal Church (UPC), in his book The Oneness of God: "A popular explanation of Father, Son and Holy Ghost is that there is one God who has revealed [i.e., manifested] Himself as Father in Creation, Son in redemption and Holy Ghost in regeneration." (Online source)
I have stated elsewhere that my first area of ministry as I entered the fields of apologetics, counter-cult evangelism, and Comparative Religion 24 years ago was Oneness Pentecostalism; so, from having specifically studied the mythology of David Bernard, I can tell you Buckner's salvo is dead-on-target.
Finally, Buckner brings us to the heart of the matter concerning T.D. Jakes and Oneness Pentecostalism:
In order to appropriately discern and respond to modalism, it is vital for Christians to understand the Trinity as it is presented in the Bible. James R. White offers three suggestions:

First we need to do some major league education on what the doctrine actually teaches….In the second place, we have to impress on every believer the vital importance of understanding, accepting, and experiencing the truth that God has revealed Himself to be Triune: Father, Son, and Holy Spirit….

Finally, we have to educate, NOT with arrogance or pride, but with a passion and fervor born of love for the truth….Concerned Christians need to voice their disapproval of television networks, ministries, or publishers who tolerate poor theology just to mollify a larger 'audience.'

The Trinity is the primary truth of New Testament theology… Denver Seminary's Dr. Gordon Lewis offered this response to T. D. Jakes's statement about God being Triune in His manifestation: "The revised statement on God revives Sabellian Modalism. Father, Son and Holy Spirit are not merely three manifestations of one God in history, three different hats he wears."

Whether it is called modalism, Sabellianism, Oneness, or "Jesus only," this view of the Trinity is heretical. As White observes, "Whatever its name might be, it is a denial of the Trinity based upon the denial of the distinction between the Father, Son, and Holy Spirit. It accepts the truth that there is only one true God, and that the Father, Son, and Spirit are fully God, but it denies that the Bible differentiates between the persons." (Online source) 
 Now consider the following by Dr. John MacArthur from his series What Doctrines Are Fundamental? (Part Two) where he correctly points out:
a doctrine must be regarded as fundamental if eternal life depends on it. Scripture is full of statements that identify the terms of salvation and the marks of genuine faith.
"Without faith it is impossible to please Him, for he who comes to God must believe that He is, and that He is a rewarder of those who seek Him" (Hebrews 11:6). That verse makes faith itself essential to a right relationship with God. It also expressly identifies both the existence and the veracity of God as fundamental articles of the Christian faith.
Elsewhere we are told that eternal life is obtained through the knowledge of the true God and Jesus Christ (John 17:3; 14:6; Acts 4:12). Since Jesus Himself is the true God incarnate (1 John 5:20; John 8:58; 10:30), the fact of His deity (and by implication the whole doctrine of the Trinity) is a fundamental article of faith (see 1 John 2:23). Our Lord Himself confirmed this when He said all must honor Him as they honor the Father (John 5:23). (Online source, emphasis mine)
The question that needs to be asked by the whole of the Christian community is this:
If the Oneness Pentecostal view was deemed heresy for 1800 years, then why is it now not heresy to deny "God in three Persons, blessed Trinity"…
See also:
KEEPING YOU APPRISED OF: THE HOLY TRINITY
ONENESS PENTECOSTALS VS CHRISTIANS