By Ken Silva pastor-teacher on Sep 26, 2011 in Current Issues, Features, T.D. Jakes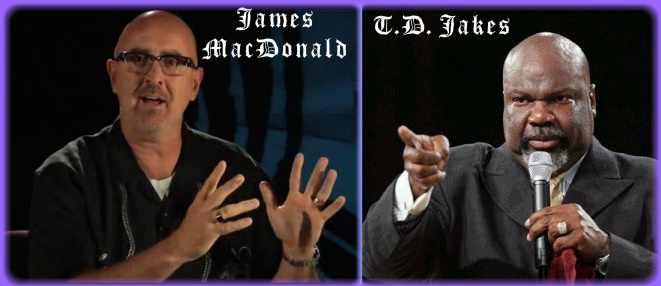 Apprising Ministries continues surveying the evangelical landscape during this nauseating New Downgrade No-Controversy.
In fact, in Gospel Coalition Council Member James MacDonald Insists Perry Noble Didn't Lie I just mentioned again that today in our pouty postmodern times spiritually spineless evanjellyfish simply issues a pass rather than actually dealing with any issues, it seems.
I've said before, if an Arius arises today you'll in short order be worshipping right alongside your Jehovah's Witness brothers and sisters. Well, we may have another similar issue on our hands in the heart of the church visible.
Today we find out that Gospel Coalition Council member James MacDonald has announced another speaker for his Elephant Room 2 Speaker #4 – T.D. Jakes:
We are thrilled to announce that T.D. Jakes will be joining us at Elephant Room 2.

T. D. Jakes is a charismatic leader, visionary, provocative thinker, and entrepreneur who serves as Senior Pastor of The Potter's House, a global humanitarian organization and 30,000-member church located in Dallas, Texas. (Online source)
You should know it was inevitable that "Bishop" T.D. Jakes (below doing his annual shilling for TBN) would make his way further toward the Reformed sectors of the Christian community as, almost a year to the day, I wrote Oneness Pentecostal T.D. Jakes Goes Mainstream Evangelical:
I told you that—fresh off speaking at The Global Leadership Summit for Church Growth guru Bill Hybels—Jakes spoke at The Tension Is Good Catalyst Conference Atlanta on October 6-8, 2010:

Here's where we now encounter an issue similar to the one I mentioned above concerning Arius; as you see above T.D. Jakes is "Chief Pastor" of a church called The Potter's House. He has long been said to be a Oneness Pentecostal, which would mean that Jakes denies the cardinal doctrine of the Holy Trinity.
Rather than get bogged down as to all this entails, I refer the interested reader to One Pentecostalism and the Trinity by Christian apologist Robert Bowman, Jr. Suffice here to point out:


(http://www.gospeloutreach.net/optrin.html)
 Here is a screen capture from the PH website I got moments ago:
The use of the term manifestations is the language of classic Oneness Pentecostalism, not orthodox Christianity; it is the same terminology used many, many years ago by Sabellius who taught:
that God the Father, God the Son and the Holy Spirit are three modes or aspects of God.

 Once popular but later declared heretical, Sabellianism and similar theologies developed out of the earlier teaching know as Modalistic Monarchianism, with which it is often identified.

Its proponent, Sabellius, lived in the early third century C.E. and was probably a Roman presbyter. (Online source)
Having dealt with this issue personally when I was just starting out in ministry some 24 years ago I happen to know this subject very well. In closing this out, for now, as an SBC pastor I also had to deal with this in But Southern Baptists Say OK To "Bishop" T.D. Jakes back in February of 2007.
You see, there I showed you that Dr. Ed Young, Sr., former president of the Southern Baptist Convension shared a platform with Oneness Pentecostal and Word Faith mogul "Bishop" T.D. Jakes at the Creative Church Conference 2007 aka C3 2007. This conference was actually put on by his son Ed Young, Jr.
In Keeping You Apprised Of: T.D. Jakes On The Trinity I brought you convincing evidence that shows T.D. Jakes is indeed a Oneness Pentecostal heretic who has no business being afforded Christian fellowship until he receives repentance and the forgiveness of his sins in Jesus' Name.
This is absolutely not the only issue with T.D. Jakes as well. Consider T.D. Jakes in his natural habitat. Not the toned down Jakes at evangelical conferences, but rather, among his outrageously man-centered fellow Word faith heretics on the Trinity Broadcasting Network.
Below is a clip from TBN's Praise the Lord program 9/1/11. Listen for yourself as Jakes introduces WF flake Pastrix Paula White as "pastor extraordinaire" and refers to her as "this tremendous woman of God." You'll hear from her very own mouth as the pastrix tells Jakes he's responsible for her:
Then from that same program you'll see Jakes as he fawns over pastrix and Word Faith Heretic Cindy Trimm Receives Award From Billy Graham Evangelistic Association as well as pastrix Sheryl Brady of The Potter's House North, whom T.D. Jakes called personally:
Quick thought for the spiritually naive; now that T.D. Jakes is becoming a mainstream, how long do you think it'll be before he's going to bring his bevy of Word Faith flake pastrixes along for the ride? You best be prepared as the issue of women as pastor is also about to explode upon evangelicalism.
It's already rampant in Word Faith circles and as they begin crossing over, you'll already see some in the Seeker Driven camp. But as far as T.D. Jakes and his Oneness Pentecostalism, here's an idea I have suggested before to Jakes in a letter I sent him, which of course he never responded to.
Jakes can quite easily clear it all up by publicly repudiating Oneness Pentecostalism as damnable heresy.
See also:
JAMES MACDONALD, T.D. JAKES, AND POSTMODERN OBFUSCATION