By Ken Silva pastor-teacher on Sep 26, 2011 in Current Issues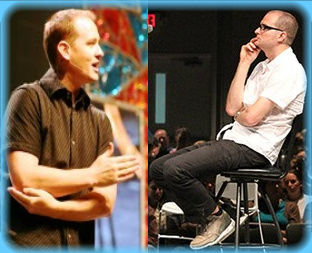 God be praised that He's seen fit to place Apprising Ministries among those pioneering a much-needed mission field of online apologetics and discernment work.
Among  issues I cover is the very rapid penetration of apostasy into the heart of the mainstream evangelical community—particularly in its younger sectors—because of its ongoing embrace of the sinfully ecumenical neo-liberal cult of the Emergent Church aka the Emerging Church.
It's an incontrovertible fact that one of its major voices is original EC rock star pastor Rob Bell, whom you may know just resigned as co-teaching pastor at Mars Hill Bible Church (MHBC); his good friend and fellow heretic Shane Hipps was his partner in spiritual crime.
Yesterday MLive.com of Grand Rapids reported Rob Bell comforts Mars Hill congregation after announcing plans to move to Los Angeles. Garret Ellison tells us:
Rob Bell addressed the "giant, glowing, loud" elephant in the room after explaining his future by describing his past. What's going to happen to Mars Hill Bible Church after their charismatic "rock star" founding pastor is no longer delivering sermons every Sunday?

"You're going to be great," Bell assured his anxious flock multiple times, sounding almost like a man in midst of a romantic break-up as he explained the cycle of "death and resurrection" and how change is not only a form of loss, but of rebirth as well.

"We've had this beautiful thing, you and me," he said. "And now, we let go of how it was and open ourselves up to how it is and will be"… Bell, who will be around for some periodic teachings until December, addressed some of those questions [about his resignation] during two gatherings on Sunday, which will be posted online this week.

The sessions were not so much sermons as they where heartfelt goodbyes, and Bell, as well as many in the audience got visibly choked up more than once. He's not starting another church but he will continue to write. (Online source)
One of those projects is  'Love Wins' Companion Study Guide to Be Released in November:
Rob Bell ignited a firestorm in the evangelical community with his book, Love Wins: A Book About Heaven, Hell, and the Fate of Every Person Who Ever Lived, which questions whether the Bible actually teaches that there is a literal and eternal hell.

Now, the controversial Mars Hill Bible Church pastor has a companion study guide for those who "want to go deeper" and "take the next step."

Bell, who announced this week his resignation as pastor from the Michgan church he founded 12 years ago, and HarperCollins Publishers (under its HarperOne imprint) will have the Love Wins study companion available for purchase beginning Nov. 15.

HarperCollins, which describes Bell's March 2011 Love Wins title as "one of the most important books since the Bible," describes the companion study guide as offering:

"Insights and commentary by theologians, Bible scholars, scientists, and pastors; deep analysis of all relevant Bible passages on heaven, hell, and salvation; excerpts from works throughout Christian history illustrating the variety of teachers also debating the issues Bell wrestles with; and new material by Bell on his mission for the book and how people can take the next step."

David Vanderveen, editor of the Mars Hill Review and editor of the Love Wins companion study guide, announced the completion of the book on his Facebook profile Sunday morning.

Vanderveen wrote: "FYI, I just compiled and wrote the Love Wins Companion with Rob Bell that will be out shortly and includes powerful perspectives on faith from a variety of brilliant minds and exceptional leadership in the Christian church globally." (Online source)
Returning to MHBC, Ellison informs us Bell's:
has been mulling this move for "a couple months," he said, describing a calling to continue his work in Los Angeles. He choked up at the announcement, saying, "It's come time for my family and I to take another leap into the unknown."

Before he lands in California, Bell will going on a $35-per-ticket, eight-stop "Fit to Smash Ice" tour that launches in November in Toronto.  He offered scant details about his endeavors on the West Coast, however and was not taking interviews on Sunday.

He may continue his online podcasts, although he left that up in the air. In some ways, the move to carry his message beyond Mars Hill is an attempt to put his money where is mouth is, essentially, as a man who publicly calls on people to "go for it" in their own lives.

"If you don't make that same leap that you've been calling everybody else to make, then something within you will slowly shrivel up and die," he said. He walked offstage to a standing ovation, having spoken for 45 minutes. (Online source)
Then as far as the immediate future for the flock at MHBC we're told:
A Mars Hill Elder's Team member took his place and told the crowd the church's 17 pastors are available to help them through, as Bell put it, "the grieving process."

Lee Jager, the church communications director said everything the church is prepared to say at this point is online. The Rev. Shane Hipps is the heir apparent to replace Bell, but "nothing's been solidified," said Jager. "We're just kind of embracing the time we've had with Rob." (Online source)
Sadly, with Shane Hipps, MHBC will only get more of the same apostasy; albeit in clearer terms.
See also:
ROB BELL INTRODUCES NEW WEBSITE OF SHANE HIPPS
SHANE HIPPS, CO-PASTOR WITH ROB BELL, SAYS ALL RELIGIONS VALID