By Ken Silva pastor-teacher on Oct 8, 2011 in Current Issues, Features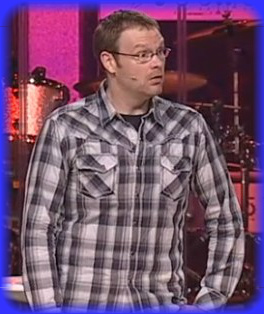 Apprising Ministries continues to survey the rapid decline of Christianity within the church visible and one of the polluted streams is the Seeker Driven Prophet-Pastors, which to a large degree are the spiritual offspring of Purpose Driven Pope Rick Warren.
Following are a few upon whom Warren has personally betowed his PDL papal blessing:
At the time Warren tweeted his Bull those men were set to appear at Perry Noble's conference below; and Noble, Mark Driscoll, and Andy Stanley each had just spoken for Warren at his inaugural Radicalis conference the month before in February 2010:
Incidentally, PDL Pope Warren himself was originally scheduled for that Evening Session but had to bow out due to a family issue. A pattern now seems to be emerging; you'll find it interesting to know that the same cast of characters, sub Craig Groechel for Francis Chan, were there for the 2011 edition:
Well, with this in mind, today Prophet-Pastor Perry Noble has announced most of the speakers for his 2012 conference when he tweeted:
And… James MacDonald? Maybe. It would appear that these gentlemen must really be getting to know each other quite well by now. However, one question that comes to mind is: Why is it that these same guys are lately always teaching their same audiences together? After-all, it is written:
"Do two walk together, unless they have agreed to meet?" (Amos 3:3)
You may recall from Hello Steven Furtick that this evangelical darling Prophet-Pastor has a conference scheduled at his Elevation Church this coming January:
As you may know, Gospel Coalition Council Member James MacDonald happens to be the host of The Elephant Room discussions; and one other speaker for Furtick's conference is MacDonald's fellow Gospel Coalition Council Member Matt Chandler:
We note here that Furtick, MacDonald, and Chandler were each participants in ER1. So, I would say we're now seeing some fruit of these ER confabs becoming emergent; what with Furtick back with MacDonald for ER2, the three set for Code Orange, and Chandler with Furtick for Perry Noble's conference.
I can't help but wonder: Now that Gospel Coalition Council Member Mark Dever appears gone now from ER2, could there finally be real trouble brewing? And could it be that maybe more in TGC will come out publicly against the way ER2 is actually providing respectability to these rogue Prophet-Pastors…
See also:
YOU'RE A FIREWORK AT NEWSPRING CHURCH
STEVEN FURTICK, JAMES MACDONALD, AND JOEL OSTEEN